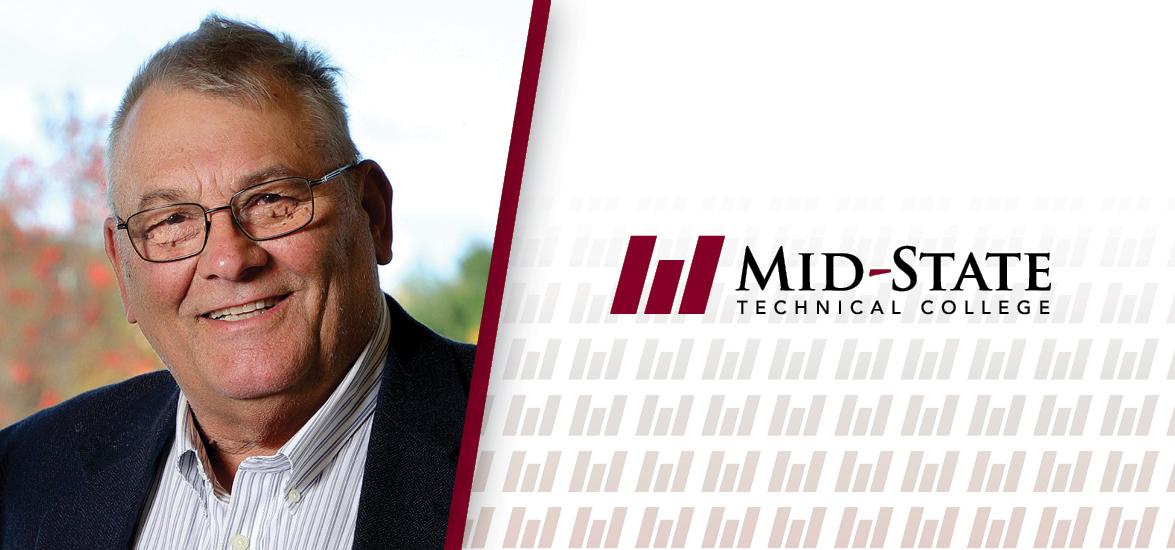 Mid-State Technical College Distinguished Alumni of the Year Wayne Bushman receives statewide 2020 Distinguished Alumni Award
October 20, 2020
Mid-State Technical College alum Wayne Bushman was recently chosen by the College for its Distinguished Alumni of the Year Award before going on to win the Wisconsin Technical College District Boards Association 2020 Distinguished Alumni Award, signaling statewide recognition for his contributions to technical education and the central Wisconsin community. Mid-State President Dr. Shelly Mondeik presented Bushman with the awards during a special event on Mid-State's Wisconsin Rapids Campus on Oct. 15. 
"Mid-State Technical College is thrilled to have the opportunity to honor Wayne Bushman as our choice for the 2020 Distinguished Alumni Award," said Mid-State president, Dr. Shelly Mondeik.  "We are truly grateful for his unflagging support and commitment to Mid-State and technical education and the standard-setting example of community service he known for in our district."
After the selection by each of the 16 technical colleges of their distinguished alumni award, the association confers an  annual statewide award recognizing  a truly outstanding Wisconsin Technical College Alumni  who has demonstrated accomplishments in his or her professional field, community involvement, support for the technical college system and a commitment to continuing education and lifelong learning.  
"It is more than an honor to be awarded Mid-State's 2020 Distinguished Alumni Award and also be chosen for the award at the state level," Bushman said. "I hope that by doing my part I will inspire others in the community and central Wisconsin to make a difference as well."
Bushman's most recent contributions include the leadership he has demonstrated in Mid-State's proposed new Advanced Manufacturing, Engineering Technology, and Apprenticeship Center, which will expand the College's educational programming in the skilled manufacturing and engineering trades and train an additional 400 students annually when fully operational. Bushman was among the first to step forward in support of the project, pledging his donation of the land for the planned facility and serving as the chairperson for the College's capital fundraising campaign. 
"This particular project is number one on my bucket list, to get this school up and running," Bushman said. "It is very important in our community that central Wisconsin says strong, and I want to do my part." 
Bushman found his calling in 1970 when he entered into an IBEW-sponsored electrical apprenticeship program at Mid-State Technical College, launching a 50-year career dedicated in the electrical field. His career since has been marked by notable success as the owner of Bushman Electric Crane & Sign. 
Today Bushman is also founder and owner of Wood Street Rental and Sunrise Pointe Ventures, LLC, along with a large number of investment properties housing over 40 commercial and manufacturing tenants and occupying over a million square feet of space. These achievements have enabled him to incubate and assist several small companies, providing over 400 skilled jobs in Portage County alone and making a real and lasting impact in the local economy.
In affiliation with Associated Builders and Contractors (ABC), Bushman has relied on Mid-State's apprenticeship programs when hiring for his business and has repeatedly used educational services provided by Wisconsin Technical College System schools, including supporting two sons through Mid-State electrical apprenticeships of their own and encouraging his grandchildren to carry on in the apprenticeship tradition. Bushman also takes pride in keeping up with the continuing education requirements to maintain proper certification statuses for Bushman Electric and uses technical college opportunities to do so.
Bushman is known across central Wisconsin for his community support and service, including donations to area festivals and local fundraising efforts such as Special Olympics Wisconsin, Riverfront Rendezvous, Portage County Cultural Fest, Celebrate Plover and Prime WATER Anglers as well as local church picnics. He is a member of the American Rental Association and has served on the National American Rental Risk Management Committee and is part owner and serves on the board of directors for Ki Mobility, a Wisconsin manufacturer specializing in the design, manufacture, and distribution of ultra-lightweight manual wheelchairs.