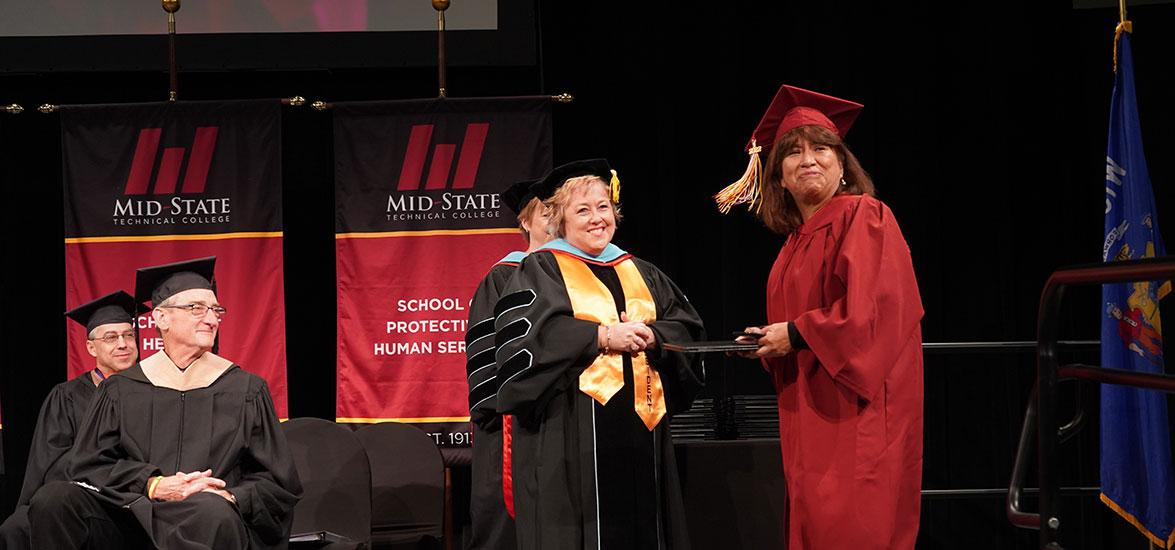 Mid-State recognized for outstanding adult education and family literacy services
December 20, 2022
Mid-State Technical College is achieving outstanding results with its Adult Education and Family Literacy Act (AEFLA) services, putting it in the top quartile of all Wisconsin AEFLA-funded providers in the state for the third consecutive year. Its achievements were recently highlighted at the state level by the Wisconsin Technical College System (WTCS).  
"This contribution not only supports the advanced economic mobility of Mid-State's adult education and English language learning students, but also significantly impacts the collective success of Wisconsin AEFLA," said Dr. Colleen McCabe, provost and vice president of the Wisconsin Technical College System, in a letter to Mid-State's president, Dr. Shelly Mondeik.
The WTCS recognition was based on its annual review of AEFLA services provided by its 16 technical colleges statewide. It considers each provider's success in achieving goals related to the number of individuals served, performance outcomes and grant fiscal management. Mid-State's recognition was tied specifically to data on the measurable skill gains, credential attainment and employment for the populations accessing its services.
The College's results can be traced to innovations implemented by its LiNK staff since 2020, which have increased access to adult education and family literacy services. These include offering group sessions that can be attended in-person or virtually, providing recordings of sessions available so students can watch them again or if they were unable to attend and making LiNK staff available virtually for one-on-one support.
"I want to congratulate Mid-State on their success in reaching the top quartile in the Adult Education and Family Literacy Act (AEFLA) performance targets," said Jane Spencer, executive director of the North Central Wisconsin Workforce Development Board. "The support and commitment provided to students by Mid-State's team is second to none. Adult education and literacy skills are essential to building a competitive workforce.  When students succeed, our communities succeed."
"Mid-State's AEFLA success is just one example of how our dedicated staff demonstrate our core values of student centeredness, commitment, accountability, respect, integrity and exceptional service," said Amber Stancher, dean of Adult Education & Learning Resources. "Our adult education and English language learning faculty and staff focus on helping each individual student meet their educational and career goals."
To learn more about Mid-State's adult education services, visit mstc.edu/link.