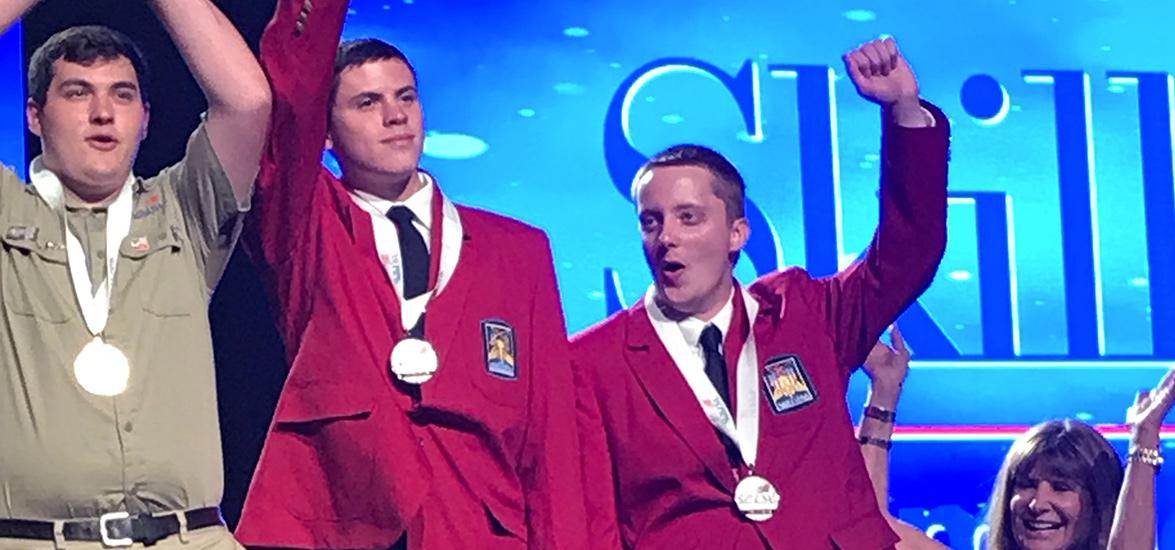 Mid-State Student Earns Silver Medal at National SkillsUSA Competition
July 19, 2018
Recent Mid-State Technical College graduate Dan Zdroik, Stevens Point, earned national recognition at the 54th annual 2018 SkillsUSA® Championships held June 25 to 29 in Louisville, Ky.
Zdroik was among 6,000 students in the annual workforce development event, which showcases career and technical education. This is Zdroik's second consecutive year competing at the national level. His second-place finish and overall score in the event's Computer Numerical Controlled (CNC) Technician competition also earned him a Skill Point Certificate from SkillsUSA.
"Dan has worked very hard to hone his skills," said Mike Berry, Mid-State's machine tool technician instructor and SkillsUSA advisor. "We couldn't be more proud of his accomplishments and the way he has represented Mid-State."
To qualify for a spot in the national competition competitors need to be first-place finishers in their events at the state competition, held in late April in Wisconsin. This is the fifth consecutive year Mid-State has sent qualifiers to the national competition, totaling six qualifiers to date, from four unique events: Automotive Service, CNC Milling, CNC Technician and Welded Art Sculpture.
Student participation at this year's national competition was supported by a donation from the Central Wisconsin Metal Manufacturers Alliance (CWIMMA), a voluntary organization of manufacturers in the welding, machining, fabrication and other advanced metal manufacturing industries. CWIMMA members have reported the need for an additional 1,600 machinists in central Wisconsin in the next year, according to Derek Heikkinen, business services director at North Central Wisconsin Workforce Development Board. "Supporting Mid-State's efforts to develop world-class skills in its students is a critical piece of our strategy to meet that need," Heikkinen said.
CWIMMA is also partnering with Mid-State to launch and fund Metal Mania at the College this summer. The eight-week program allows high school sophomores, juniors, and seniors as well as adults interested in exploring a career as a machinist to take courses in machine tool, print reading, and solid modeling and receive eight transferable college credits. Each student is also paired with a Mid-State district CWIMMA sponsor, namely, Marten Machining, Pointe Precision, UTM and Steel King.
To learn more about Mid-State's programs and services, please call 888-575-6782 or visit the college's website at www.mstc.edu.