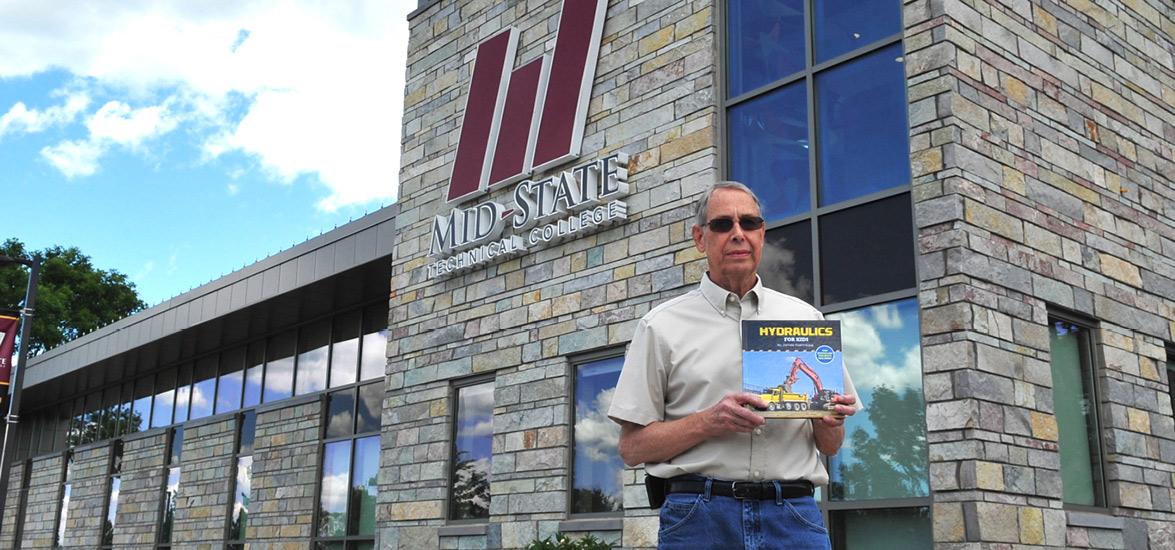 Former Mid-State instructor publishes children's book, continues to inspire students in retirement
July 8, 2021
Retired Mid-State Technical College instructor James (Jim) Koehntopp stopped in at the College on June 22 to sign several copies of his new book, "Hydraulics for Kids." The book is an introduction to the basic principles of hydraulics, written for children in their pre-teen to teen years, and will be distributed to all local school district libraries.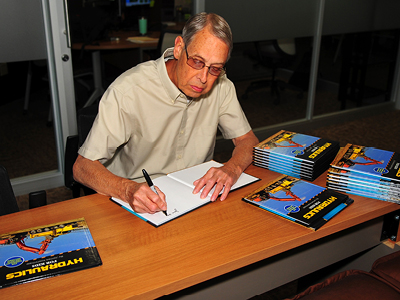 "Hydraulics for Kids" presents several hydraulics models that can be built using ordinary items sourced from a farm-and-home store, such as tongue depressors and syringes. Koehntopp personally designed and built all of the models in the book and even has some pre-made kits that can be purchased to supplement the lessons in the book.
Inspiration for writing the book first came to Koehntopp from a librarian in West Bend, who also happened to be his daughter. She mentioned a patron in the library who was looking for a children's book explaining how hydraulics worked, saying, "Why don't you write a book about it, Dad?" Koehntopp spent the next couple of years contemplating the task of distilling down the concepts into language accessible to a 12-year-old. Finally, he began the process of codifying his thoughts, and with the help of friends, family and some graphic designers was able to self-publish the book. 
Explaining his motivation for completing the book, Koehntopp said, "It's an introduction, not a teaching book. I want to get kids interested in these STEM areas… the mechanical stuff. Some kids want to do things with their hands, not work on a computer. They don't know that there are options."
Koehntopp retired from teaching at Mid-State approximately 18 years ago, where he instructed in several areas, from diesel mechanics to fluid power to applied electronics. His journey to a career in higher education started with working on equipment for a local International Harvester dealer, followed by degrees from a technical college and a four-year institution in South Dakota. He then taught at a high school in Montana before coming to teach at Mid-State in 1972.
Throughout his teaching career Koehntopp focused on the lives of his students, instilling in them a vision of employment that would serve them well. "My students were in a good place, since there is so much demand for these types of skills," he said. "I used to tell my students, 'If you're unhappy with your… working situation, pack up your tools—you will have a job the next day, because you will have the kinds of skills that companies are always seeking.' We need to make sure that our young people understand what value there is in working with their hands."
Mid-State is providing signed copies of "Hydraulics for Kids" to the middle school libraries in its communities, with anticipated availability for students this fall. The book is also available for purchase now on Amazon, Barnes & Noble and Walmart.com.
Many former faculty, staff and graduates continue to support the College's mission of transforming lives through the power of teaching and learning in a variety of ways, according to Dr. Bobbi Damrow, Mid-State's vice president of workforce development and community relations. "Some serve on advisory committees or the Mid-State Technical College Foundation board, some continue to teach as part-time faculty and Jim has extended his passion for teaching by authoring and publishing this inspiring book," Damrow said. "We thought it was especially fitting for the College to place signed copies of the book in our school libraries."