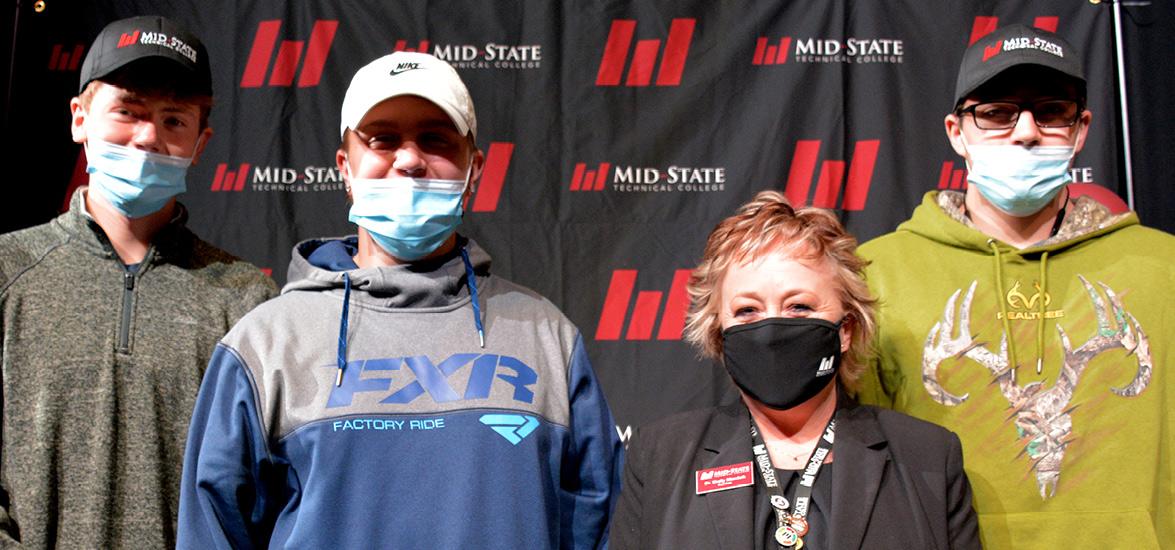 Entire class of '21 at Adams-Friendship High School accepted to Mid-State Technical College
May 11, 2021
The spring college admissions window is often a time of nail-biting anxiety for high school seniors, but the wait just got a little easier for the senior class at Adams-Friendship high school. On Friday, Mid-State Technical College President Dr. Shelly Mondeik personally informed the graduating senior class that they'd each been accepted for the summer and fall 2021 semesters at Mid-State.
"Admitting all high school seniors to Mid-State Technical College is a product of the wonderful collaboration between Mid-State and AFASD," said Adams-Friendship High School Principal Kevin Moore. "At a time when many graduates are uncertain about what the future will bring, removing barriers to career training will help provide more options and pathways for AFHS graduates. We appreciate this opportunity being provided to the students and look forward to our continued partnership with our local technical college."
"Being accepted to Mid-State is pretty cool," said senior Jake Quackenbush, who is also an Adams Friendship Technical Excellence Scholar. Quackenbush described Mid-State as a "natural fit" to continue his agriculture studies, because he likes to work outside with his hands and appreciates that he will be able to finish his degree close to home. 
Senior Connor Bula said it felt "really good" to be accepted at Mid-State. He plans to enter the Diesel & Heavy Equipment Technician program, after touring Mid-State's Diesel area and meeting faculty, which helped him make the decision. "I am very happy that I'll be able to finish my degree locally and without much debt, if any," he said.
The partnership between Mid-State and Adams-Friendship High School helps advance the statewide 60 Forward initiative, a joint effort of Wisconsin Technical Colleges, the UW System and the Wisconsin Association of Independent Colleges and Universities to increase postsecondary attainment of 60 percent by 2027. The initiative stems from evidence that 60 percent of our national workforce, aged 25–64, will need a post-secondary credential by 2025 to meet the demands of industry and provide a stronger personal economic future, as reported in the Lumina Foundation's "A Stronger Nation Report." 
"As a higher education partner with a mission to transform lives, we are excited to offer this opportunity designed specifically to increase the earning potential and economic mobility of our Adams community while  boosting the skilled workforce for local employers," Mondeik said.
According to Wisconsin Technical College System data, just over 50 percent of high school students attend a technical college within one or two years of graduating from high school, and a large share of them start at a university and then transfer to a technical college. 
There is no cost for simply being admitted to Mid-State, and the benefits include having additional options and ease of entry for any student who decides to enroll. Students who already have post-graduation plans will also be admitted to provide seamless transfer back to the Mid-State district if their plans change. 
Each senior received an official acceptance letter along with a packet to set them up for success, including information about options offered at Mid-State campuses, advising and financial aid information, transfer information and a schedule to receive personalized next-step assistance before their high school graduation.
Visit Facebook (@MidStateTech) and Twitter (@FollowMSTC) to learn more about the event and all things Mid-State.