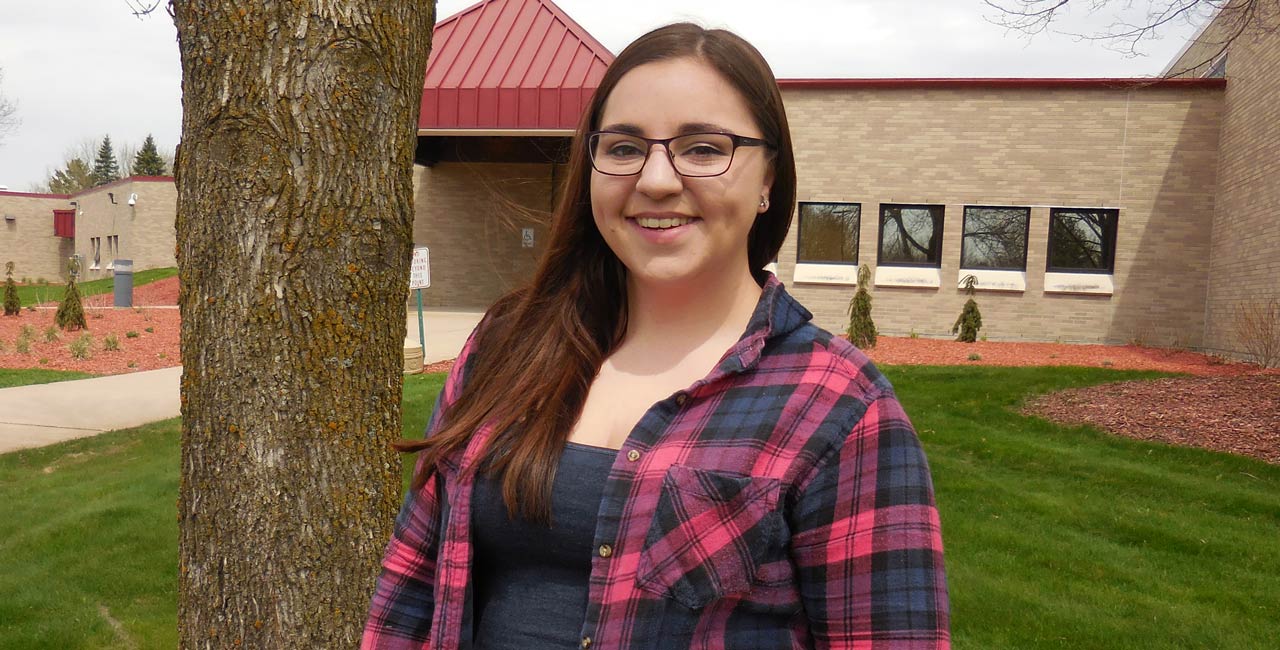 Graduate Spotlight - Carla Byrne
Carla Byrne
Farm Operation, May 2017
"Mid-State sets you up to get your foot in the door with many local businesses and helps you create lifelong friends."
Going back to when Carla Byrne was a small child, she knew she would one day work in the agriculture industry. She had been in the barn since her stroller days and started doing farm chores when she was just six years old. Her ultimate dream was to earn a degree that she could use every day to be a more successful farmer.
After starting her college journey at the University of Wisconsin-River Falls, Carla decided it wasn't the right fit for her. Her friends and family in the farming industry were successful farmers with Mid-State Farm Operation diplomas, so when things didn't feel right with her initial choice, she withdrew and two weeks later started at Mid-State. "Switching was the right decision," she says. "I immediately loved the smaller campus and convenient location within driving distance of home."
Farm Operation at Mid-State is a two-year technical diploma program that meets Monday through Friday from 10 a.m. to 3:30 p.m., November through April, to fit around the farming schedule. Much of that time is spent doing work in the classroom but also includes hands-on work at the Marshfield Agricultural Research Station and touring different farms and agricultural businesses. Carla enjoyed the whole program and loved getting to know her classmates. "We learned a lot from each other because everyone came from different kinds of farms, from dairy farms with between 50 to 700 dairy cows, to farms that focus just on crops or swine."
To add to her full school days, Carla helped with farm chores at home for six to eight hours a day and still found time to serve on the Campus Activities & Student Senate and as the representative for the Agri-Business Club. "I learned that you really have to be organized to manage farm life and school life, but I wouldn't change a thing," she says. "There are so many opportunities at Mid-State—new students should take advantage of every one of them." Outside of school, she has helped the Neillsville FFA and FFA Alumni with various activities and worked with 4-H kids in the swine and livestock project.
Carla came into the program expecting a broad farming education and came out with that and more. "Mid-State sets you up to get your foot in the door with many local businesses and helps you create lifelong friends," she explains, adding that some of those friends include her "phenomenal" instructors, who she plans to stay in touch with. 
Carla graduates this May with distinction (gold cord) and is certified as a Farmers Assuring Responsible Management (FARM) inspector. She has worked for North Hendren Dairy Cooperative, ensuring local farmers are following FARM standards. Her long-term plans are to partner with her brother to take over the family farm and possibly get her agriculture teaching license.