Emergency Services Conference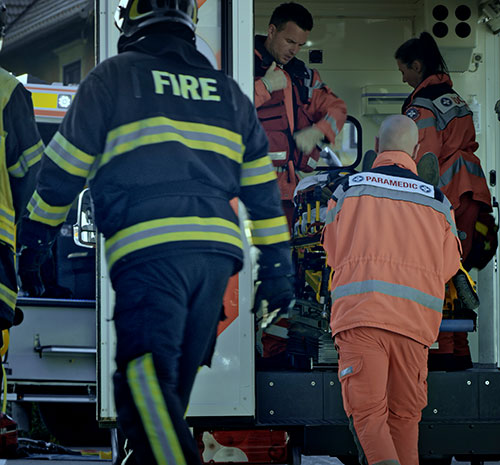 Location
Adams-Friendship Fine Arts Center
Mid-State Technical College, in partnership with the Adams County Officers Association invites emergency services personnel from the central Wisconsin area to an Emergency Services Conference. 
Firefighters, police officers, correctional officers, sheriff deputies, dispatchers, emergency medical responders, emergency medical technicians, paramedics, emergency management, medical examiners, and educators in all of these fields are encouraged to attend.
Join us for a day of learning and inspiration! This is an opportunity to hear from some of our area's greatest minds on topics that impact us all. Be a part of the network that makes Adams County such a special place to serve.
Registration is required. 
This conference is free to participants, including lunch, thanks to the following sponsors:
Adams-Columbia Electric Cooperative
Gunderson Moundview Hospital and Clinics
WestRock
Town of Rome Fire Department Fund
Rural Mutual Insurance
Equity Design Group
When & Where
Saturday, April 1 • 9:00 a.m. – 4:00 p.m.
Adams-Friendship Fine Arts Center
1109 East North Street, Adams, WI 53910
Agenda
 8:15 – 9:00 a.m.
 Doors open for check-in
 9:00 – 9:30 a.m.
 Welcome
 J.R. Schmidt, Assnt. Chief – Training Officer Adams County Fire District 

 Presenting of Colors
 Adams County Sheriff's Office Honor Guard 

 Pledge of Allegiance
 Sam Wollin, Adams Police Chief 

 Invocation
 Pastor Terri Skildum, Pastor of Trinity Lutheran Arkdale
 9:30 – 10:30 a.m.
 Mental Health in Emergency Services
 Keith Melvin, EMS Chief – Waushara County EMS
 10:30 – 10:45 a.m.
 Break
 10:45 – 11:45 a.m.
 Technical Rescue in Small Amounts
 David Briggs, Firefighter Training, Development, and Coaching LLC
 11:45 a.m. – 1:00 p.m.
 Lunch (Sponsored by the Town of Rome Fire Department Fund)
 1:00 – 1:30 p.m.
 Cardiac Arrests in Adams County
 Steve Hensler, State of Wisconsin Critical Care Paramedic – Lifestar Emergency Medical Services
 1:30 – 2:30 p.m.
 Adjusting Training Behavior Through Advanced Critical Thinking
 Rick Anderson, Associate Dean, Protective & Human Services – Mid-State Technical College
 2:30 – 2:45 p.m.
 Break
 2:45 – 3:45 p.m.
 Pride and Ownership in the Fire Service
 J.B. Moody, Fire Chief – Stevens Point Fire Department
 3:45 – 4:00 p.m.
 Closing Statements
 J.R. Schmidt, Assnt. Chief – Training Officer Adams County Fire District
Questions?
Contact Workforce & Economic Development or call 715.422.5339.
If you have a disability and require accommodations to participate in this activity, contact the event coordinator as soon as possible, ideally 14 days in advance.
 
All Events