Advanced Manufacturing, Engineering Technology and Apprenticeship (AMETA) Center Site Dedication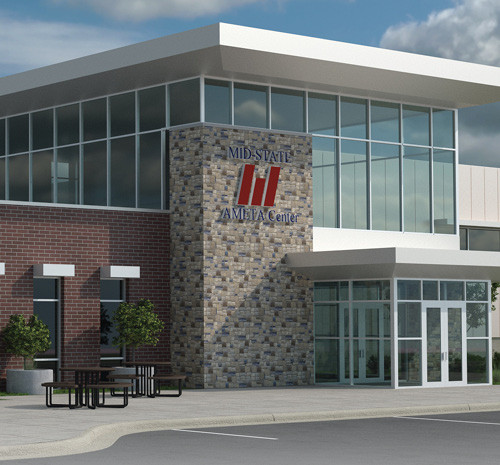 Location
Stevens Point: 5000 Coye Drive
Mid-State Technical College will gather with campaign partners, dignitaries, and supporters to celebrate the Wisconsin Technical College System final project approval of the Advanced Manufacturing, Engineering Technology and Apprenticeship (AMETA) Center project. This approval paves the way for construction after a multi-year construction capital campaign. The event takes place on Friday, July 22, from 11:30 a.m. to 1:00 p.m. at the project site in Stevens Point: 5000 Coye Drive.
Lunch will be provided at the invitation-only event. 
With a planned opening in late 2023 or early 2024, the AMETA Center is an approximately 50,000 square-foot facility slated for development on I-39 in the Stevens Point Industrial Park. It is expected to serve over 1,500 people per year through advanced programming to traditional technical college students and high school students, incumbent worker training, and new equipment and technology advancement demonstrations for central Wisconsin businesses. The facility is set to provide office space for the Wisconsin Bureau of Apprenticeship Standards (BAS) supporting the 14 apprenticeship programs available at Mid-State and the over 400 current local apprentices. Partnerships with central Wisconsin governmental agencies to assist in the project, the State of Wisconsin Workforce Innovation Grant award, support from all 15 area school districts, financial contributions from over 200 industry partners and individuals and a resident hall agreement with UW-Stevens Point for Mid-State student use are a few of the many collaborations demonstrated in the project.
Attendees will:
Celebrate the approval to move to the construction phase
Witness unveiling of the AMETA Center name 
Hear project updates
Network
Enjoy lunch and other refreshments
Where
5000 Coye Drive
Stevens Point, WI 54481
When
Friday, July 22
11:30 a.m.– 1:00 p.m. (remarks begin at 11:35)
Participant/Speakers
Dr. Shelly Mondeik, President, Mid-State Technical College
Dr. Morna K. Foy, President, Wisconsin Technical College System President
Amy Pechacek, DWD Secretary (invited)
Missy Hughes, WEDC CEO and Secretary (invited)
Local and state dignitaries invited (TBD)
Kristin Crass, Mid-State Board President (invited)
AMETA Center Campaign Co-Chairs: 

Wayne Bushman, Founder, Bushman Electric
Joe Kinsella, Founder, Pointe Precision, Inc.
Scott Groholski, Co-Founder and President, Point of Beginning, Inc.  

Dr. Bobbi Damrow, Vice President, Workforce Development and Community Relations
 
All Events