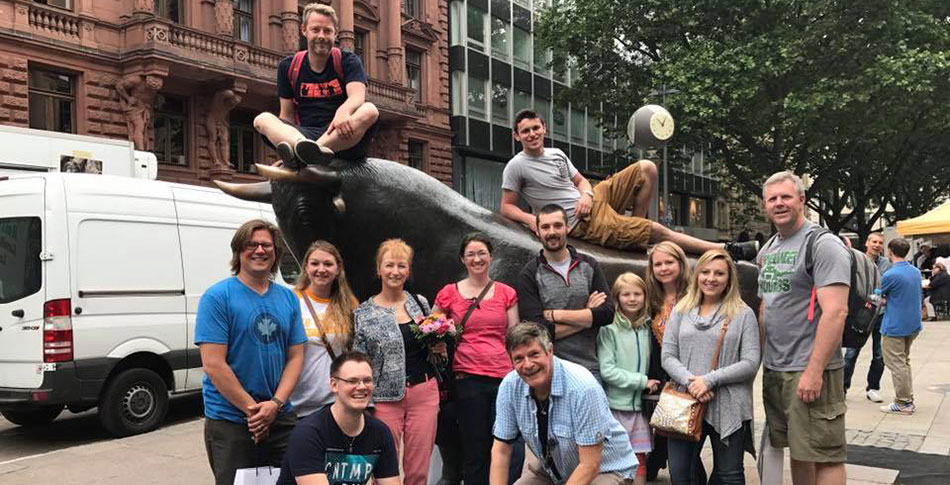 Short-Term Cultural Exchange
Exchange Length: 10 Days
Personal Expenses: Approximately $700 for travel insurance, spending money, and passport fees (for those without valid passport)
Eligibility: Existing Mid-State students
Be part of the Mid-State & Max-Eyth Schule International Student Exchange! Unlike our Global Cultural Experience trips, this exchange requires an application process, and selection is competitive. Personal expenses are minimal as Student Life covers the cost of your flight and arranges for host family accommodation while in Germany.
If you're one of the six students selected to participate in this short-term educational and cultural exchange, you'll travel to the city of Dreieich, near Frankfurt, where you'll be accommodated by German host families/students. The days will be full—you'll go sightseeing at popular tourist destinations, visit area businesses, and attend a few classes at Max-Eyth Schule. Don't speak German? No problem—you don't have to! While learning a few words is always recommended, your hosts will speak English, and you'll find that many of the people you spend time with do too. There's probably no better way to experience a culture than by living in it just like the locals. Here's your chance to do just that!
Application finalists will be invited for a personal interview. Selection will be based on:
A personal essay
Two instructor recommendations
Personal interview performance
Academic performance
If selected, participants will be required to attend mandatory orientation meetings.
Dates
Travel to Germany: Anticipated June 2024 
Application Opens: January 2024
Application Closes: To be determined (TBD)
Cost Details
Included in Exchange:
Airfare
Accommodation with host family
Airport and public transportation
Entry fees
Some meals
Not Included:
Some meals
Other personal costs