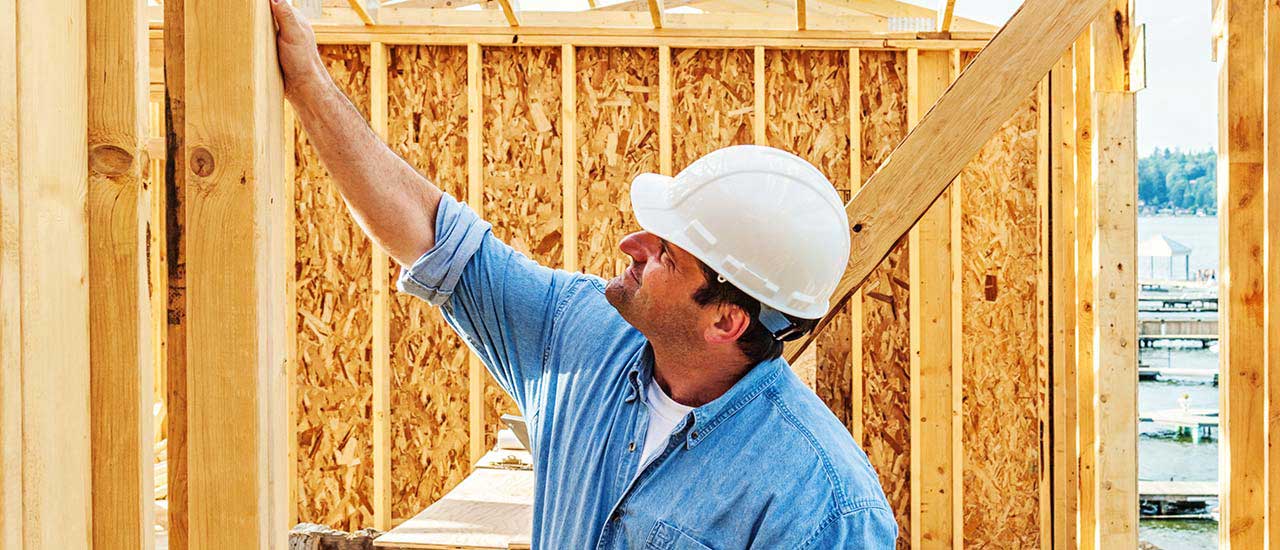 Carpenters use carpentry hand and power tools to construct, erect, install, or repair structures and fixtures made of a variety of materials. 
Carpenters typically:
Build frameworks (including partitions, joists, studding, and rafters), wood stairways, window and door frames, and hardwood floors using carpentry hand and power tools. 
Construct wood framing for houses, roofs, stairs, decks, and sheaths, and forms for concrete and frame buildings, walls, footings, cabinets, siding, drywall, and insulation. 
Install doors, windows, store fronts, and hand rails.
Work on drywall, wood flooring, metal jambs, and ceilings. 
Perform interior and exterior finish work.
Read blueprints, measure accurately, and calculate dimensions.
Work Conditions

Carpenters may work indoors and outdoors in various weather conditions requiring prolonged standing, climbing, kneeling, squatting, and lifting heavy carpentry materials. Working conditions vary with each job and may include working on ladders and scaffolding. Carpenters are occasionally exposed to fumes and dust. Ongoing safety training is provided to avoid job site accidents. Extensive traveling may be required.

Training

4-year program
6,240 hours of on-the-job learning
400 hours of paid related instruction—currently one full day every two weeks during the school year, alternating between Mid-State Technical College (Wisconsin Rapids) and Lakeshore Technical College
120 hours of unpaid related instruction to be completed on apprentice's own time

Application Requirements

To qualify for this apprenticeship opportunity, applicants must meet the following requirements:

Age: 17 or older
Education: High school diploma or equivalent
Aptitude Testing: Meet required norms
Physical Ability: Must be physically able to perform trade work.
License: Must have valid driver's license or reliable transportation.
Get Started
If you meet the application requirements listed above, do the following to get started:
Visit Wisconsin Department of Workforce Development and select Central Wisconsin Carpenters JAC to learn more.

Obtain direct employment through a company that operates an apprenticeship program or a similar sponsorship.

Contact Raquel Nowak to learn about the application process:

Raquel Nowak
Apprenticeship Training Representative
Bureau of Apprenticeship
Wisconsin Department of Workforce Development
715.323.6322
Email