WTCS Student Ambassador Program
"Telling the story of Wisconsin's technical colleges."
Every year, each of the 16 colleges in the Wisconsin Technical College System (WTCS) selects one student to participate in a leadership development and recognition program. The mission of the WTCS Ambassador program is to recognize and reward outstanding students in the WTCS. It also aims to develop a greater public awareness and appreciation for the high-quality system of technical education, which contributes to both the state's economy and its citizens by providing hands-on education for high-demand careers fields.
Mid-State's 2023 Student Ambassador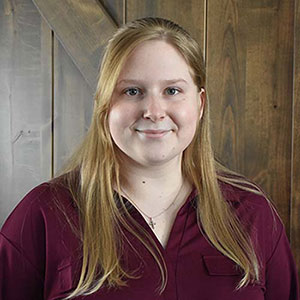 Olivia Schultz
Nursing
Choosing Mid-State Technical College turned out to be a game changer for me. Originally, I was just looking for the best school for my nursing degree, and although I was expecting to land on a four-year, that research led me instead to Mid-State. Once I started, I knew I'd made the right choice for so many reasons. I grew up in the country, so Mid-State felt like home—you walk in and everyone says hi to you. I went from being nervous that I wouldn't fit in to feeling a confidence I've never felt in life. The fact that everyone at Mid-State sees me for who I am and understands and supports what I want to achieve has really brought me out of my shell. Being named a WTCS Student Ambassador is an honor and an opportunity to represent a whole community that can be pushed into the shadows because they don't recognize their potential or believe they can succeed or even fit in at college. Mid-State has not only reflected back the best parts of me, it has provided a safe and nurturing environment to grow and develop in ways I never imagined. I can't wait to share my story with students and help them discover what you can achieve in a truly supportive environment.
Watch the full-length video of the WTCS 2023 WTCS Student Ambassador Dinner.
Past Ambassadors
2022 | Brittany Nelson, Business Management
2021 | Adrian Rodriguez, Business Analyst
2020 | Luke Mroczenski, Civil Engineering Technology-Highway Technician
2019 | Vikram Gill, Business Management
2018 | Dakota Lockhart, Nursing
2017 | Brandon Roberson, Accounting
2016 | Brooke Halverson, Nursing
The Ambassador Experience
After a day of team-building and leadership development, the newly named WTCS Student Ambassadors are celebrated at a formal banquet attended by family members, System and college leaders, and other invited guests. At the banquet they receive an award and scholarship and share their stories of determination, perseverance, and success.
Following the banquet, the students officially serve as WTCS Ambassadors for one year and, unofficially, for a lifetime.
Program Objectives 
Foster public awareness and appreciation for the high-quality System of technical education that contributes to the state's economy and its communities.
Highlight the technical skills, academic achievements, community impact and leadership—in the classroom, workplace, and community—of Wisconsin's technical college students and graduates.
Encourage ongoing collaboration in the delivery of technical education among state and local education, workforce and economic development, and industry partners.
Emphasize the uniquely valuable role of affordable, flexible, and responsive technical education in an era of rapid change in the workplace and in every facet of a modern economy.
Inspire pride in technical education among students, graduates, and all involved in its delivery.
Who can be named WTCS Student Ambassador?

This recognition is given to a Mid-State student representative who possesses qualities that go beyond good grades, such as community involvement, leadership qualities in and out of the classroom, and a true commitment to higher education in the Wisconsin Technical College System.

How is the Ambassador chosen?

The WTCS Student Ambassador for Mid-State is chosen from the group of current Student Representatives working for the College. A committee will evaluate the commitment, dedication, and work each student has done and select three to move on to an interview. One winner will be chosen to represent Mid-State at the student ambassador conference.

What are the benefits to the winner?

In addition to spending the next year as a spokesperson for the Wisconsin Technical College System and Mid-State, the newly appointed WTCS Student Ambassador is recognized at the statewide student ambassador conference in Wisconsin Dells. At this all-expense-paid conference the student receives valuable leadership training, speaks at the student ambassador banquet, and receives an exclusive memento. The Mid-State Foundation also awards the College's WTCS Student Ambassador with a $200 scholarship.