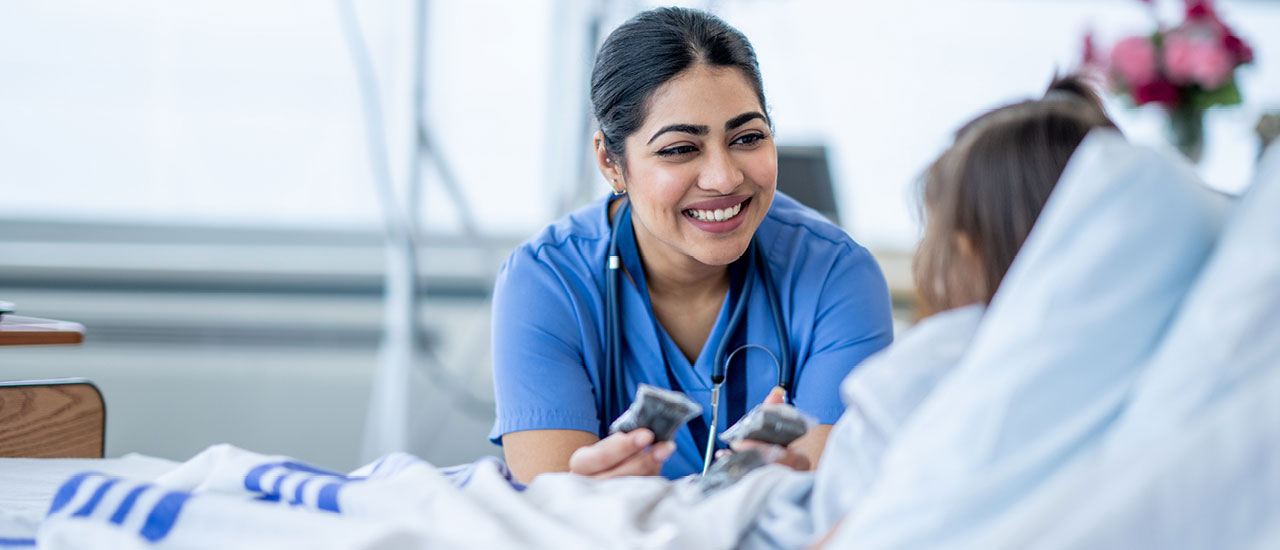 Are you already working as a licensed practical nurse but looking to advance your career in health? The LPN-to-ADN Pathway is designed to help LPNs take that next step: an associate degree in nursing (ADN).
Bridge to Nursing
Mid-State makes it easy for LPNs to begin their ADN coursework with a "bridge" of requirements, all offered at Mid-State:
Transition from LPN to ADN – Online course
LPN Skills Refresher – Partially online course
Once these bridge requirements are met, you may begin the core Nursing courses. Openings in the core Nursing courses will depend on seat and clinical availability. Prior to entering third-semester classes, students are required to complete a program on-boarding (orientation) session when the above listed courses are completed. Upon completion of the core Nursing courses, you will be eligible to take the NCLEX-RN.
Explore the full policy and curriculum details below, and contact a Nursing academic advisor with any questions.
LPN-to-ADN Admission Requirements
LPN to ADN students must be US citizens or permanent residents.

Must hold a current Wisconsin Licensed Practical Nurse credential.

Must work as an LPN for at least one year.

Practical Nursing degree must come from an accredited college.
LPN-to-ADN Nursing Curriculum
Step 1: Credits Already Earned by Licensed Practical Nurses

(Subject to confirmation by credit evaluation process)

General Education Courses*

28 credits

Advanced Standing for LPN License
(Credit for Prior Learning)

15 credits
 

Step 2: Nursing Bridge Courses

10543129 Transition from LPN to ADN (if more than 2 years since LPN graduation)
10543151 LPN/Paramedic to ADN Skills (Required of all students)

2 credits
2 credits

Step 3: Core Nursing Courses

3rd Semester (9 credits)
10543109 Nursing: Complex Health Alterations 1
10543110 Nursing: Mental Health and Community Concepts
10543111 Nursing: Intermediate Clinical Practice
10543112 Nursing Advanced Skills
 


3 credits 
2 credits 
3 credits 
1 credit

4th Semester (10 credits)
10543113 Nursing: Complex Health Alterations 2
10543114 Nursing: Management and Professional Concepts
10543115 Nursing: Advanced Clinical Practice
10543116 Nursing: Clinical Transition


3 credits 
2 credits 
3 credits 
2 credits

TOTAL Credits to Obtain the Degree 

66* credits
*The 1-credit GPS for Student Success course is a college requirement for graduation, not a nursing program requirement. This course may be waived for students who are enrolled in a technical diploma program less than 6 credits that is not embedded within an Associate degree program or a program that entails 6 credits or less; have obtained 60 credits with a minimum GPA of 2.0; have obtained an Associate degree or a Baccalaureate degree; or are enrolled in a shared program.
Clinical Related Requirements
Successful completion of this program requires a clinical experiences. Clinical sites have the right to refuse a student's placement based on inadequate health records, pending charges, or conviction records. Students with a criminal history may not be able to complete clinical courses. The clinical agency determines whether the student is allowed to attend clinical. If a student is denied placement by an agency, if possible, an additional attempt will be made to place the student at a different clinical site. If the student is not allowed to attend the clinical site, the student will be withdrawn from the clinical course and will not be able to advance in the program.

Prior to beginning a clinical experience in health care facility students must:
Subscribe and submit health work and current CPR to the health work portal.

Obtain the required uniform for clinical experiences (specifics regarding uniform requirements and ordering will be covered in the program orientation).

Clinical assignments may be in locations outside of the student's city of residence. The student is responsible for transportation and other personal arrangements.