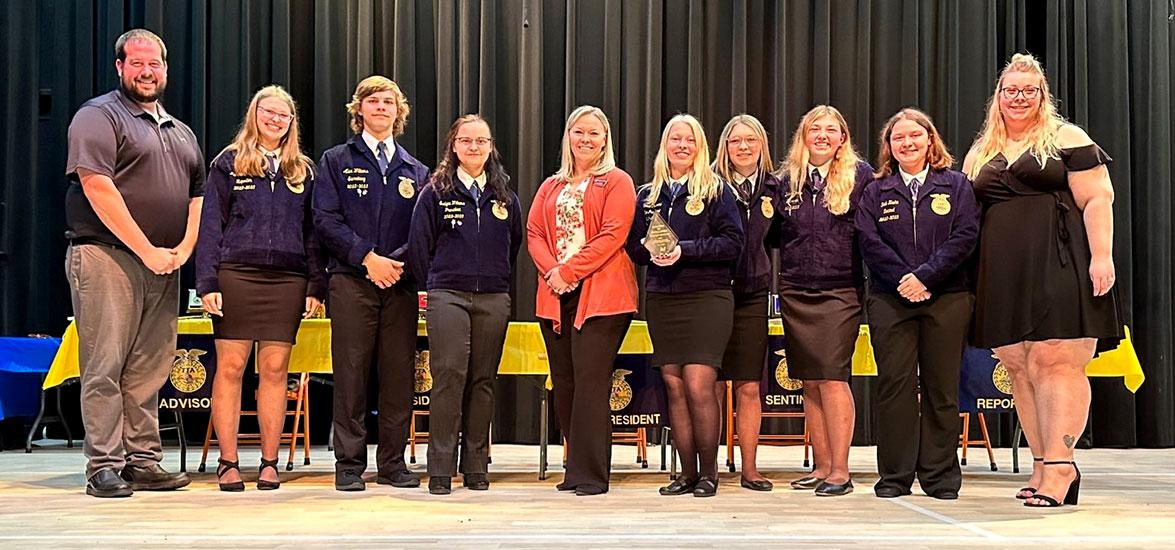 Stanley-Boyd FFA earns Mid-State's 2023 Regional FFA CDE Chapter of Excellence Award
May 31, 2023
Mid-State Technical College has awarded its 2023 Regional FFA Career Development Events (CDE) Chapter of Excellence Award to the Stanley-Boyd FFA chapter. The award was conferred at Stanley-Boyd High School's annual FFA Awards Banquet on May 6, 2023.
The Chapter of Excellence award recognizes exemplary performance in the regional FFA CDE contests held at Mid-State's Marshfield Campus in March. Over 500 students, staff and volunteers from 32 middle and high schools throughout the state participated in the regional event. Each chapter earned points for both team and individual placings, with the Stanley-Boyd FFA chapter earning the most points during the competition. 
"Mid-State is proud to host FFA CDE every year to not only bring students from around the state to our local community but to promote the variety of amazing careers available in agriculture," said Dr. Alex Lendved, dean of Mid-State's Marshfield Campus and agriculture programs. "We are always very impressed with the talent and dedication of the FFA students that compete in the FFA CDE. All participants should be proud of putting in the work necessary to compete."
The competition covered a range of contests, including forestry, floriculture, dairy cattle and livestock judging, vet science and more. Top ranking teams were invited to participate at the state competition in Madison on April 27. 
Stanley-Boyd had multiple top 10 finishes: four in Floriculture, four in Forestry, two in Meats and one in Wildlife. Additionally, multiple teams placed within the top 10, including Dairy Cattle, Floriculture, Forestry, Meats, Middle School Agriscience, Milk Quality Products and Wildlife. Stanley-Boyd went on to compete at state in many contests earning second in Forestry with two first place individual finishes in Forestry and Nursery-Landscape.
Chapters that also earned plaques for team and individual placings included Poynette, Granton, Marshfield, Adams-Friendship, Pittsville, Howard-Suamico, Neillsville, Athens and Reedsville.
FFA Career Development Events occur at the local, state and national levels to develop college- and career-readiness skills and serve as an outgrowth of instruction for FFA members in grades 7–12. The events help participating FFA members to develop critical-thinking and effective decision-making skills, foster teamwork and promote communication while recognizing the value of ethical competition and individual achievement.
Mid-State will host another regional event in March 2024. Learn more about the FFA CDEs hosted at Mid-State and the Chapter of Excellence Award at mstc.edu/ffa-cde.