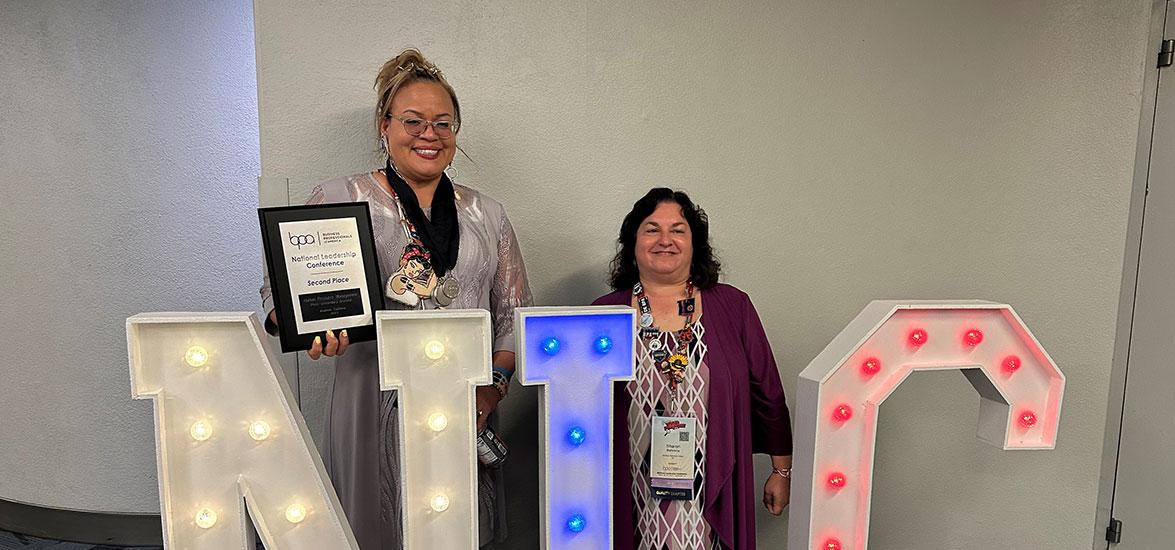 Mid-State students earn top recognition at 2023 BPA National Leadership Conference
May 23, 2023
Four Mid-State Technical College students and staff members were recognized at this year's annual Business Professionals of America (BPA) National Leadership Conference held April 26 – 30 in Anaheim, Calif. Students were able to compete at the national level after placing at the Wisconsin BPA State Leadership Conference in February.
Tara Chapman, Tomah, placed in three events, earning second place in Human Resource Management, fifth place in Advanced Interview Skills and sixth place in Ethics & Professionalism. She also designed the state of Wisconsin winning pin that was used to trade with other BPA members at the event.
Chapman graduated from Mid-State's Business Management, Human Resources Assistant, Entrepreneurship and Project Management programs in December 2022. She is currently enrolled in the Digital Marketing program. Chapman is the parliamentarian for Mid-State's BPA and serves as the Wisconsin Post-Secondary Division Membership Officer.
Also highlighted at the event but not in attendance was Emily Tauschek, Plover, who graduated from the Business Management program May 13. Tauschek won Ambassador of the Year for the Post-Secondary Division and was recognized for being a Certified Program Student.
Mid-State's BPA chapter also received a Quality Chapter Distinction award and a BPA Marketing and Public Relations award. Missy Skurzewski-Servant, dean of Business & Information Technology, and Sharon Behrens, instructor of Business Technology and BPA club advisor, were recognized for five years of service.
"We are so proud of our BPA students and their success at both the state and the national levels," said Sharon Behrens, instructor of Business Technology. "Mid-State's BPA's success would not have been possible without Dr. Skurzewski-Servant's revitalization of our BPA club five years ago. I was excited to become a club advisor in 2018 and continue to be amazed by the dedication and hard work of our students."
BPA's competitive events give students the opportunity to demonstrate workplace skills learned through business education curricula. The national conference brought together delegates from across the country to vie for top honors in business, finance, technology, marketing and health administration skills competitions; attend leadership and professional development workshops; receive awards for community service activities and elect BPA's 2023–2024 national student leadership team.
Business Professionals of America (BPA) is the premier Career and Technical Student Organization (CTSO) for middle, high school and college/university students preparing for careers in business and information technology. BPA provides opportunities for growth through education, competitive events, leadership development and community service. The organization has more than 46,000 members in schools in the United States and China. Learn more at bpa.org.
To learn more about Mid-State's programs in the Business, Management and Administration cluster, visit mstc.edu/programs.