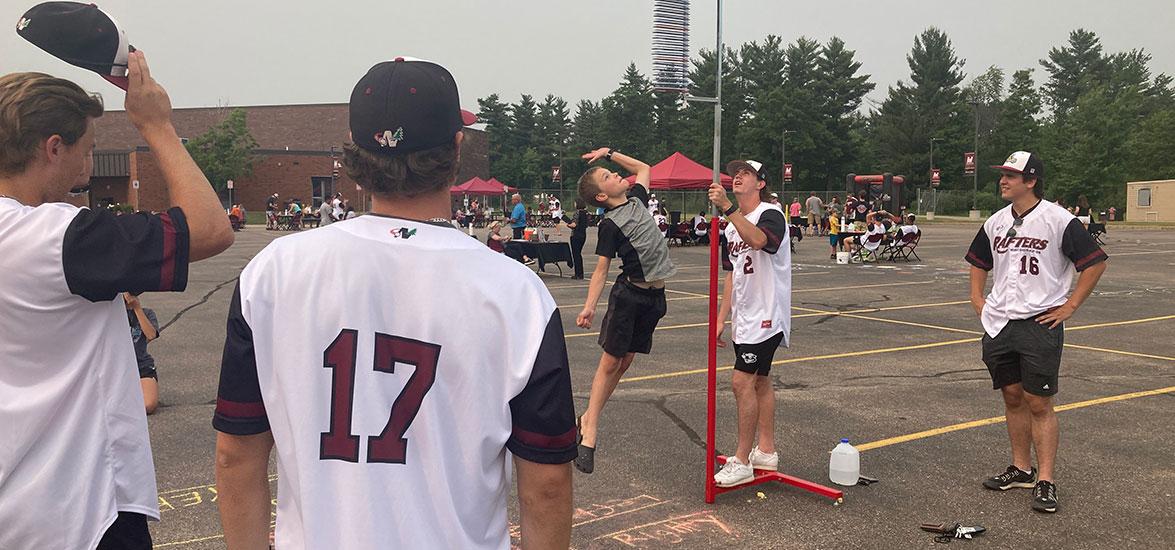 'Rafters Meet-and-Greet' and 'Cuts 4 Kids' event held at Mid-State Technical College
June 15, 2023
Mid-State Technical College partnered with the Wisconsin Rapids Rafters to offer the community a special opportunity to meet the 2023 Rafters baseball players at the College's Wisconsin Rapids Campus on June 14. This year's meet-and-greet event was a double-header with Cuts 4 Kids, which provided free kids' haircuts from Mid-State Cosmetology and Barber Technologist students. 
The event featured autograph opportunities, games and the mascots of both Mid-State and the Rafters, Grit and Rosco P. Rafter. The first 300 fans to arrive enjoyed complimentary hot dogs, chips and a cup of Mid-State's Cranberry Cougar Swirl ice cream. Attendees also explored Mid-State's agriculture, cosmetology, criminal justice and fire/EMS programs.
Dominic Schoenick, an 11-year-old of Grand Rapids, came out to the event to meet the Rafters team and try out the games. His efforts in the "Jump Higher than a Rafter" challenge gave the players some strong competition. "I got to seven inches," he said, explaining that he planned to head back over to try again after getting his free haircut in the Salon at Mid-State. "I think I could do better. I think I could get to eight."
The Rafters Meet-and-Greet builds on the ongoing collaboration between Mid-State and the Rafters to combine fun, community and opportunity. For the past five years, the two organizations have partnered to offer the Free Tuition Thursdays summer promotion, which randomly awards several $500 scholarships plus tickets with complimentary meal voucher to a Rafters home game. Being selected also gives contestants a shot at a $15,000 grand prize to pay for the average cost of two years of tuition at Mid-State. In 2021 Diesel & Heavy Equipment Technician student Damyon Hains became the first winner of the $15,000 grand prize.
The organizations also co-sponsor the Lil' Rafters Reading Program, giving school-aged children the opportunity to win two free tickets to a Rafters home game if they complete a required reading goal. 
"This event is a great example of how the Rafters Baseball Club and Mid-State Technical College combine fun and support for student success to give back to this incredible community," said Tyler Miller, assistant general manager of the Wisconsin Rapids Rafters. "We're proud to continue teaming up with Mid-State through Free Tuition Thursdays and the Lil' Rafters Reading Program, which expanded to 12 area schools this year."
Visit mstc.edu/rafters for full details about Free Tuition Thursdays, including rules, qualifying games, eligibility and entry, and follow Mid-State on Facebook (@MidStateTech) and Instagram (@midstate_technical_college) for updates on future events and opportunities.