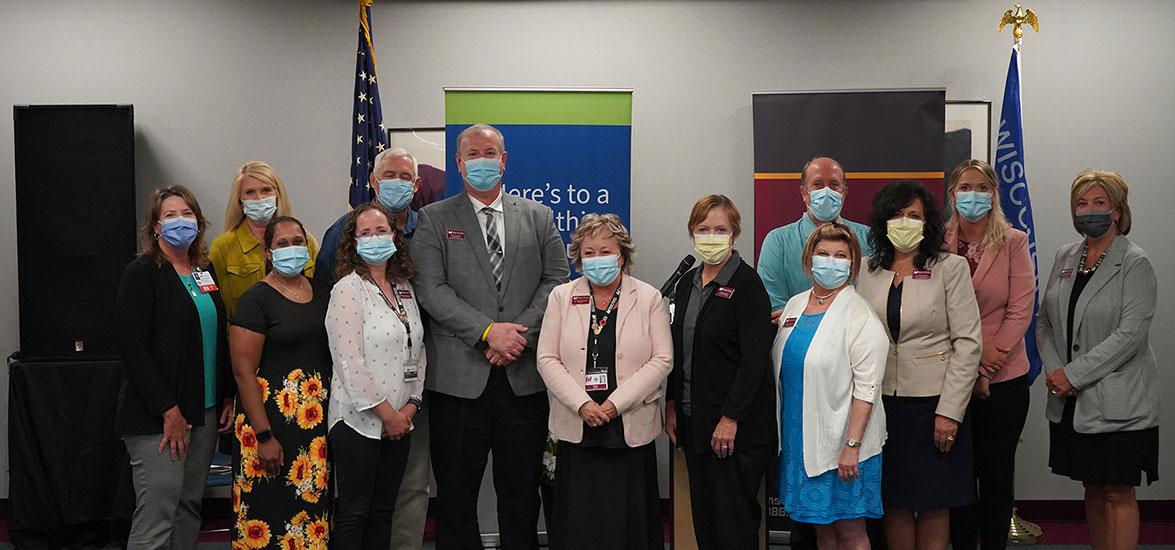 Mid-State Technical College hosts Healthcare Simulation Center grand opening celebration
August 16, 2022
Mid-State Technical College hosted the grand opening celebration of its Healthcare Simulation Center at Aspirus Health in Wisconsin Rapids on Friday, Aug. 12.
Attendees heard from partners and supporters and enjoyed tours of the 12,000 square-foot space, including high-fidelity simulators, an Anatomage Table and other health care technology.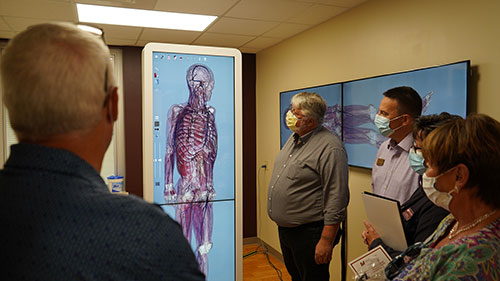 The Mid-State Healthcare Simulation Center is a state-of-the art facility designed to help meet the community's growing demand for highly trained health care professionals. It is a unique interdisciplinary health care simulation training facility in an actual health care setting that allows Mid-State Technical College to greatly increase nursing student capacity and provide experiences for all health and EMS programs at the College. It also provides professional development for current health care professionals through continuing education and customized training.
The facility was completed and launched in 2021 through a partnership with Mid-State Technical College, Aspirus Health and The Legacy Foundation of Central Wisconsin and during the height of the pandemic. 
"At Mid-State, we believe it is through partnership that our college is better able to serve our communities," said Mid-State President Dr. Shelly Mondeik. "It has always been about students, our communities and doing our part to keep the current and future workforce of healthcare strong."
According to Mondeik, over 1,000 students have already engaged in simulation activities since the Simulation Center opened in 2021, with 350 students across Mid-State's health programs now training in the facility each semester. Starting fall 2022 employer-sponsored professional development training opportunities and community-based learning opportunities will be available. 
    
"This partnership truly is a win-win for both of our organizations, including the students that come through our doors," said Kimberly Johnson, vice president of patient care and chief nursing officer, Aspirus Health. "As the population ages and many healthcare professionals reach retirement age, the need for nurses and other healthcare staff continues to rise. Mid-State's ability to attract and educate more healthcare students will have a substantial impact on our ability to meet our workforce needs, both here at Aspirus Riverview and throughout our community."
Students training in the Simulation Center work in both inpatient and outpatient care zones and have access to nine medium-fidelity and high-fidelity manikins that replicate nearly all clinical scenarios, including stroke, sepsis infection, bleeding, shock, birthing and more. The manikins enable students to practice their skills in a consequence-free environment before progressing to clinical training with live patients. Simulation sessions can also be recorded for review and debriefing purposes—an educational opportunity rarely available with traditional clinical training. 
"I'm so grateful to be here today," said Terri Combs, a Mid-State Paramedic Technician program graduate who was among the first to train in the new center. "The Simulation Center was not just a learning tool, it was the foundation for me, for my continued learning, and a safe place where we can learn, we can refine those skills and we can become the best healthcare providers for our patients."
Learn more at mstc.edu/sim-center.