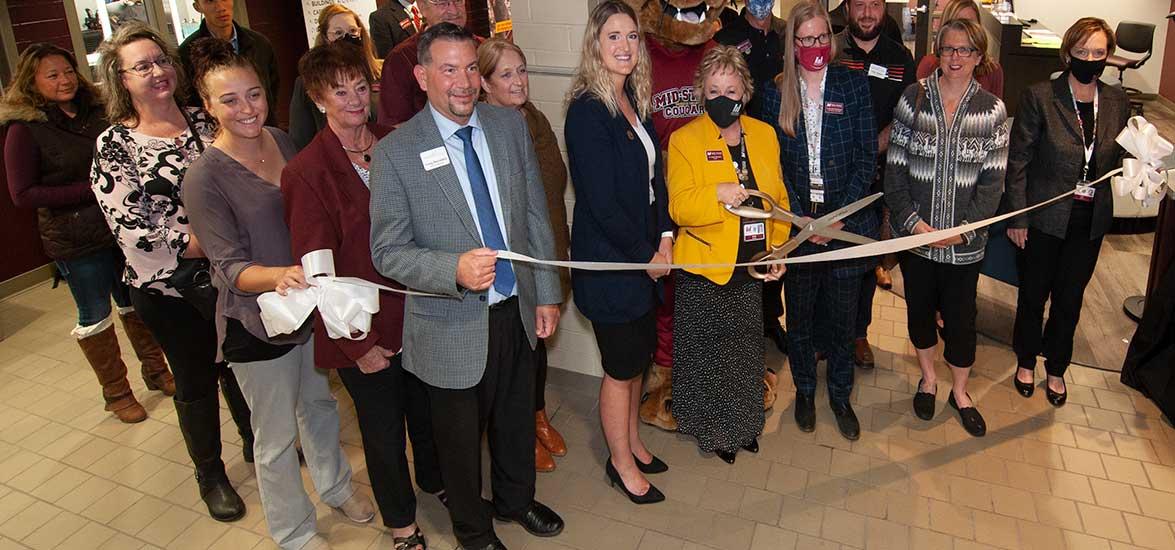 Mid-State Technical College celebrates the 'Salon at Mid-State' ribbon cutting as host of the Heart of Wisconsin Chamber of Commerce Off-The-Clock networking event
October 12, 2021
Mid-State Technical College partnered with the Heart of Wisconsin (HOW) Chamber of Commerce to celebrate the ribbon cutting of the recently remodeled on-campus Salon at Mid-State. The October 11 event was part of the Chamber's Off the Clock networking series. 
The on-campus salon at Mid-State Technical College underwent its transformation during the 2020–21 school year, but a formal ribbon cutting event was postponed due to the pandemic. Attendees participated in the ribbon cutting celebration and had an opportunity to tour the Salon at Mid-State and talk to students and staff as well as network with Chamber of Commerce members and guests.
The fresh new look affords the College's Cosmetology, Barber Technologist and Nail Technician program students an opportunity to practice their skills in a new bright and open space that reflects the salons and barbershops they will be working in when they graduate. Included are new manicure tables and pedicure thrones as well as new equipment for acrylic and gel nail services. As usual, the community they serve has enjoyed a variety of affordable nail, facial and hair care services in the new salon, though lately in greater comfort and style.
"It's a great feeling to be able to finally come together with the community to officially unveil this brand new, fresh space and give our students the chance to be seen and celebrated," said Dr. Missy Skurzewski-Servant, Mid-State's dean of the School of Business & Technology."
According to Skurzewski-Servant, the College has seen an increase in enrollments in the Cosmetology, Barber Technologist and Nail Technician programs since the remodel. "It's especially satisfying to know that this investment is already helping Mid-State better meet the expressed needs of our business partners, who are in need of more skilled graduates from these programs," she said.
Customers of the Salon at Mid-State experience first-class salon services, delivered by students and guided by instructors with years of professional and teaching experience. Services include a full menu of hair and barbering services as well as face, nail and brow services.  
Call 715-422-5531 or stop in to make an appointment. The Salon at Mid-State is open Monday – Wednesday, 11:15 a.m. – 3 p.m. and 4 – 8 p.m. Find detailed hours at mstc.edu/salon, and learn more about Mid-State's Cosmetology, Barber Technologist and Nail Technician programs at mstc.edu/programs.