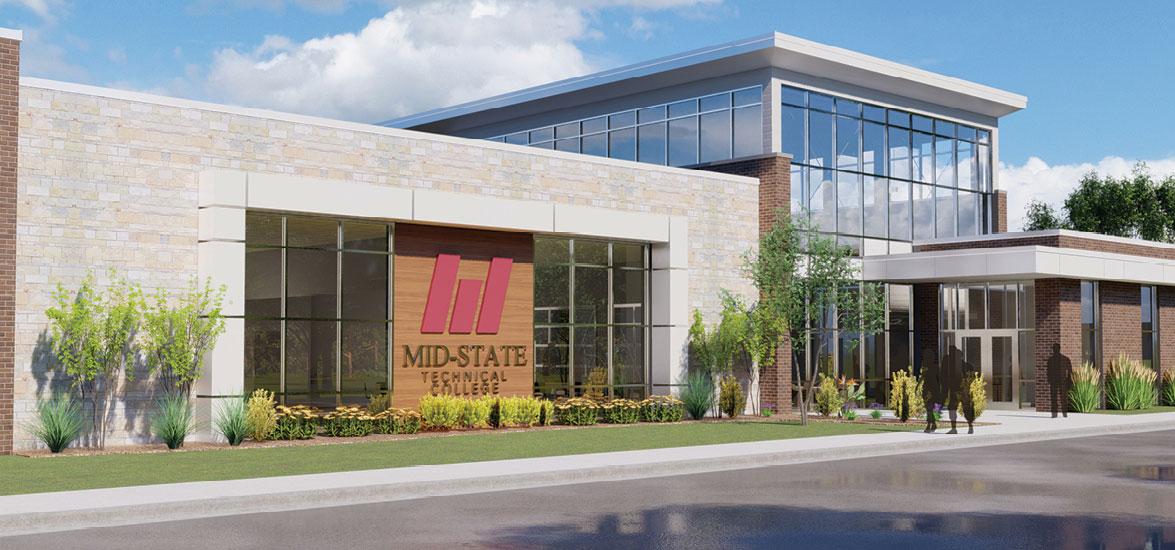 Mid-State Technical College and partners celebrate $5M fundraising milestone for planned Advanced Manufacturing, Engineering Technology and Apprenticeship Center
September 20, 2021
Mid-State Technical College and partners have raised over $5 million in the capital campaign for a new Advanced Manufacturing, Engineering Technology and Apprenticeship Center planned for Stevens Point. They came together to celebrate the fundraising milestone at the College's Stevens Point Campus on Friday, Sept. 17.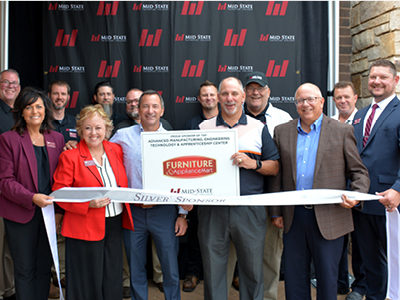 The event officially launched the next phase of the campaign, which aims to compete the fundraising to construct the new high-tech training facility, along with realizing the goal of supporting traditional technical college students, advanced programming for high school students, incumbent worker training and new equipment and technology advancement demonstrations for central Wisconsin businesses.
The impetus to build a training center to meet the skilling needs of the Mid-State District well into the future was the result of district-wide feedback that was validated, assessed and put into action, according to Mid-State President Dr. Shelly Mondeik. 
"We are inspired and overcome by the outpouring of support from businesses, organizations, school districts, governmental agencies and, of course, students that has brought us to this first major fundraising milestone," Mondeik said. "From the confidence of our first contributor, Gamber-Johnson, to our most recent contributor who pushed us over the $5 million milestone, Furniture & ApplianceMart, many of the 48 business contributors to date who have told us there is never a bad time to invest in education and that continuing to move this project forward is critical."
With a planned opening in late 2023, the new 53,000 square-feet facility is slated for development on I-39 in the Stevens Point Industrial Park. The Center will be key to meeting Wisconsin's critical advanced manufacturing, engineering technology and apprenticeship workforce needs and is expected to serve over 1,500 people per year through comprehensive programming and facility use. Partnerships with central Wisconsin governmental agencies to assist in the project and a resident hall agreement with UW-Stevens Point for Mid-State student use are just a few of the collaborations demonstrated in the project.
"This project will usher in the necessary skill sets relative to Industry 4.0," said Mid-State Vice President of Workforce Development and Community Relations Dr. Bobbi Damrow, referring to the Fourth Industrial Revolution characterized by ongoing automation of traditional manufacturing and industrial practices. Damrow serves as the campaign manager, working on the project alongside local campaign leaders Wayne Bushman, Joe Kinsella and Scott Groholski. 
"This exciting new facility will allow Mid-State to produce the skilled workers needed to address Wisconsin's workforce shortage and help with the local, state and national economic recovery," Damrow said, adding that the economic impact calculated by the project exceeds $3 million annually in terms of student short- and long-term economic impact for central Wisconsin.
"Together we're helping to tear down the stigmas around jobs in manufacturing, which today are truly high-tech, high-skilled, high-pay, high-demand careers," said Kurt Bauer, president and CEO of Wisconsin Manufacturers & Commerce. "It has been a pleasure to be able to endorse this project since the early days of the campaign, and I congratulate Mid-State and the founding partners for helping us address the workforce shortage with this innovative new center and continue Wisconsin's status as the top manufacturing state in the nation."
The plan calls for new academic programs to be offered in the Center, including Automated Systems Technician, Fabrication Technician, Mechanical Design, Welding Certificate and Quality and Lean Certificates. Mid-State programs that will either expand or relocate to the site include Civil Engineering Technology-Highway Technician, Machine Tool Technician and the following apprenticeships: Electrical & Instrumentation Technician, Electrician, Ironworker, Machinist and Metering Technician. 
Also attending the milestone celebration in support of the project were Melinda Osterberg, Regional Economic Development Director of Wisconsin Economic Development Corporation; Gordon Crow, CEO of Centergy; Scott Larson, president of Marshfield Area Chamber of Commerce and Industry; Stevens Point Mayor Mike Wiza; Portage County Board Chair Al Haga; and State Rep. Katrina Shankland (D-Stevens Point).
To learn more, see a list of contributors to date or make a donation to the Advanced Manufacturing, Engineering Technology and Apprenticeship Center campaign, visit mstc.edu/partner.