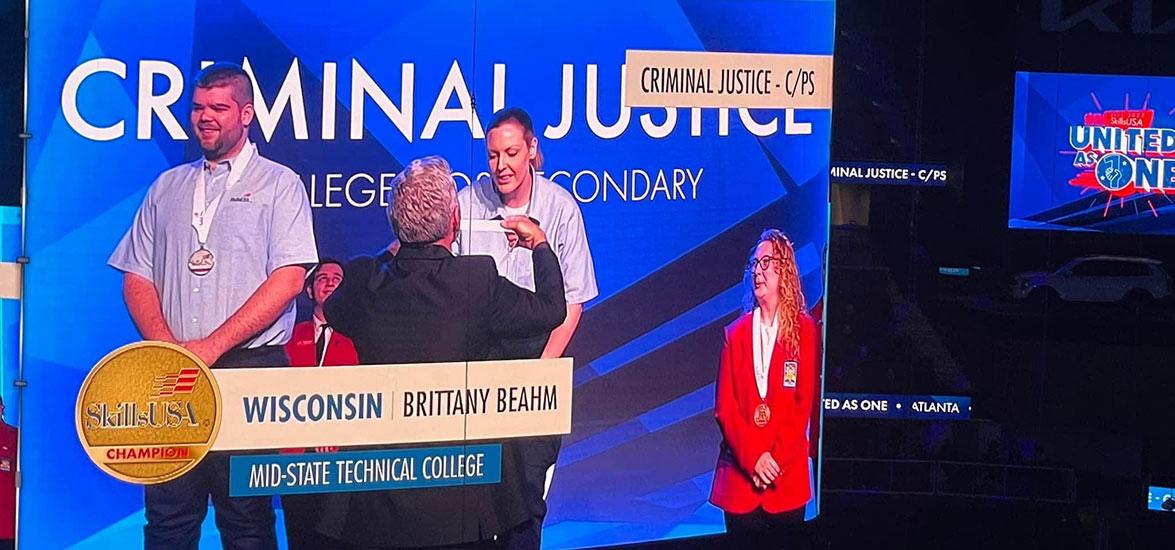 Mid-State students earn top awards at 2022 SkillsUSA nationals
July 27, 2022
Mid-State Technical College students have again earned top marks at the annual SkillsUSA® National Leadership & Skills Conference, now in its 58th year. Mid-State's team of competing students traveled to Atlanta to compete in the event on June 21–23 and ended the conference with four out of five competitors in the top ten in their competitions and one placing 11th.

Brittany Beahm, Montello, earned a gold medal in Criminal Justice, Jakob Struble, Amherst, earned a bronze medal in Related Technical Math, Ryan Ganser, Stevens Point, earned 7th place in CNC Technician, Dawson Taylor, Marshfield, earned 9th place in CNC Milling Technician and Callie Luebke, Stevens Point, earned 11th place in Welding Sculpture. 

Mid-State students were among 5,200 competing in the annual workforce development event, which showcases career and technical education. 

"These are very tough competitions, with our students going up against the best the country has to offer," said Mike Berry, Mid-State Precision Machining Technician instructor and SkillsUSA advisor. "Our talented team of SkillsUSA students had an outstanding national conference this year, and we are all so proud of both their performance and their professionalism and integrity throughout the event." 
To qualify for a spot in the national competition, competitors need to be first-place finishers in their events at the state competition, held in late April in Wisconsin. This is the eighth consecutive year Mid-State has sent qualifiers to the national competition, totaling 13 qualifiers to date, from seven unique events: Automotive Service, Diesel and Heavy Equipment Technician, CNC Milling, CNC Turning, CNC Technician, Criminal Justice, Related Technical Math and Welded Art Sculpture. 

"The experience our students gain from the SkillsUSA competition goes beyond demonstration of the hands-on skills they have mastered, as it provides invaluable experience in working productively and actively under pressure," said Deb Stencil, Mid-State vice president of academics. "Successfully competing at the state SkillsUSA competition, earning their spot at nationals and performing so well demonstrates that Mid-State students have the skills they need when they enter the workforce. I am so proud of our students and faculty and their involvement in SkillsUSA." 

The national nonprofit SkillsUSA is a "partnership of students, teachers and industry working together to ensure America has a skilled workforce," according to the organization's website. Berry's leadership continues to grow Mid-State's investment in SkillsUSA and the number of students competing at the state and national levels. Named 2018 SkillsUSA Wisconsin State Advisor of the Year, Berry also serves as associate state director of post-secondary for SkillsUSA Wisconsin.

To learn more about Mid-State's advanced manufacturing programs and transportation programs, visit mstc.edu/programs.