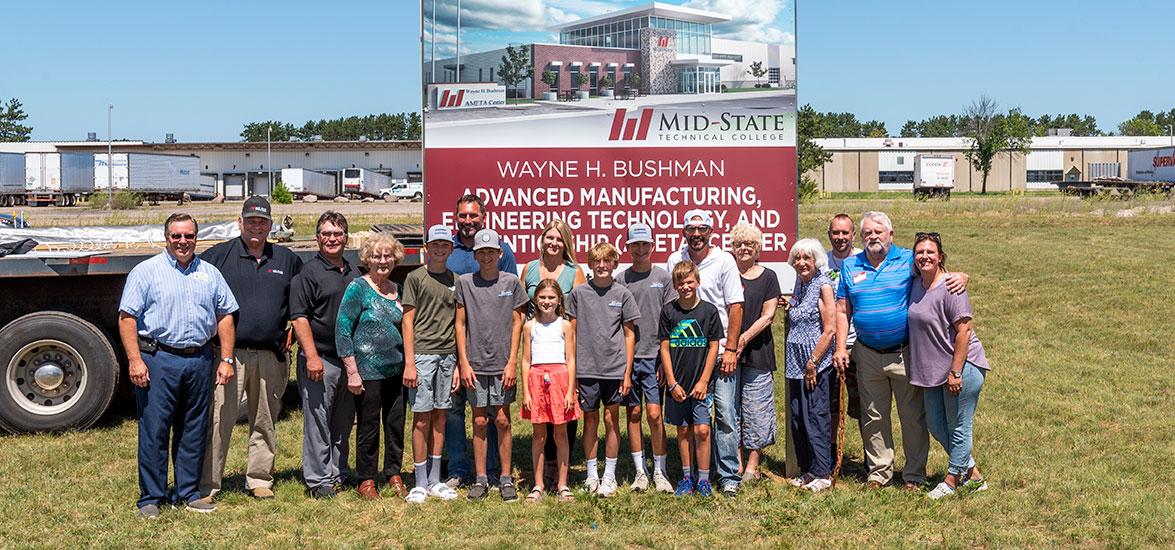 Mid-State partners and supporters turn out for AMETA Center site dedication
July 25, 2022
Mid-State Technical College gathered on Friday with partners, dignitaries, friends and supporters to celebrate the successful capital campaign and Wisconsin Technical College System approval for the planned Advanced Manufacturing, Engineering Technology and Apprenticeship (AMETA) Center in Stevens Point.
Attendees at the July 22 event held at the project site in Stevens Point marked the milestone of $12.9M raised with the help of 114 partners from 19 industry clusters, meeting the funding requirement for project approval.
Also on hand for large check presentations were financial contributors Donaldson Company, Inc., Steel King Industries, Inc., and Big Dirt LLC.
At the event, Kristin Crass, chair of Mid-State's Board of Directors, had the honor of unveiling the AMETA Center's official name as the Wayne H. Bushman Advanced Manufacturing, Engineering, Technology, and Apprenticeship Center, to the surprise of Bushman, Mid-State alum and co-chair of the AMETA Center capital campaign, whose generous donation exceeding $1M gave the ambitious project wings three years ago. 
"Wayne was among the first to step forward in support of this project, pledging his donation of this land and serving as the chairperson for the capital fundraising campaign," she said. "He has shared with many people that this project was number one on his bucket list because of the importance it will have in keeping central Wisconsin strong. Wayne simply said, 'I want to do my part.'"
"We will be forever thankful for all Wayne has done, and we cannot wait to tell all of the Mid-State students who walk through those AMETA Center doors who Wayne Bushman is and what he has accomplished," Crass added.    
"It's been an incredible journey, with countless meetings, and one heck of a ride," Bushman said. "There's never a bad time to try and get a project like this accomplished, and we did. This center will benefit all of central Wisconsin and beyond for decades to come, providing local talent that is very needed by all of the employers who sponsored it."
The college and campaign co-chairs were also presented with a check for $3,600 to launch the official start of the campaign to now fully outfit the center with industry-standard equipment and supplies, consisting personal donations from Donaldson Company, Inc., leadership.
In addition to financial support from industry partners and individuals, many other collaborations are demonstrated in the project, including financial and in-kind contributions from the City of Stevens Point, Village of Plover, Portage County and Adams County, as well the State of Wisconsin through the recently awarded Wisconsin Workforce Innovation Grant. In addition, all 15 area school districts were advocates of this new educational facility and four-year university articulations provide pathways to advanced degrees for the future Mid-State students. 
With a planned opening in late 2023 or early 2024, the AMETA Center is an approximately 50,000 square-foot facility slated for development on I-39 in the Stevens Point Industrial Park. It is expected to serve over 1,500 people per year through advanced programming to traditional technical college students and high school students, incumbent worker training, and new equipment and technology advancement demonstrations for central Wisconsin businesses.
Danielle Williams, assistant deputy secretary of the Wisconsin Department of Workforce Development, commented on the project's successful Workforce Innovation Grant, which resulted in a $5M infusion of the funds committed to the capital campaign in December 2021, with an additional $4M committed to supporting workforce development through other organizations in the community.
"While we are facing statewide, national and even global workforce challenges, individual employers and communities also have unique issues that require tailored solutions," Williams said. "Governor Evers' Workforce Innovation Grant Program gives communities and industries the flexibility needed to respond to those local needs and propose effective solutions, and this incredibly visionary project is a strong example of the flexibility of the program and how it's being put to good use to address local challenges."
The facility is also set to provide office space for the Wisconsin Bureau of Apprenticeship Standards (BAS) supporting the 14 apprenticeship programs available at Mid-State and the over 400 current local apprentices. 
"Wisconsin is making unprecedented investments in workforce training to expand the pipeline of homegrown talent, and investments in technical fields including electricity and instrumentation are being prioritized," said David Polk, director of the Wisconsin Department of Workforce Development's Bureau of Apprenticeship Standards. "The site dedication of the AMETA Center is a shining example of how a community can come together to create a training center that will equip apprentices with in-demand skills for family-sustaining jobs today and in the future."
To learn more or make a donation to the campaign to outfit the center with industry-standard equipment and supplies, please visit mstc.edu/partner.