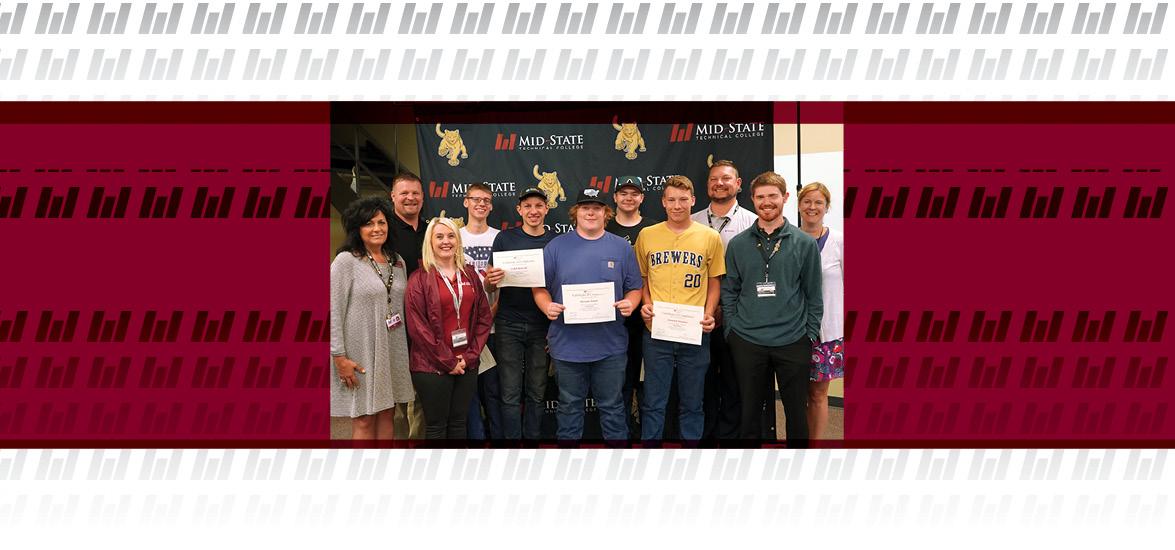 Mid-State's free summer Metal Mania program celebrates student completion
July 21, 2022
Mid-State Technical College recently celebrated the 2022 graduates of its Metal Mania summer program aimed at training high school and adult students in precision machining. Most of the seven graduating students at the July 21 graduation event signaled their intention to continue their training by enrolling in the Precision Machining Technician technical diploma program at Mid-State.
"Before Metal Mania I was already working in the machining field," said Pittsville High School student Logan Foemmell. "I had very basic CNC knowledge, and the classes I took this summer helped me grow my knowledge in the field and apply newly learned skills at work. I plan on taking more classes through Metal Mania this fall and attend Mid-State after high school in the Precision Machining Technician program."
Another graduate of Metal Mania, Caleb Kureck, is also a Youth Apprentice at Marten Machining with plans to take more machining classes during his junior and senior year of high school at SPASH. "Metal Mania provided me with the opportunity to improve my skills and learn new ones so I can be more successful in my Youth Apprenticeship," he said.
Metal Mania at Mid-State goes back to 2018 when it was first launched with funding and support from the Central Wisconsin Manufacturers Alliance (CWIMA). CWIMA continues to support the program today and is critical to its success. 
"CWIMA is proud to support Metal Mania in partnership with Mid-State Technical College," said CWIMA Executive Director Tait Strand. "Our work together to create career awareness seeks to address the workforce shortages in central Wisconsin. Metal Mania is a well-developed program at Mid-State, generating the pathway into further training and a rewarding career."
Metal Mania is comprised of three first-year precision machining classes: Intro to Milling, CNC Mills Set Up and Operation, and Safety, Measurement & Layout. High school students, those currently employed and job seekers have participated in the summer program since 2018, serving over 20 completers. 
For more information on more pathway programs, contact Mid-State Dean of Recruitment & Admissions Jackie Esselman at 715-422-5413. Learn more about the Precision Machining Technician program at mstc.edu/programs.