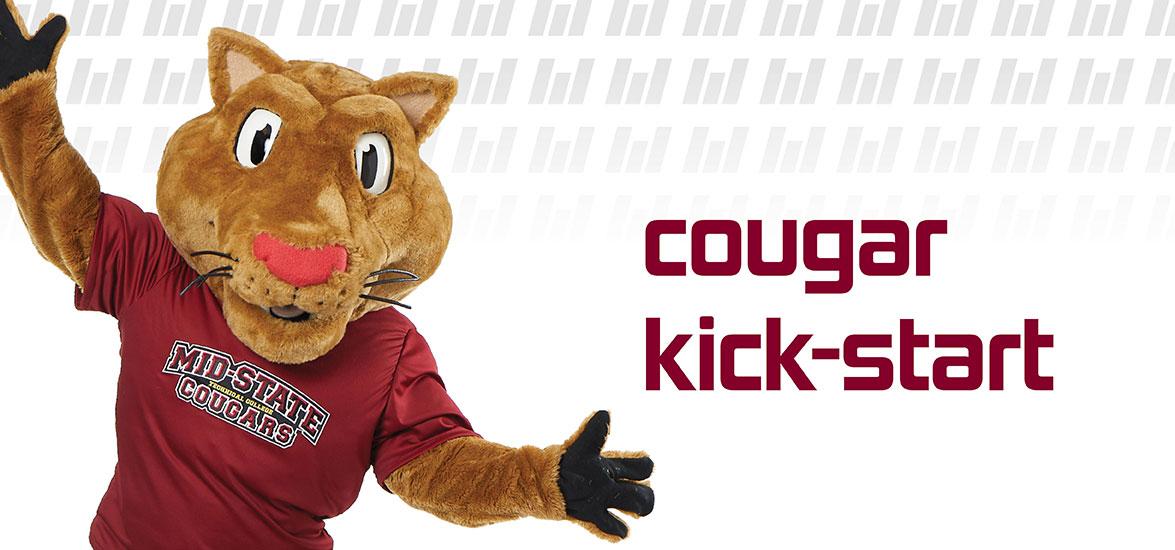 Mid-State to host "Cougar Kick-Start" enrollment events this summer
July 14, 2022
Mid-State Technical College is hosting special enrollment events throughout the summer to help people get on the path to a degree. Dubbed "Cougar Kick-Start," the events are designed for anyone who wants to kick-start their education, whether they never finished the enrollment process or got side-tracked after starting at Mid-State. 
One attendee at Cougar Kick-Start will be chosen to win a $500 scholarship.
Participants will complete the entire admissions process from application to enrollment, including meeting face-to-face with Mid-State staff to:
Complete a Mid-State application
Complete the FAFSA (Free Application for Federal Student Aid)
Prepare for the Accuplacer
Enroll in classes with the help of an advisor
Take an optional tour of campus
According to Mid-State Admissions Specialist Brooke Brewbaker, Cougar Kick-Start events are intended to help students that may have once started but never completed their educational pursuit, but any potential students wanting guided assistance throughout the admissions process are welcome.
"Our goal is to help students find the right program and answer any questions they may have so they can be successful," Brewbaker said. "Cougar Kick-Start is a full-service event that will meet students where they are in the process."
The first Cougar Kick-Start takes place on Wednesday, July 20, from 4 – 6 p.m. on the Marshfield Campus, with additional opportunities to attend at Mid-State's other campuses throughout the summer on July 26, August 3 and August 9. 
Get full details and register at mstc.edu/cougar-kick-start.