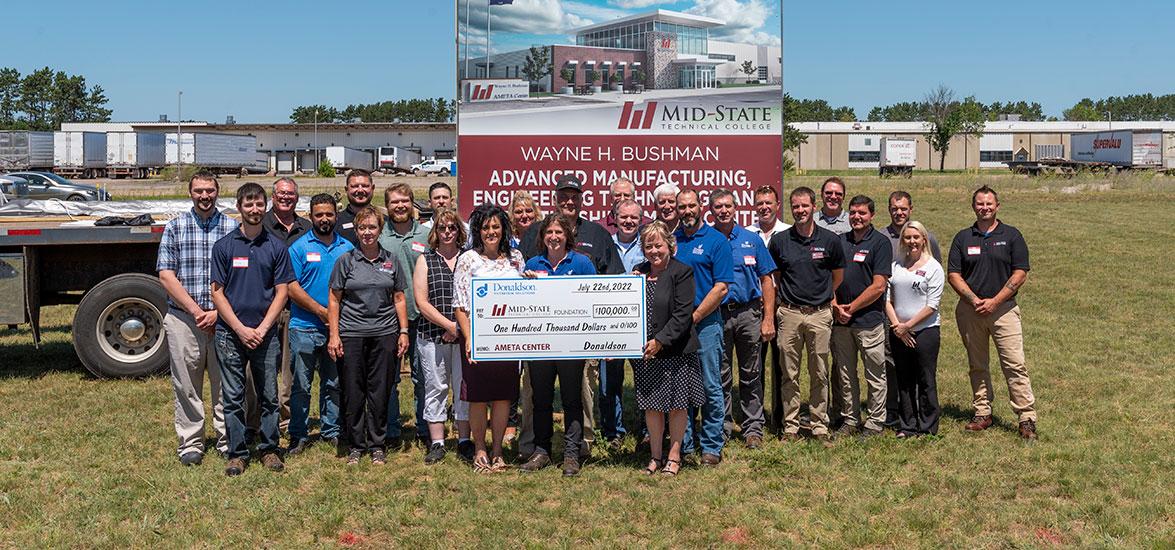 Donaldson Company supports workforce solutions with $100K AMETA Center grant
July 28, 2022
A generous $100,000 award from the Donaldson Foundation will help Mid-State Technical College construct its planned Advanced Manufacturing Engineering Technology and Apprenticeship (AMETA) Center in Stevens Point. Donaldson presented college representatives with a check for $100,000 during the college's site dedication event in Stevens Point, Friday, July 22.  
Donaldson's donation to the AMETA Center capital campaign will help provide Mid-State students with advanced technical skills and knowledge for in-demand, successful careers, address the region's workforce shortage, and sustain and grow area businesses through the application of industry 4.0 and industry 5.0 equipment and processes. Donaldson Company's Stevens Point location is located next to the new site, and the award secures Donaldson naming rights to a space in the facility for the life of the building.
"The Donaldson Foundation is focused on positively impacting our communities through education, and our company has a long tradition of giving back to the places we live and work," said Lori Schlueter, Donaldson Stevens Point Plant Manager. "The $100,000 donation to Mid-State Technical College accomplishes both, and we are thrilled to have their new Advanced Manufacturing, Engineering Technology and Apprenticeship Center right next door to our Stevens Point plant location. I anticipate Donaldson using the facility so our team members can learn new skills to advance in their roles, and it will also enable area students to pursue promising careers in the manufacturing field."

"Donaldson's significant contribution to the AMETA Center project perfectly exemplifies how local organizations have stepped up to help secure the vitality of central Wisconsin today and far beyond," said Mid-State President Dr. Shelly Mondeik. "This project will leverage education and training for a number of high-demand occupations and create a strong pipeline of relevant, skilled talent with opportunities for excellent, family-sustaining careers right here in central Wisconsin."
With a planned opening in late 2023 or early 2024, the AMETA Center is an approximately 50,000 square-foot facility slated for development on I-39 in the Stevens Point Industrial Park. It is expected to serve over 1,500 people per year through advanced programming to traditional technical college students and high school students, incumbent worker training, and new equipment and technology advancement demonstrations for central Wisconsin businesses. The facility is set to provide office space for the Wisconsin Bureau of Apprenticeship Standards (BAS) supporting the 14 apprenticeship programs available at Mid-State and the over 400 current local apprentices. Partnerships with central Wisconsin governmental agencies to assist in the project and a resident hall agreement with UW-Stevens Point for Mid-State student use are just a few of the many collaborations demonstrated in the project.
Public and private donations and grants have been received toward the construction of the AMETA Center, and fundraising efforts continue as the campaign now seeks to fully outfit the center with industry-standard equipment and supplies. Donations in any amount are gratefully accepted. To learn more or make a donation, please visit mstc.edu/partner.