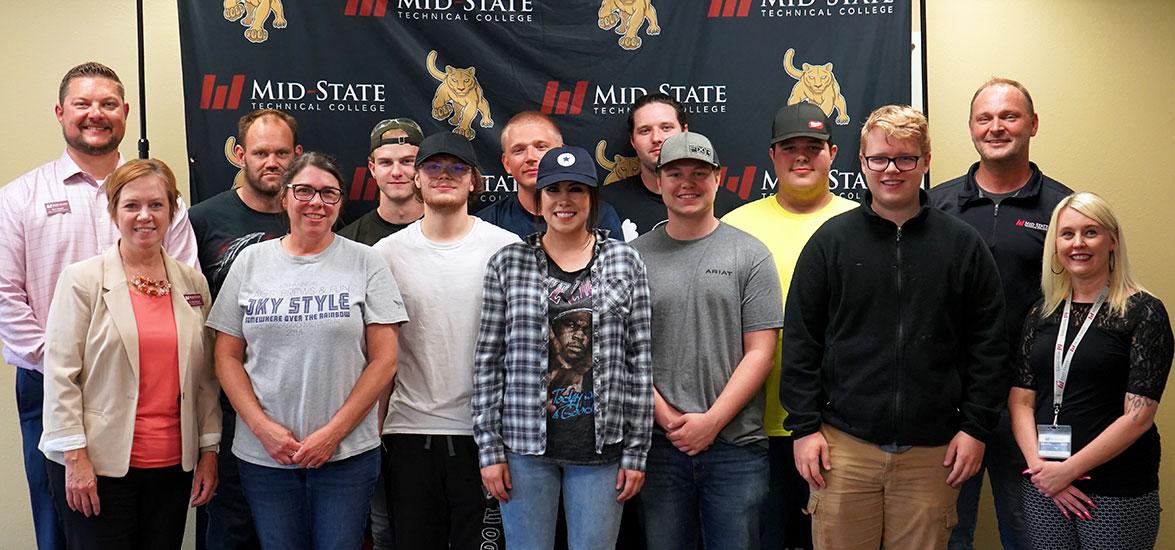 Mid-State celebrates Stainless Steel Welding summer technical diploma completers
August 5, 2022
Mid-State Technical College celebrated the completers of its summer Stainless Steel Welding technical diploma program in an August 3 graduation on the College's Marshfield Campus. Eleven students were recognized for completing the six-week program. 
The Stainless Steel Welding summer program allowed participants to complete the full six credits of the Stainless Steel Welding technical diploma via in-person classes on the Marshfield Campus, mid-June through early August, with additional academic support offered virtually or in person at any campus location. The program, supportive services and incentive payments were free for eligible students, thanks to Wisconsin Technical College System's (WTCS) Adult Education and Family Literacy Act (AEFLA) Innovations in Integrated Education and Training grant funding, and through the Worker Advancement Initiative (WAI) Grant funded by the American Rescue Plan Act (ARPA), administered by the North Central Wisconsin Workforce Development Board's (NCWWDB). 
Graduating student Sierra Saldana, Pittsville, enrolled in the program to start over with a new family-supporting career. "I originally signed up for Tulsa Welding School in Tulsa, Oklahoma, but because this program was free to me, I decided to make the jump and take a risk, and it paid off," she said. Saldana is already hired to start in a welding position at A&B Processing, thanks to her new skills.
Local industry partner, Kylan Hastreiter, vice president of Hastreiter Industries, shared comments at the event, expressing that the graduates were not only embarking on a high-demand occupational pathway but also into a critical career, supporting local, state and national demand for stainless steel production. 
In addition to receiving their Mid-State Technical Diploma from Dean of Applied Technology Ryan Kawski, students were presented with a voucher to purchase a new welding helmet by Elsa Duranceau of NCWWDB.
"Entering a classroom as a student for the first time in nearly 30 years was intimidating at 54 years of age, as many of my classmates were recent high school graduates, but as the weeks went by, I noticed a camaraderie as my classmates were offering advice and tips that would help each other for a specific project," said graduate Julee Hahn, Marshfield. Hahn had been interested in stainless steel welding for a couple of years and said she was grateful to be able to get the training for free during the summer while on break from the school district where she works.
"I would highly recommend this class for anyone interested in getting into welding," said graduate Scott Schneider, Wisconsin Rapids. "I have taken other welding classes before, but they were not nearly as detailed, well-structured and relevant as this class, and actually being able to go on tours at companies where TIG welding is used and see the real-world application of what you are learning in class is extremely valuable."
I am extremely proud of this group," said instructor Benjamin Will. "We all started this summer as a diverse group of individuals with many different backgrounds and many different goals. We finished this class as a tight-knit team filled with various strengths and a willingness to help each other succeed."
"These graduates are now well-prepared to enter into rewarding positions and meet the needs of our central Wisconsin industry partners," said Mandy Mayek, associate dean of Applied Technology at Mid-State. "We're proud to partner with NCWWDB in providing this programming."
For more information about the Stainless Steel Welding program, visit mstc.edu/programs. To learn about future program opportunities, contact recruitment@mstc.edu or complete the Request Info form at mstc.edu.