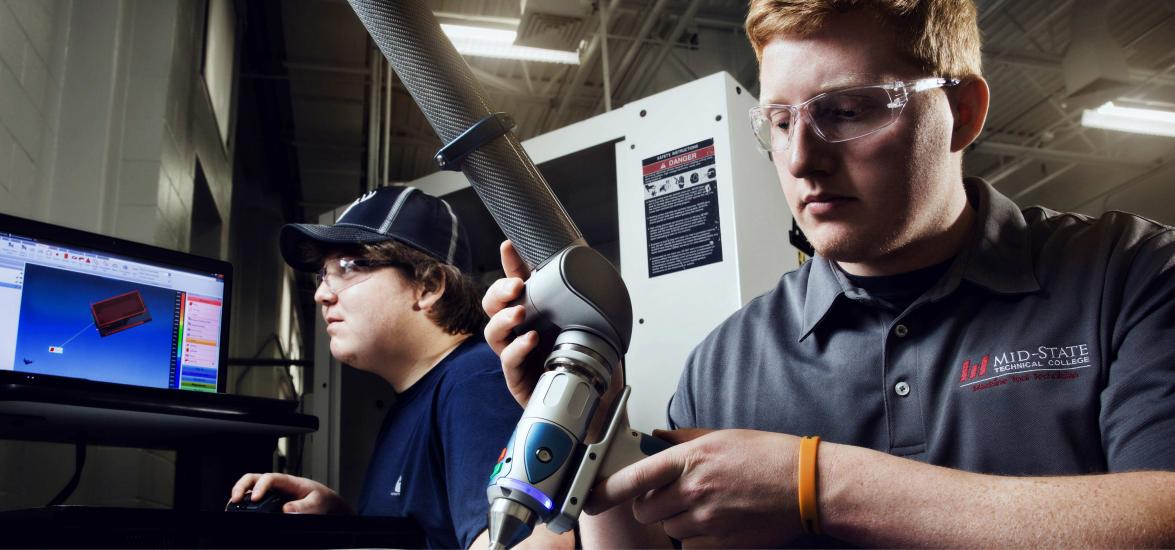 Mid-State's free summer Metal Mania program adds advanced option
April 15, 2019
Mid-State Technical College will again offer its summer Metal Mania program to include both the regular, introductory level as well as a new advanced option for those continuing their training as a machinist. Students who successfully complete the free eight-week offerings earn transferable college credits.
Mid-State celebrated the graduates of its first summer Metal Mania program in August of last year. Eight high school students and one adult participated and completed the program, with most signaling their intention to continue their training by enrolling in the Machine Tool Technician program. 
Funding and support from the Central Wisconsin Metal Manufacturers Alliance (CWIMMA) are critical to the success of the program. "Central Wisconsin continues to experience a critical shortage of machinists, with over 1,500 openings anticipated in the next year and 30 percent of the most-skilled workforce retiring in 3–4 years," said Derek Heikkinen, business services director at North Central Wisconsin Workforce Development Board and director of CWIMMA. "We were thrilled with the success of last summer's Metal Mania program and are excited to sponsor it again and even expand it to include the advanced option for those looking to continue to grow their skills in this rewarding field." 
Metal Mania is comprised of three first-year machine tool classes: Machine Shop Fundamentals, Introduction to Solid Modeling and Print Reading for Industry. Classes run Monday through Thursday from June 17 to August 8 from 8 a.m. to 3:15 p.m. High school students, those currently employed and job seekers are all encouraged to participate.
Metal Mania Advanced is made up of three second-year machine tool classes: CNC Mills Set Up and Operation, CNC Lathes Set Up and Operation and Computer Aided Machine Tool Programming. Classes run Monday through Thursday from June 17 through August 8 from 8 a.m. to 4:15 p.m. These classes are open to those who have completed Metal Mania, a high school youth apprenticeship or Dual Credit Machine Shop Fundamentals.
The deadline for students to participate in Metal Mania is May 31. For more information and to get started contact Mid-State Manager of K–12 & Adult Recruitment Jackie Esselman at 715-422-5413. Learn more about the Machine Tool Technician program at mstc.edu/programs.