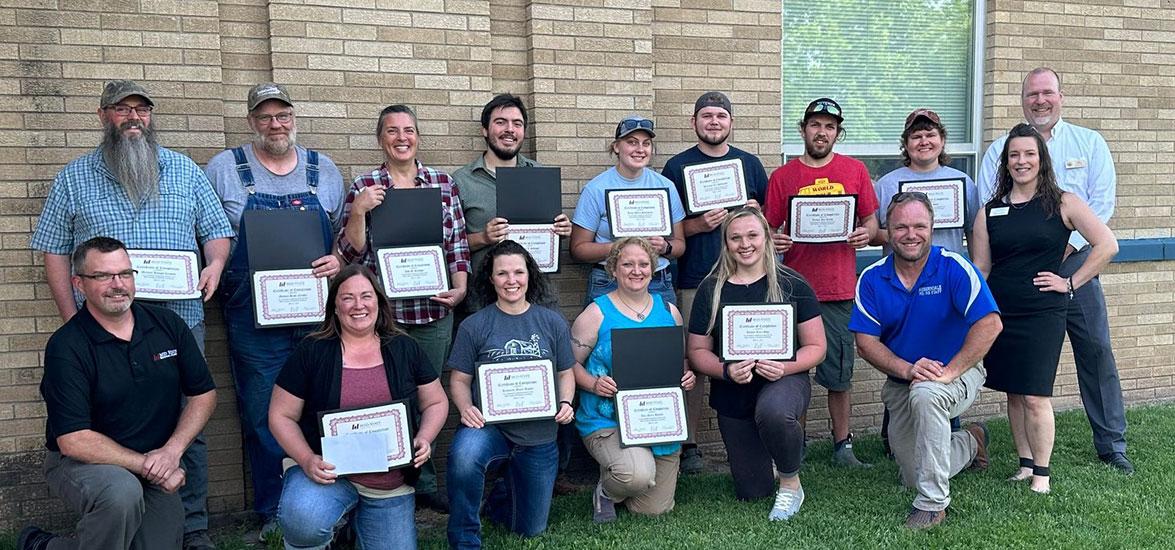 Mid-State recognizes Meat Cutting and Butchery certificate completers
June 7, 2023
Mid-State Technical College celebrated its first completers of the Meat Cutting and Butchery certificate in a ceremony at Auburndale High School on Wednesday, May 31. The twelve students made history as the Wisconsin Technical College System's first to achieve this type of training through funding provided by the Department of Agriculture, Trade and Consumer Protection (DATCP) Meat Talent Development Grant.
The certificate completers were joined by family, friends and community members. Also attending to recognize their accomplishments were Betsy Leonard, Wisconsin Technical College System education director of agriculture, natural resources & STEM, and Randy Romanski, secretary of the Wisconsin DATCP.
"This certificate taught me a vast amount of knowledge and gave me hands-on experience to be able to confidently progress forward in my meat butchery plans," said one completer. "The courses covered sanitation, Hazard Analysis Critical Control Point, how to process and butcher a variety of animals and how to prepare and best utilize the parts of the animals. The certificate covers everything you need to get the butchering accomplished."
Mid-State's Meat Cutting and Butchery certificate was first launched in November 2022 and consists of nine credits that are completed in six months. The certificate is led by Adam Schlafke, Mid-State instructor and Master Meat Crafter. Funding for this certificate is available to students on a limited basis, thanks to the DATCP Meat Talent Development Grant.
"We are grateful to be a part of the DATCP grant and for our partnerships with local high schools," said Dr. Alex Lendved, dean of the Marshfield Campus and Agriculture Programs at Mid-State Technical College. "These collaborations have allowed us to bring career opportunities in butchery and retail meat sales to central Wisconsin."
There are limited spots available to join the next Meat Cutting and Butchery cohort held at Pittsville High School beginning on July 24. Learn more at mstc.edu/meat-cutting-and-butchery.