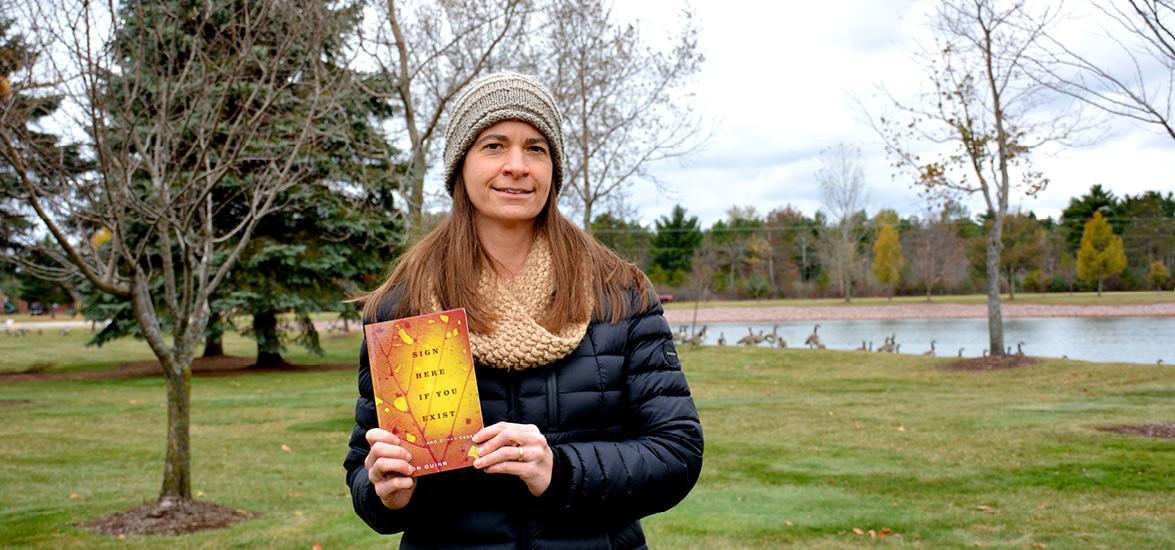 Mid-State instructor's nonfiction collection wins Midwest Independent Publishers Association Book Award
December 7, 2021
Mid-State Technical College Communication Instructor Jill Sisson Quinn's book "Sign Here If You Exist" has won the Midwest Independent Publishers Association Book Award in the Autobiography/Memoir category.
"Sign Here If You Exist" is a collection of essays that combine natural history and memoir, taking us along on treks through forests, along shorelines and into lakes and rivers as well as through memories and into the scientific literature. Each essay explores the alikeness of two or more seemingly disparate things in its attempt to understand the human world by attuning to the natural world. The book was also chosen in 2019 for the annual The Journal Non/Fiction Collection Prize for a book-length collection of short stories, essays or a combination of the two. The book was published in August 2020 by Mad Creek Books, an imprint of The Ohio State University Press.
"I'm grateful to have received this award and honored to be able to represent Mid-State as I participate in Midwest Independent Publishers Association Award events," said Quinn. 
In addition to teaching communication classes to students across Mid-State's programs, Quinn's teaching assignments include creative writing and introduction to literature courses for students enrolled in the College's Liberal Arts-University Transfer programs.
"I couldn't be more proud of Jill and the work she has done," said Mid-State's Dean of General Education Suzanne Rathe. "She leads her students by example when they get to see how she weaves her ideas into polished pieces. It's clear to them that she trusts the writing and revision process, and she inspires new writers when she shows them that their thoughts and ideas are worth sharing." 
Quinn is also the author of "Deranged: Finding a Sense of Place in the Landscape and in the Lifespan" (2010), published by Apprentice House Press of Loyola College, Maryland. Her essays have appeared in Orion, Natural History, OnEarth Magazine, and many literary journals and have been selected for "Best American Science and Nature Writing 2011" and "Best American Essays 2016." Her numerous awards include the Annie Dillard Award for Creative Nonfiction, a John Burroughs Nature Essay Award, and a Rona Jaffe Writers' award. 
Founded in 1984 in Minneapolis, the Midwest Independent Publishers Association serves the publishing communities in Illinois, Indiana, Iowa, Kansas, Michigan, Minnesota, Missouri, Nebraska, North Dakota, Ohio, South Dakota and Wisconsin. The annual Midwest Book Awards competition for excellence in books evaluates publishers based in the Midwest and recognize creativity in content and execution, overall book quality, and the book's unique contribution to its subject area.
Learn more about Quinn and her writing on her website at jillsissonquinn.com. To learn more about Mid-State's University Transfer Liberal Arts degree programs, visit mstc.edu/transfer.