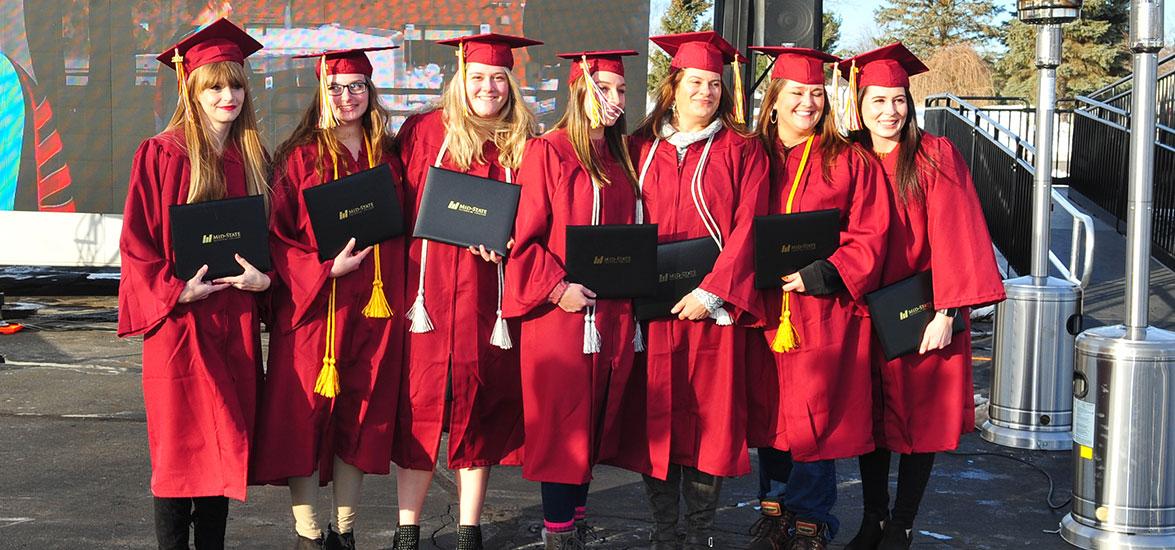 Mid-State celebrates fall graduates in outdoor ceremony
December 13, 2021
Mid-State Technical College celebrated the achievements of its fall 2021 graduates in an outdoor commencement Sunday, December 12, on the Wisconsin Rapids Campus.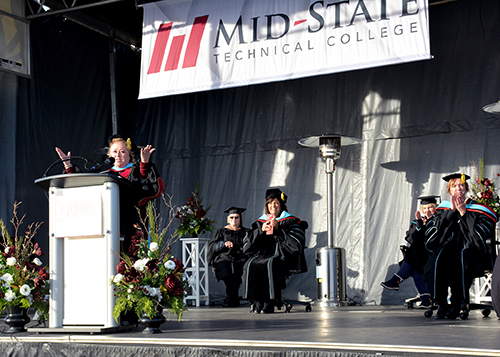 The modified drive-in style ceremony was hosted in the campus parking lot with large screen monitors providing a view of the proceedings in real time while graduates and guests observed the proceedings from the comfort of their vehicles. At the end of the ceremony, graduates were invited on the stage to receive their diploma.
"As you go along your journey, be that main character in your story that does not settle for mediocrity—be the one that puts in the extra effort to make a difference," President Dr. Shelly Mondeik said in her remarks.
The celebration also included a speech from student speaker and Agribusiness & Science Technology graduate Jacquelyn Cwiklo, Vesper, and a faculty send-off by Agribusiness Instructor Teri Raatz.
For anyone who missed the event, a video recording can be viewed on Mid-State's website at mstc.edu/graduation.
Following is the list of Mid-State's fall 2021 graduates sorted by graduate candidate city and academic program. Cities are in Wisconsin unless otherwise indicated. 
Abbotsford – Plumber Apprentice: Dustin Razink
Alma Center – Millwright/Maintenance Mechanic Apprentice: Thomas Hoffman
Almond – Nursing: Lacey Ross
Amherst – Agribusiness and Science Technology: Dakota Dieter; Agribusiness and Science Technology: Taylor Retzke; Business Management: Brian Chojnacki; Digital Marketing: Agnieszka Laskowski; Electrical & Instrumentation Technician Apprentice: Justen Pacocha; Entrepreneurship: Agnieszka Laskowski; Farm Operation: Taylor Retzke; Human Resources Assistant: Agnieszka Laskowski; Nursing: Emily Hollar
Amherst Junction – Business Management: Logan Dombrowski; Construction Trades: Chase Glodowski; Entrepreneurship: Logan Dombrowski; Human Resources Assistant: Logan Dombrowski; Project Management: Logan Dombrowski
Antigo – Steamfitter Service Apprentice: Jason Harris
Arpin – Medical Assistant: Morgan Masanz; Medical Coder: Crystal Fox
Athelstane – Nursing: Hanna Christensen
Athens – Steamfitter Apprentice: Craig Boyd; Steamfitter Apprentice: Jameson Brooks
Auburndale – Cosmetology: Jennifer Tadeo
Bancroft – Cosmetology: Hailey Sawyer
Corunna, Ind. – Business Management: Dominique Sims
Custer – Construction Trades: Alex Tritz; Construction Trades: Jacob Tritz; Medical Assistant: Presley Nicholson; Nursing: Darcie Rodeback; Phlebotomy Technician: Camille Solheid; Plumber Apprentice: Paul Peterson; Welding: Justin Malec
Eau Claire – Medical Assistant: Britney Montney
Edgar – Plumber Apprentice: Trae Hilgart; Project Management: Britta Martyn
Endeavor – Construction Trades: Cristian Martinez
Granton – Customer Relationship Professional: April Konkol; Health & Wellness Promotion: April Konkol
Greenwood – Accounting: Casey Susa
Gresham – Liberal Arts-Associate of Arts: Peter Van Nest
Hatley – Phlebotomy Technician: Emily Norrbom
Iola – Criminal Justice-Law Enforcement 720 Academy: Avigail Carvajal
Junction City – Accounting: Brittany Servis; Construction Trades: Paul Sniadajewski;
Heating, Ventilation, & Air Conditioning (HVAC) Installer: Paul Sniadajewski
Lake Geneva – Criminal Justice-Law Enforcement 720 Academy: Nathan Borst
Loyal – Medical Assistant: Tiffany Behrens
Madison – Stainless Steel Welding: Aden Montezuma
Manitowoc – Carpentry (Construction) Apprentice: Mitchel Ruzek
Marshfield – Accounting: Jacob Twardowski; Administrative Professional: Jessica Squires; Business Management: Jenna Rogers and Alicia Spencer; Construction Trades: Nathan Patterson; Corrections & Community Advocacy: Carrie Doering; Cosmetology: Jazzmin Barker-Lemm and Amanda Melvin; Criminal Justice-Law Enforcement 720 Academy: Matthew Klug, Trey Larson, Flynn Mcquillen and Tyler Utpadel; Diesel & Heavy Equipment Technician Assistant: Cody Derks; Entrepreneurship: Brandi Cooper, Madyson Schultz and Alicia Spencer; Heating, Ventilation, & Air Conditioning (HVAC) Installer: Nathan Patterson; Human Resources Assistant: Dana Ireland and Alicia Spencer; Industrial Mechanical Technician: Nicholas Herman; Medical Assistant: Melissa Machtan and Lindsey Tyrolt; Nursing: Rebecca Emerson, Brittney Gabel and Mckenzie Martens; Phlebotomy Technician: Kaylee Jacobson and Katerina Mondragon; Project Management: Jenna Rogers and Alicia Spencer; Stainless Steel Welding: Adam Fischer
Mauston – Medical Coder: Charity Mesa
Merrill – Steamfitter Apprentice: Jeff Belant
Milladore – Steamfitter Apprentice: Matthew Lang
Milwaukee – Construction Trades: Charles Deckow and Joseph Grzesk
Minocqua – Business Management: Mallori Zoesch; Entrepreneurship: Mallori Zoesch; Human Resources Assistant: Mallori Zoesch; Project Management: Mallori Zoesch
Montello – Phlebotomy Technician: Kelsey Borzick
Mosinee – Nursing: Kacey Newberry
Neillsville – Construction Trades: Justin Berg; Medical Assistant: Montana Opelt
Nekoosa – Accounting Assistant: Jaime Kucharski; Automotive Maintenance Technician: Keith Kuhn; Business Management: Candace Cardinal; Criminal Justice-Law Enforcement 720 Academy: Justin Mortel; Electrical & Instrumentation Technician Apprentice: Tyler Linzmeier; Medical Coder: Bridget Sheahan; Nursing: Brittany Franssen; Phlebotomy Technician: Elizabeth Thompson; Steamfitter Apprentice: Kale Clark
None (city not available) – Technical Studies-Journey Worker: Garrett Radke
Pewaukee – Medical Coder: Diane Barwinski
Pittsville – Business Management: Emma Huber; Construction Trades: Calvin Burleson; Digital Marketing: Jessie Rasmussen; Entrepreneurship: Emma Huber and Jessie Rasmussen; Human Resources Assistant: Emma Huber; Medical Office Specialist: Robin Stafford; Nursing: Katrina Wolf Federwitz; Project Management: Emma Huber; Steamfitter Apprentice: Logan Miller
Plainfield – Human Resources Assistant: Shannon Sachs; Nail Technician: Daisy Gonzalez Arriola and Maria Juarez Calzada
Plover – Barber Technologist: Juan Landeros; Business Management: Makaila Coulthurst, Erik Koczorowski and Destiny Zimmerman; Criminal Justice-Law Enforcement 720 Academy: Nora Widder; Criminal Justice-Studies: Megan Koehmstedt; Electrical & Instrumentation Technician Apprentice: Joshua Lesniak; Entrepreneurship: Erik Koczorowski and Destiny Zimmerman; Human Resources Assistant: Jordan Falkowski, Erik Koczorowski and Destiny Zimmerman; Medical Assistant: Chrystal Shulfer; Nursing: Courtney Holven; Project Management: Erik Koczorowski and Destiny Zimmerman; Steamfitter Apprentice: Krista Kobishop; Welding: Erich Vanblargan
Port Edwards – Electrical Power Engineering Technician: Richard Isaacson; Phlebotomy Technician: Kristen Gonzales
Portage – Medical Coder: Ashley Spink
Red Granite – Business Management: Jarin Krueger; Entrepreneurship: Jarin Krueger; Human Resources Assistant: Jarin Krueger; Project Management: Jarin Krueger
Rosholt – Construction Trades: John Bablitch and Nathan Lemanczyk; Medical Coder: Winter Fox
Rothschild – Renewable Energy Technician: Pragneshkumar Patel
Rudolph – Electrical & Instrumentation Technician Apprentice: Shaena Schmitt; Steamfitter Service Apprentice: Landrin Lewien
Schofield – Phlebotomy Technician: Davianne Cottrell
Stevens Point – Accounting Assistant: Lawrence Eckendorf; Barber Technologist: Jennifer Murphy; Business Management: Yunjung Hong, Kristian Raspanti, Alejandro Rodriguez and Brittney Worzella; Construction Trades: Morgan Howe; Cosmetology: Sierra Sager; Criminal Justice-Law Enforcement 720 Academy: Anthony Beck, Nikohl Crossman, Samuel Hessel, Isiah Konopacki, Renella, Andrew Scherer, Brian Spooner and 
Travis Swan; Diesel & Heavy Equipment Technician: Lucas Miller; Digital Marketing: Courtney Coenen; Digital Marketing Promotions: Jaden Jones; Entrepreneurship: Yunjung Hong, Kristian Raspanti and Brittney Worzella; Human Resources Assistant: Haley Crawford, Yunjung Hong and Alejandro Rodriguez; Machine Tool Technician: Nathan Groshek; Medical Coder: Steven Bielecki and Sara Studinski; Nail Technician: Pamela Lloyd and Angela Sadler; Nursing: Hadley Koula, Alicia Lang and Victor Stone; Phlebotomy Technician: Daniela Aldayuz; Project Management: Yunjung Hong, Kristian Raspanti, Alejandro Rodriguez and Brittney Worzella
Stratford – Administrative Professional: Casey Aschebrock; Construction Trades: Ethan Merkel; Health Information Management: Debra Schillinger; Phlebotomy Technician: Kelsey Seelow
Tomah – Nursing: Brian Emerson; Paramedic Technician: Stephanie Kumm
Vesper – Accounting Assistant: Heidi Lee; Agribusiness and Science Technology: Jacquelyn Cwiklo; Farm Operation: Jacquelyn Cwiklo
Waupaca – Nursing: Lisa Funk; Nursing: Samantha Holtane and Jeff Kratochwill
Wausau – Nursing: Amy Yang; Steamfitter Apprentice: Andrew Krueger
Wautoma – Cosmetology: Aliciah Ostrander; Medical Assistant: Elizabeth Buchholz
Westfield – Criminal Justice-Law Enforcement 720 Academy: Cory Boeker
Whitehall – Nursing: John Oscar
Wild Rose – Criminal Justice-Law Enforcement 720 Academy: Jacob Hansen
Wisconsin Rapids – Automotive Technician: Ed Kleinhenz; Business Management: Chase Beale, Rebecca Conboy, Allyssa Dayton, Robert Thao, and Dorie Weigel; Civil Engineering Technology-Highway Technician: Kyle Olson; Construction Trades: Hugo Cangas, Connor Muehlenkamp, Brian Schweitzer and Erick Steinhilber; Cosmetology: Amber Dampier and Rebecca Mathys; Criminal Justice-Law Enforcement 720 Academy: Jason Degodt and Allister Greening; Electrical & Instrumentation Technician Apprentice: Alexander Zdroik; Entrepreneurship: Chase Beale, Rebecca Conboy, Robert Thao and Dorie Weigel; Heating, Ventilation, & Air Conditioning (HVAC) Installer: Brian Schweitzer; Human Resources Assistant: Chase Beale, Taylor Olson, Robert Thao and Dorie Weigel; Industrial Mechanical Technician: Brandon Rice; Liberal Arts-Associate of Arts: Carmen Morgan; Machine Tool Technician: Justin Perlak and Ayden White; Medical Assistant: Abby Evenson; Medical Coder: Meghan Berg, Barbara Kelley, Arianna Klobucnik and Hannah Rosenthal; Nail Technician: Carlotta Ashbeck and Margaret Waggoner; Nursing: Hope Bristow, Dayna Jaborek, Amber Upton and Eric Werner; Phlebotomy Technician: Lucy Johnson and Elizabeth O'connor; Project Management: Chase Beale, Robert Thao and Dorie Weigel; Steamfitter Apprentice: Nathan Freund and Nickolus Slusser; Welding: Trent Dupee