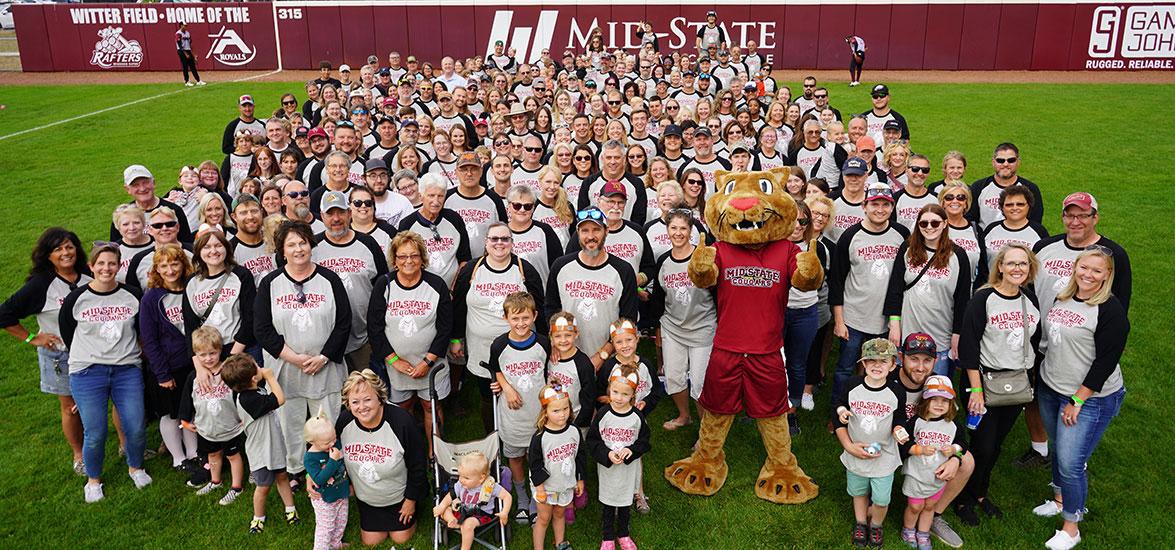 Mid-State celebrates 110th anniversary
August 7, 2023
Mid-State Technical College kicked off its 110th anniversary celebration at its annual company picnic at the Rafters game on Thursday, July 13.
The College will continue to celebrate the anniversary with its employees throughout the school year, by way of thanking them for their service to Mid-State and its communities. 
"Mid-State has long been a tremendous resource to the district we serve, and we continue to innovate and grow to transform lives and always strives to be what our communities need," said Dr. Shelly Mondeik, president of Mid-State. "We would not have been able to come this far without the dedication of our employees, and this anniversary is a great reminder of what people can do when working toward a shared mission they are passionate about."
Mid-State has served the central Wisconsin community since 1913, and today serves a resident population of approximately 172,190 in a supportive environment and using state-of-the-art technology. The College is known for meeting the needs of local businesses by producing graduates with real-world skills for locally in-demand careers and always responding to industry changes with relevant career training and innovative opportunities. Recent examples demonstrating Mid-State's ongoing work to be the educational provider of first choice for its communities include conversion of its Adams location to an official campus in 2020, enabling full program offerings; the new Healthcare Simulation Center in Wisconsin Rapids in 2021; and the new Mid-State on Central location in Marshfield in 2023. 
Mid-State's next expansion will come in the form of its new Advanced Manufacturing, Engineering Technology and Apprenticeship (AMETA™) Center in Stevens Point, under construction now and slated to open in fall 2024. The AMETA Center is expected to serve over 1,500 people per year through advanced programming to traditional technical college students and high school students, incumbent worker training and new equipment and technology advancement demonstrations for central Wisconsin businesses. 
Learn more at mstc.edu.