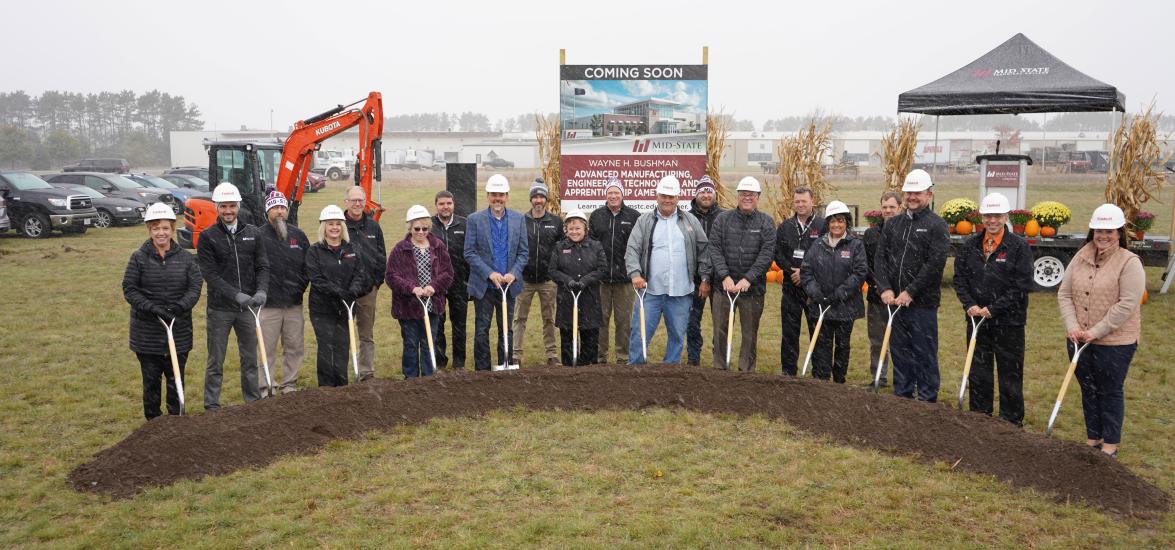 Mid-State and partners celebrate AMETA Center groundbreaking
October 18, 2022
Financial partners in Mid-State's planned Wayne H. Bushman Advanced Manufacturing, Engineering Technology and Apprenticeship (AMETA) Center in Stevens Point gathered at the project site on Oct. 14 for the building's long-anticipated groundbreaking ceremony.
To date, just over $13M has been raised with the help of 120 partners from local industry clusters, meeting the funding requirement for project approval. The campaign to fully outfit the center with industry-standard equipment and supplies is now underway.
In her remarks at the event, Mid-State President Dr. Shelly Mondeik reflected on the many collaborations and partnerships, public and private, that made the project possible and praised the perseverance and determination it took to forge ahead. "Two and a half years of this three-year project were during Covid," she said. "On behalf of our great college… thank you for believing in us, thank you for supporting us, and thank you for partnering with us."
In addition to financial support from industry partners and individuals, many other collaborations are demonstrated in the project, including financial and in-kind contributions from the City of Stevens Point, Village of Plover, Portage County and Adams County as well as the State of Wisconsin Workforce Innovation Grant awarded in December 2021. This $9M first-round award included $5M for the AMETA Center in Stevens Point and $4M for student supports and community partnerships. In addition, all 15 area school districts were advocates of this new educational facility and four-year university articulations provide pathways to advanced degrees for the future Mid-State students. 
At the groundbreaking event, Gov. Tony Evers' Chief of Staff Maggie Gau announced that the state would further invest in the project with an $8M pledge to directly support the Wisconsin Institute for Sustainable Technology at UW-Stevens Point and Mid-State's AMETA Center. The pledge redirects the state's earlier $8M pledge of matching funds for the Wisconsin Paper Council-led Forest Products Cluster Consortium in support of its grant application to federal Economic Development Administration's (EDA) Build Back Better Regional Challenge, which was unfunded but was one of the 60 finalists and the only Wisconsin grant to advance to the final round.   
"There is an incredible amount that we can accomplish when we work together to solve the challenges facing our state," said Gau. "We look forward to continuing to work with you, building the next generation of workers and leaders and building a Wisconsin that works for everyone." 
With a planned opening in fall 2024, the AMETA Center is an approximately 50,000 square-foot facility slated for development on I-39 in the Stevens Point Industrial Park. It is expected to serve over 1,500 people per year through advanced programming to traditional technical college students and high school students, incumbent worker training, and new equipment and technology advancement demonstrations for central Wisconsin businesses.
The facility is also set to provide office space for the Wisconsin Bureau of Apprenticeship Standards (BAS) supporting the 14 apprenticeship programs available at Mid-State and the over 400 current local apprentices. 
To learn more or make a donation to the campaign to outfit the center with industry-standard equipment and supplies, please visit mstc.edu/partner.