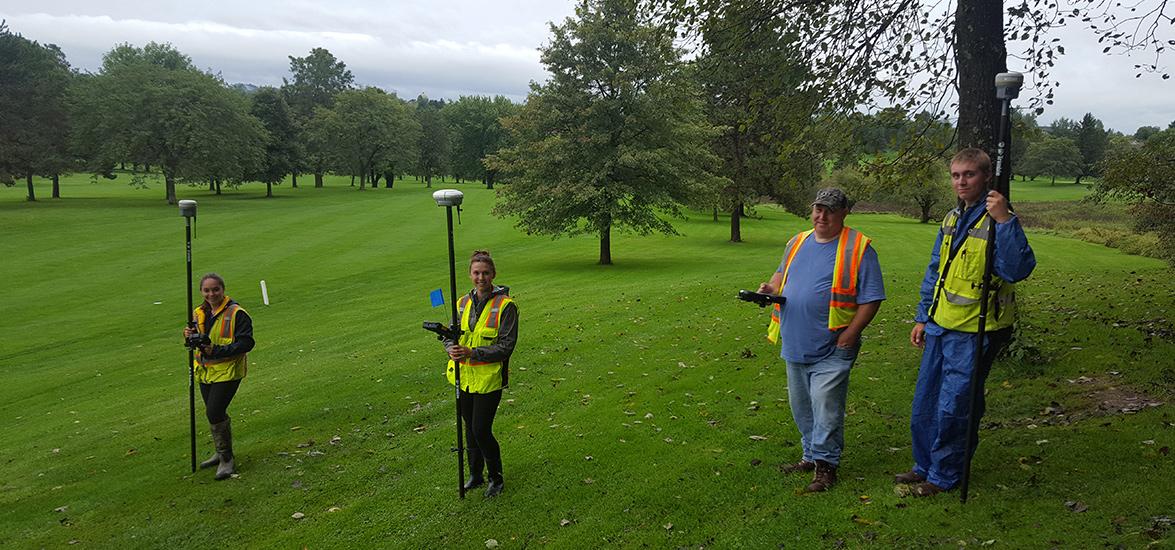 Mid-State Students Achieve 100-percent Pass Rate on National Certification Exam
April 23, 2018
Level I CST exam boosts resumes of students in already-high-demand career
Mid-State Technical College is pleased to announce that six students graduating from its Civil Engineering Technology-Highway Technician program this semester elected to take the Level I Certified Survey Technician (CST) exam, and all six of them passed. Drew Nelson of Nekoosa, Devree Vogel of Plover, Mark Oie of Wisconsin Rapids and Brady Erickson, Patrick Molski and Jeremy Slowinski of Stevens Point all sat for and passed the Level I CST exam at the Wisconsin Society of Land Surveyors 69th Annual Institute conference in Wisconsin Dells in January.
Students in Mid-State's Civil Engineering Technology-Highway Technician program prepare for high-demand careers as survey technicians, AutoCad specialists and more. Most or all of them in recent years have been hired before graduation. The nationally recognized CST Level I certification is valuable to anyone entering a career in surveying as a field technician or data surveyor and makes these graduates even more desirable to potential employers. The four levels to CST certification also create a ladder of credentials for career surveyors.
Michaela Galganski graduated from the program in 2017, passed the CSTI exam prior to graduation, and now works as a land survey field technician for EMCS, Inc., in Wausau. She decided to take the exam because her full-time employer the previous summer wanted her to. "I knew it would be great to have on my resume, and I was determined to pass, so I studied a lot," she said. Michaela is already eyeing Level II certification and plans to take the test when it's offered on Mid-State's campus on April 27. "This time I'm focusing on the field track," she said, "because it takes my professional development further into the outdoor version of this career, which I love."
Surveyors in Wisconsin also take theProfessional Land Surveyor (PLS) exam, an independent exam offered at the state level, according to program instructor Greg Webster. "Gaining CST certification does not affect qualification for the PLS, but it is seen as a valuable additional credential by employers," he said. Webster also recently advanced his own CST certification this spring after taking and passing the Level III exam.
Those interested in learning more about the Civil Engineering Technology-Highway Technician program can visit the programs page.