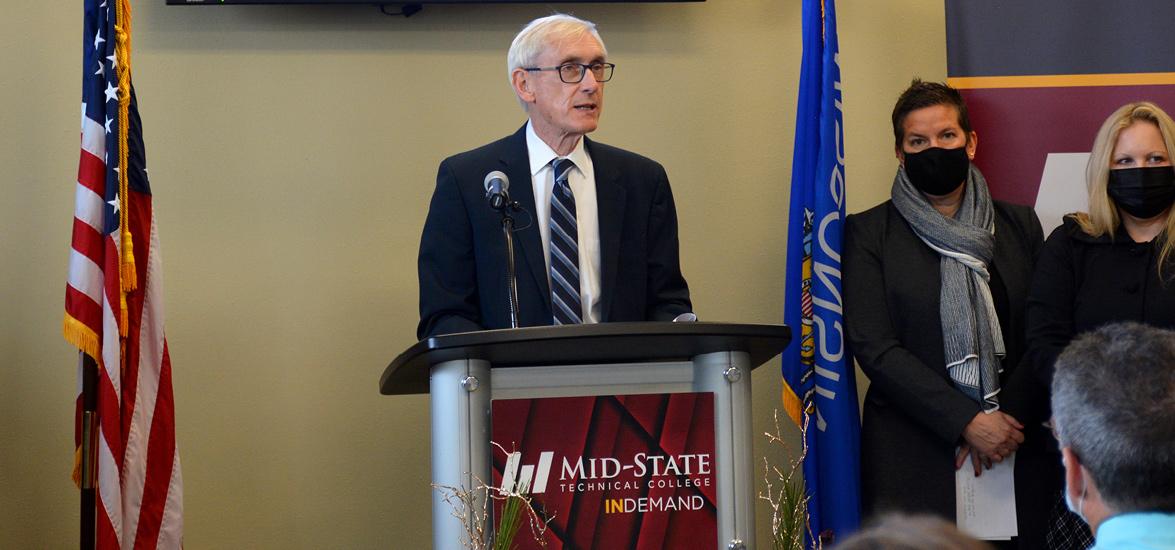 Governor Evers announces $9 million award to Mid-State Technical College under Workforce Innovation Grant
December 16, 2021
Provides funding for AMETA Center construction, equipment and community-based student support services
Mid-State Technical College recently made a sprint just short of the finish line in its campaign to build an Advanced Manufacturing, Engineering Technology and Apprenticeship (AMETA) Center in Stevens Point. Gov. Tony Evers visited the Stevens Point Campus Dec. 14 to publicly announce Mid-State's award of $9M under the State's Workforce Innovation Grant and congratulate the College and its partners.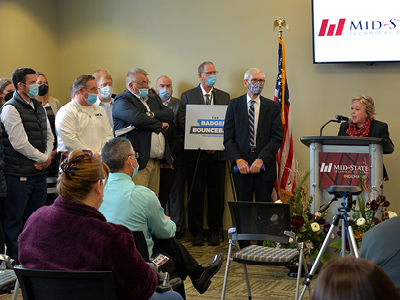 Mid-State's proposal was one of 12 to be selected out of 120 grant applications submitted by State organizations for the governor's Workforce Innovation Award, which awarded $59.5M in grants through the first round of the program. The governor also selected the College as one of five grant recipients to be awarded in person and highlighted with a press conference. He was joined by Wisconsin Economic Development Corporation (WEDC) Secretary and CEO Missy Hughes and Department of Workforce Development (DWD) Secretary-designee Amy Pechacek at the event.
"This is great news for Mid-State, which is such an essential part of this region and the entire state of Wisconsin," Evers said. "This proposal brings exactly the sort of collaboration and innovation we were looking for in this grant… It's been amazing to hear about what great work folks are doing across our state to address the issues employers, workers and communities alike are facing."
Mid-State's Workforce Innovation Grant application, submitted in collaboration with Centergy and other community organizations, requested funds to build a regional collaboration around workforce challenges in central Wisconsin, targeting 2,500 unemployed, underemployed, underserved communities and youth with skills training and barrier-removing support services. The $9M award for the proposed public-private initiative includes $4M for the construction of AMETA Center in Stevens Point, $1M for equipment in the new facility and $5M for student supports and community partnerships, making it easier for people to enroll and attend.
"One of the things that our conversations with our businesses have consistently shown is that there are many non-economic—non-traditionally-economic—issues that they're facing, that their workers are facing, whether it's access to childcare or transportation or housing," said WEDC Secretary and CEO Hughes at the event. "That's what you all did to get this project, and it's incredibly exciting. You are laying together support services, programming and incredible infrastructure to make this happen."
Slated for development on I-39 in the Stevens Point Industrial Park, the AMETA Center is expected to serve thousands of people annually through traditional programming, professional upskilling, K–12 early college and career exploration activities, technology demonstrations and business meetings. The Center is designed to supply Wisconsin with highly skilled workers, address the workforce shortage and sustain and grow area businesses.
"What a wonderful announcement for not only our college but for the Central Wisconsin region," Mondeik said. "This grant is very focused—we know what we need to do and we know how to do it—all of these actions and strategies were developed from the needs that were heard from our constituents."
New programs planned to be offered in the Center include Advanced Manufacturing Technology, Fabrication Technician, Liberal Arts Transfer – Engineering, Mechanical Design, Supply Chain Management/Logistics and Welding Certificate as well as the new Metrology apprenticeship. Mid-State programs that are anticipated to either expand or relocate to the site include Civil Engineering Technology-Highway Technician, Machine Tool Technician, Manufacturing Operations Management, Welding and the following apprenticeships: Electrical & Instrumentation Technician, Electrician, Ironworker, Machinist and Metering Technician.
Although the grant award has swiftly accelerated Mid-State's progress toward its original $9M fundraising goal for the construction of the AMETA Center, the campaign will now focus on securing the remaining funds needed to address rising construction costs and additional equipment needed to bring the project to fruition, with an anticipated groundbreaking in fall 2022 and opening in fall 2023. To learn more, see a list of contributors to date or make a donation to the AMETA Center campaign, visit mstc.edu/partner.