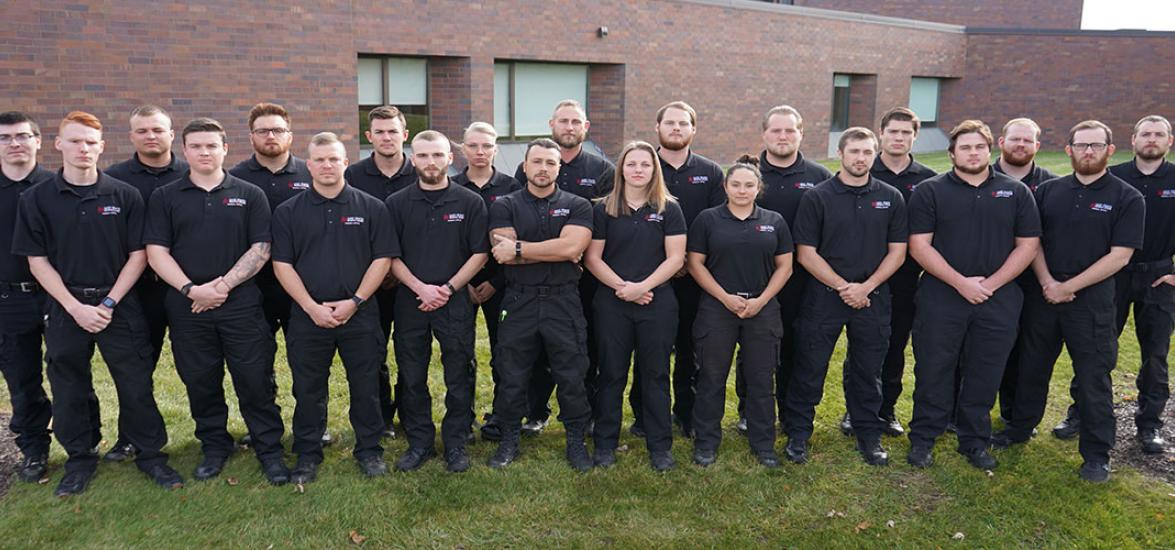 Mid-State celebrates law enforcement training academy graduates with recognition ceremony
December 21, 2021
Mid-State Technical College held a special December 15 ceremony on the Wisconsin Rapids Campus to recognize the efforts of 21 students who completed training through its Criminal Justice - Law Enforcement 720 Academy, which provides the basic law enforcement training required to become a law enforcement officer in Wisconsin. 
Successful completion of law enforcement basic training is required to be certified by the Wisconsin Department of Justice (DOJ) as a law enforcement officer in the state of Wisconsin. Mid-State Technical College offers two basic training academies each year (spring and fall). The 720-hour, 18-week curriculum is determined by the DOJ, and the content of the academy includes a wide and diverse presentation of subjects, addressing all the essential functions required of law enforcement officers.  
"Because most Wisconsin law enforcement agencies require or at least expect applicants to bring their DOJ certification into the application process, this special training and certification makes our students all the more employable." said Dr. Clark Pagel, Mid-State's law enforcement and jail academy director. 
"The Wood County Sheriff's Department has a long-standing relationship with Mid-Sate Technical College that dates back to the 1990s," said Sheriff Shawn Becker. "Our community is safer because of the many Mid-State grads we have hired to be deputies and corrections officers over the years, and many of our current staff have taught at Mid-State, including myself. We are honored to share in this partnership."
According to Pagel, Mid-State also has an articulation agreement with the University of Wisconsin-Stevens Point that allows UW-Stevens Point students to take a semester off from their studies to attend Mid-State's academy and earn UW-Stevens Point credit for that experience.
Learn more about Mid-State's Criminal Justice - Law Enforcement 720 Academy and Criminal Justice-Studies programs at mstc.edu/programs.