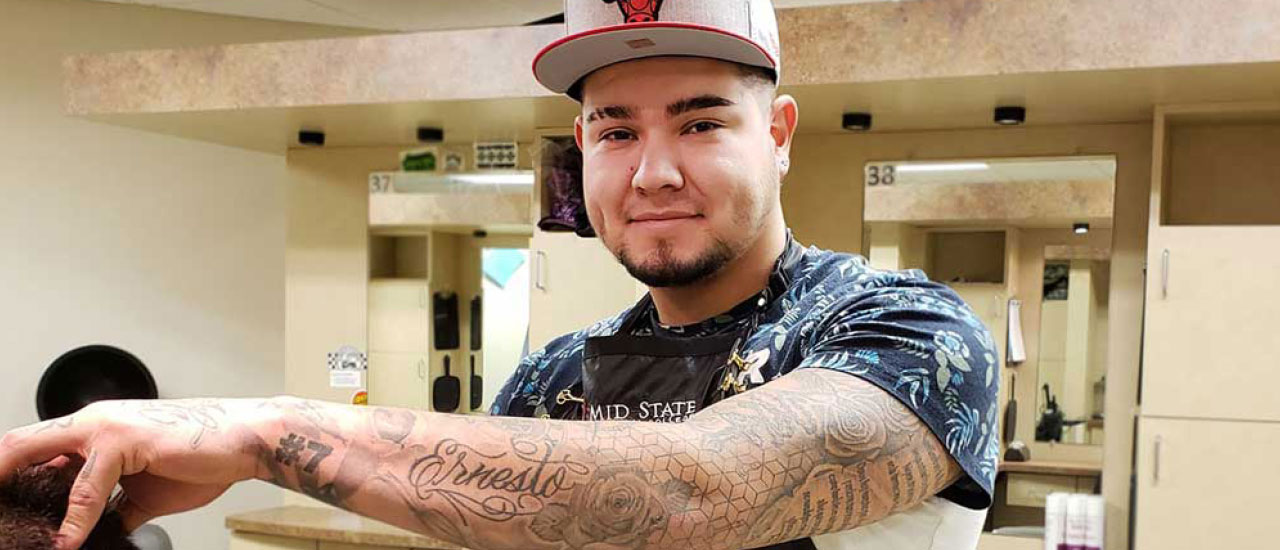 Graduate Spotlight - Ernesto Sanchez
Ernesto Sanchez
Barber Technologist, December 2018
Mid-State was nothing like Ernesto expected—it was more, and it was fun.
Ernesto Sanchez had already been working as a barber when he made the decision to apply for the Barber Technologist program at Mid-State Technical College. He wanted the degree that would let him finally call himself "professional," the freedom to move where he wanted, and the ability to move up in his career. Mid-State was nothing like Ernesto expected—it was more, and it was fun.
"I pictured just cutting guys' hair, doing shaved designs with hair, and straight razor shaving," says Ernesto. "When I found that I would also learn to do perms, foils, chemical relaxers, and facials, it was a surprise, and I've really enjoyed it."
When asked what he loved most about Mid-State, Ernesto doesn't hesitate to say he is proud to be the first in his family to attend college and fight to follow his dream of being a professional barber; and fight he did. Not only did Ernesto work full-time to pay out of pocket for his education, he is originally from Mexico, and English is a second language to him. Written tests and quizzes were hard, but through hard work, determination, and a little help from his instructors, he overcame the language barrier.
The highlight of his time with Mid-State was being chosen as a model by a master barber at America's Beauty Show in Chicago. What's next? Ernesto dreams of one day moving to Los Angeles to open his own shop, traveling the world, and teaching barber shows. He plans to start that journey through one of the many opportunities currently offered to him throughout the Midwest. For now, he just needs to decide which city he wants to launch his career in.