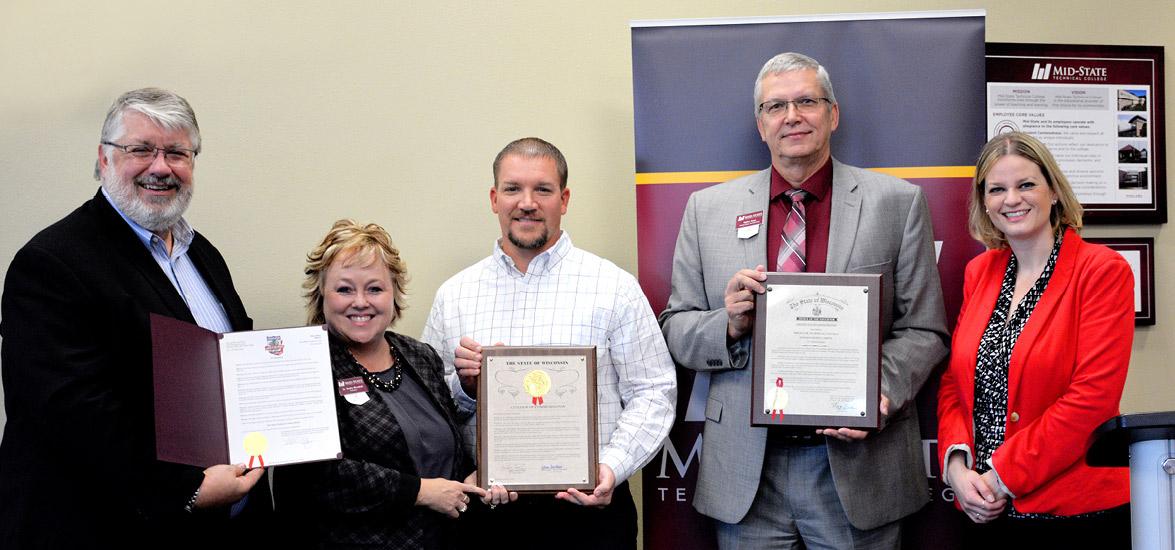 Stevens Point Mayor Mike Wiza Proclaims November 'Mid-State Month'
October 17, 2019
In recognition of the five-year anniversary of the relocation of Mid-State Technical College to downtown Stevens Point, Stevens Point Mayor Mike Wiza issued a proclamation declaring November 2019 "Mid-State Month" in the city. 
The proclamation was shared October 15 at a Stevens Point Campus event attended by State Representative Katrina Shankland, who also presented the College with a Citation of Commendation from herself and Senator Patrick Testin as well as a Certificate of Commendation from Governor Tony Evers.
Reading from his proclamation, Wiza stated that the June 2014 relocation of Mid-State's Stevens Point Campus "successfully repurposed a vacated mall, reinvigorating downtown Stevens Point" and "provides an estimated economic impact of over 50 million dollars to our community annually through job creation, operating expenses and student/faculty spending." The proclamation also alluded to Mid-State's plans for continued expansion to serve the Stevens Point area.
"I think it's really important that we celebrate and recognize the five years downtown but also the long-term economic impact and the way that the technical college has strengthened our economy and our future," Shankland said. "Portage County is doing incredibly well when it comes to bringing in people to the workforce…. I want to credit Mid-State Technical College for that."
"We want to make sure that Stevens Point stays strong, and we know that we are one of those players that can make that happen," said Mid-State President Dr. Shelly Mondeik, adding, "Stevens Point has been good to us—thank you. We want to be good to them as well."
In September Mid-State launched a year-long celebration of its downtown Stevens Point Campus. The campaign is a thank you to the community for its support through events, giveaways and highlights of Mid-State students, staff, alums and partners in the Stevens Point area.