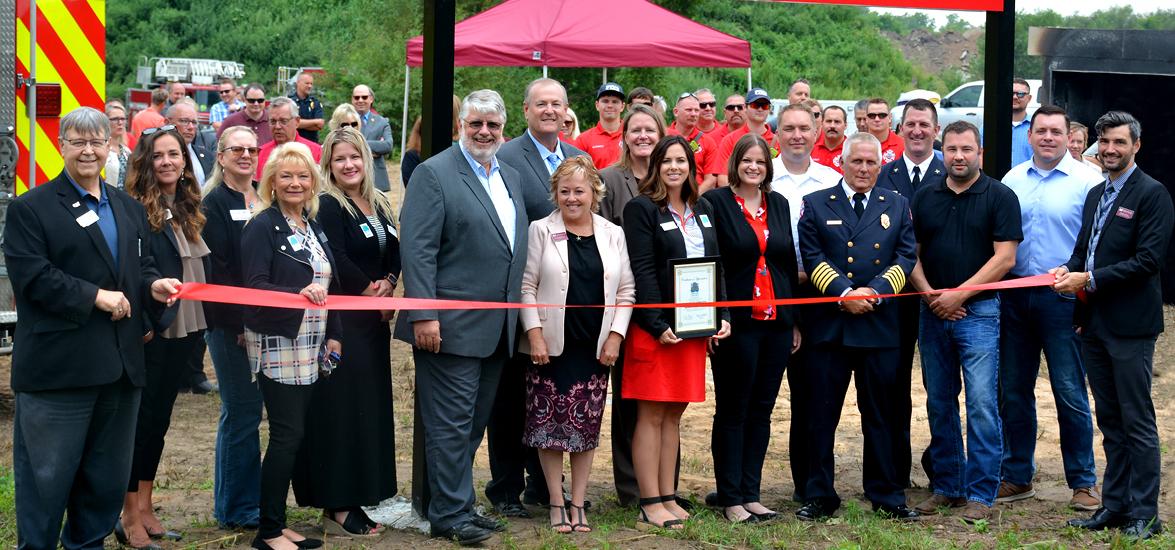 Stevens Point Fire Department, Mid-State Technical College joined by community and state leaders at Stevens Point Fire Department Training Center ribbon cutting
August 10, 2021
The Stevens Point Fire Department, in partnership with Mid-State Technical College, hosted a ribbon cutting on the site of the new Stevens Point Fire Department Training Center on Aug. 6. The event was attended by many contributors, collaborators and champions of the project, including Stevens Point City and Fire Commission leadership, state fire representatives and state legislators.
The new center is a result of a ten-year collaborative agreement between the Stevens Point Fire Department and Mid-State Technical College to expand local and regional training offerings in fire protection and emergency services. The site's location at 3100 Whiting Avenue in Stevens Point will allow for training to occur closer to regional career and volunteer fire departments, greatly increasing convenience and access for trainees in the central Wisconsin region and producing savings in travel costs and time commitment. The location will also allow training to occur while firefighters and their equipment remain nearer to their jurisdictions. 
Initially the training site will be used for Stevens Point's metro partners Plover and Hull as well as other agencies in the Mid-State District, with possible future plans to expand into a regional training site for the state of Wisconsin, according to Chief Robert Finn of the Stevens Point Fire Department.
Guests at the ribbon cutting were able to observe live on-site training already occurring at the site, as 23 police officers and firefighters from 22 different agencies throughout the state completed the Department of Justice Division of Criminal Investigation (DCI) seven day, 56-hour Fire Investigation course. The course is the first-ever fire investigator course certified by the International Fire Service Accreditation Congress (IFSAC) to be offered through the Wisconsin Technical College System.
"It's impressive for any community to put together a training site like this, but Chief Finn and his management team didn't stop there," said Stevens Point Police and Fire Commissioner Joe Kirschling. "They built a site that is going to bring in departments and people throughout the Midwest and, who knows, maybe throughout the nation." 
The project is one more step to achieving Chief Finn's goal of achieving an ISO fire score of "one" for the City of Stevens Point Fire Department, the highest score offered by the Insurance Services Office. Created by the Insurance Services Office, the ISO fire rating is a measure of how well equipped fire departments are to put out fires in that community and is often used to set homeowners' insurance rates. A "one" rating is held by just 411 of the nation's 40,000 fire departments. "Chief Finn wants to make that 412," Kirschling said.
The training center was first conceived of four years ago, stemming from listening sessions, meetings and surveys conducted by the College to identify solutions to better serve its surrounding communities. That process identified a need for a decentralized training model for fire training across the region, allowing fire trainings closer to the agencies they serve. Mid-State's role in bringing the project to fruition includes providing training on site and procuring needed equipment to support state-of-the-art fire learning experiences.
"Mid-State proves over and over that we want to collaborate, we want to partner, we try to listen and we do that in various ways," said Mid-State President Dr. Shelly Mondeik. "This is a testament that we're better together... that when there's a need, and there's an idea and there's resources, really anything can happen."
Stevens Point Mayor Mike Wiza listed the benefits stemming from the new training center, including wins for the City of Stevens Point, Mid-State Technical College, men and women of the fire service, community, tourism, economic development, housing and "every single citizen in our fire district." The project is "more than one or two or three wins," he said. "It's a win-mill."
State legislators at the event were pleased to see the site in action. "This is a first of its kind in the state of Wisconsin, and I have no doubt that this is going to be a model used in other parts of the state and other parts of the country," said Sen. Patrick Testin, R-Stevens Point. "This is going to be a point of pride, and it shows that Stevens Point continues to lead the way." Rep. Katrina Shankland, D-Stevens Point, said, "It speaks to the strength of our community that so many people are here today to celebrate and support this endeavor, and I am grateful and honored to be here. I feel we're very fortunate to live in a community full of creative thinkers and do-ers."