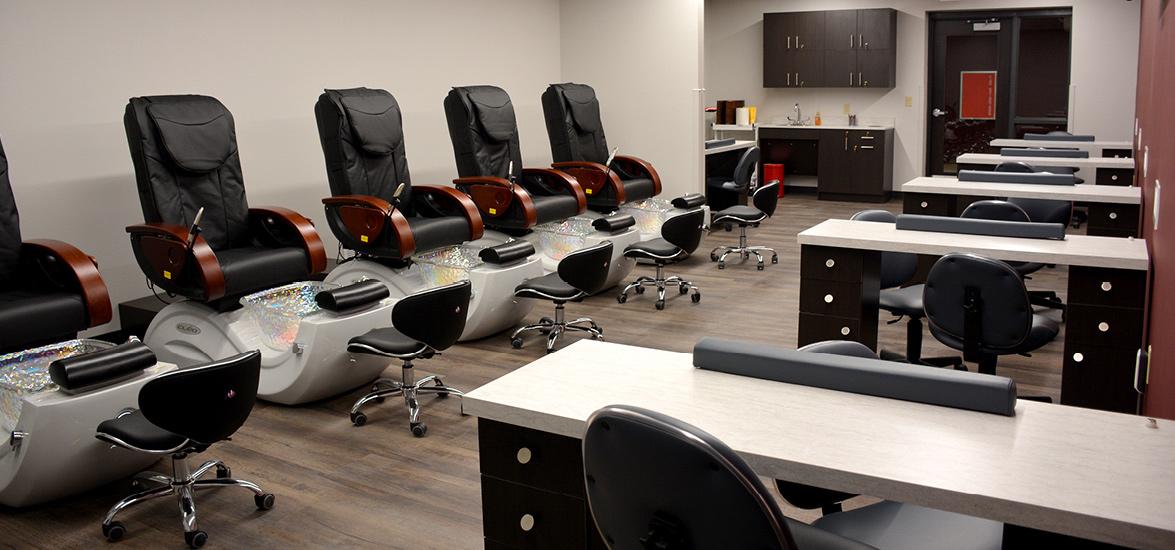 Newly remodeled Salon at Mid-State now serving students and community
February 15, 2021
The on-campus salon at Mid-State Technical College has undergone a transformation, to the benefit of the College's students and the community it serves. Students in Mid-State's Cosmetology, Barber Technologist and recently launched Nail Technician programs had the privilege of being among the first to learn and practice their skills in the new space, which is also now open to the community for a variety of affordable nail, facial and hair care services. 
The new Salon at Mid-State was designed to offer the best possible experience to Mid-State's students and clients. For Mid-State's students, the remodel means learning on new manicure tables and pedicure thrones as well as new equipment for acrylic and gel nail services. 
"At Mid-State, we take great pride in offering state-of-the-art cosmetology and barbering programs," said Dr. Deb Stencil, vice president of Academics. "The recent addition of our new Nail Technician program in conjunction with this exciting upgrade of our teaching and learning facilities demonstrates both the demand for these programs and the value we place on providing our students with the latest in industry tools and equipment to practice their skills."
During the remodel, students and instructors worked in temporary classrooms for several months while actively providing input into the new classrooms and salon space. The newly renovated classrooms and salon they returned to are now bright and open and reflect the salons and barbershops they will be working in when they graduate. 
Customers of the Salon at Mid-State experience first-class salon services, delivered by seasoned students and guided by instructors with years of professional and teaching experience. Services include a full menu of hair and barbering services as well as face, nail and brow services.  
Call 715-422-5531 or stop in to make an appointment. The Salon at Mid-State is open Monday – Wednesday, Feb. 8 – May 19, from 11:15 a.m. – 3 p.m. and 4 – 8 p.m. Learn more about Mid-State's Cosmetology, Barber Technologist and Nail Technician programs at mstc.edu/programs.