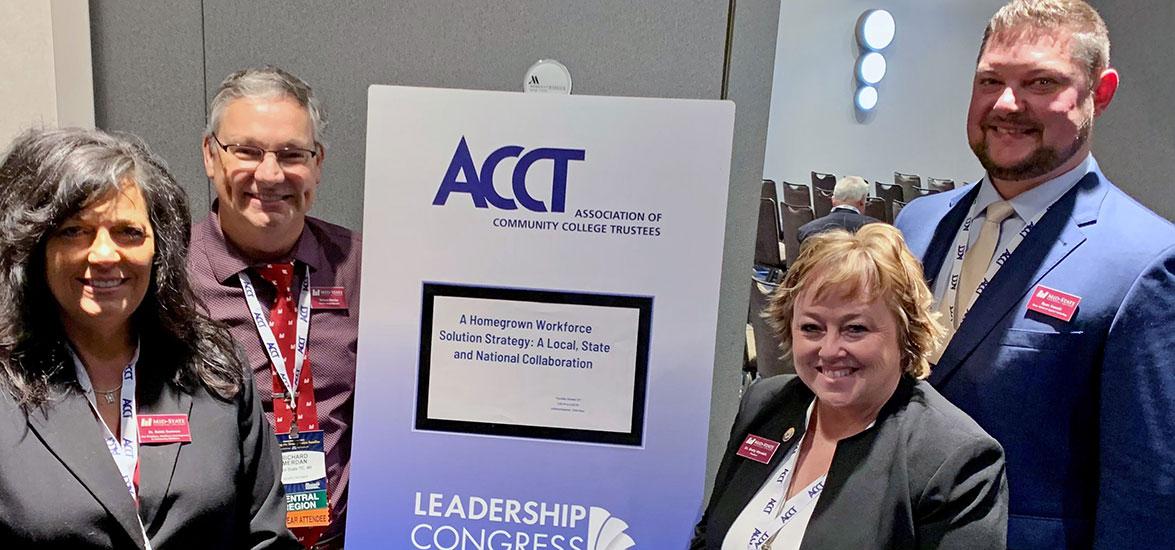 Mid-State Technical College's AMETA Center project selected for national presentation at the Association of Community College Trustees (ACCT) Leadership Congress
November 2, 2022
Mid-State Technical College was selected to present at the 53rd Annual Association of Community College Trustees (ACCT) Leadership Congress held Oct. 26 –29 in New York City and hosted by the City University of New York (CUNY). Mid-State representatives were featured in the Partnerships and Collaborations track with a presentation showcasing the strategies that made the Advanced Manufacturing, Engineering Technology (AMETA) Center a reality. This year's event focused on how community colleges enrich the lives of students and entire families. 
In Mid-State's presentation, "A Homegrown Workforce Solution Strategy: A Local, State and National Collaboration," Congress participants heard how a small, rural Wisconsin technical college listened, learned and created a strategy to raise over $13M through local, state and national partnerships to create a destination training center, which is poised to usher in Industry 4.0 technology and methodologies and arm high school graduates, college students and incumbent workers with relevant skills and ultimately help minimize the growing workforce shortage in Mid-State's district.
"The ACCT Leadership Congress is the largest professional development opportunity for community college trustees, presidents, executive leaders and other thought and policy leaders, and being invited to share our practices to these leaders on a national stage is an honor for Mid-State," said Rick Merdan, Mid-State board of directors member and co-presenter at the event. "It certainly demonstrates how collaborative, strategic and dedicated Mid-State and all our partners have been in bringing the vision of the AMETA Center to life." 
The project was selected in part due to the depth its supporters not only believed in the project but also contributed financially, provided in-kind goods and services, and advocated to ensure the destination training center was funded, according to Dr. Bobbi Damrow, Mid-State vice president of Workforce Development & Community Relations who also served as the campaign manager for the AMETA Center. 
"It is remarkable how our district came together in this grass-roots effort to construct a relevant destination training center for our high schools, college students and incumbent workers," Damrow said. "Our story was received with incredible interest by other colleges throughout the nation."
The ACCT's mission is to foster the principles and practices of exemplary governance while promoting high quality and affordable higher education, cutting-edge workforce and development training, student success and the opportunity for all individuals to achieve economic self-sufficiency and security. The annual Leadership Congress event is widely attended by Community College Trustees across the nation as they advance through ACCT programs and services in the areas of boardsmanship, advocacy, student success, innovation, diversity and service.
Learn more about Mid-State's AMETA Center project at mstc.edu/partner.