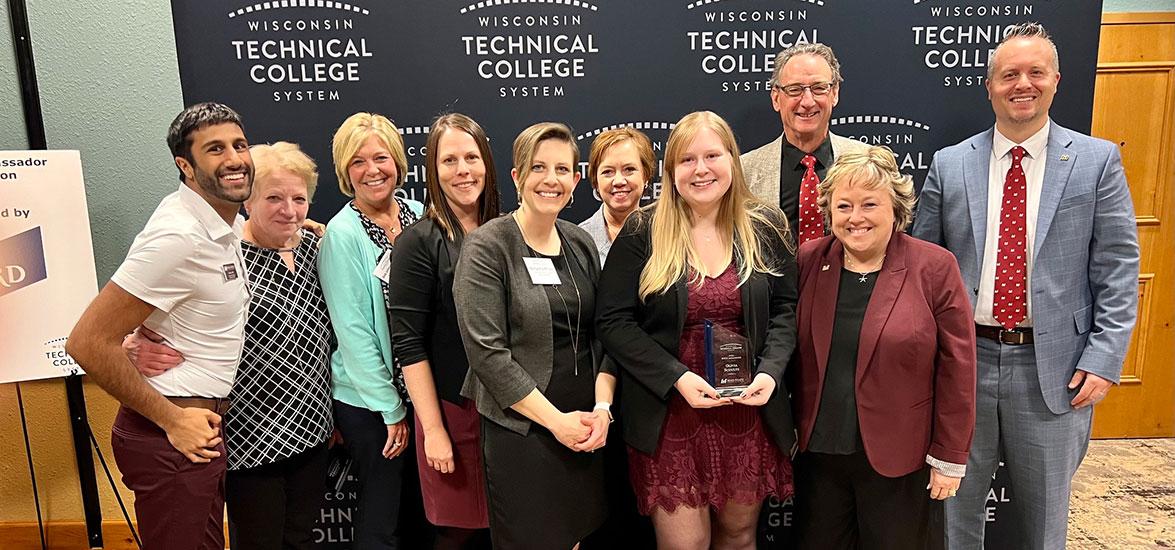 Mid-State Technical College names 2023 WTCS Student Ambassador
May 2, 2023
Mid-State Technical College Nursing student Olivia Schultz has been selected as the College's 2023 Student Ambassador to the Wisconsin Technical College System (WTCS). After a day of team building and leadership development with student ambassadors from the state's 16 technical colleges, Schultz was honored along with her peers at a formal dinner April 27 in Wisconsin Dells, surrounded by family members and leaders from the state's technical colleges and WTCS.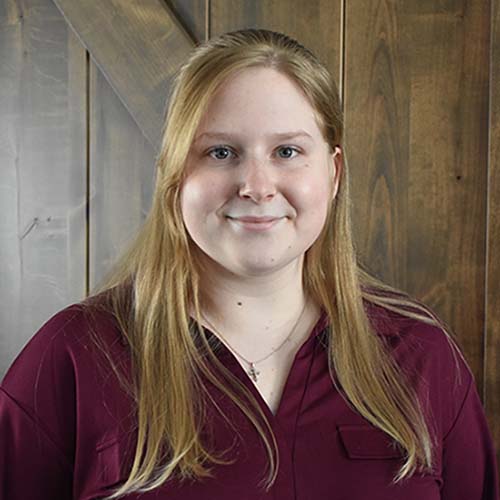 In her new role, Schultz will serve as a leader and advocate on behalf of Mid-State in raising awareness about the importance of technical education in Wisconsin. 
"We are so thrilled to have Olivia serve as Mid-State's 2023 WTCS student ambassador," said Mid-State Student Life Manager Natasha Miller. "She is a strong advocate for the technical college system and a pleasure to work with."
Schultz is a graduate of Stevens Point Area Senior High School (SPASH). She set her sights on a career in nursing when her grandmother was diagnosed with stage-four breast cancer, giving her the opportunity to see the nursing profession up close. She went on to complete the certified nursing assistant (CNA) program through Start College Now while still in high school. After graduating, she enrolled at Mid-State full-time in the Nursing program, where she quickly found new leadership skills developing.
"Mid-State has not only reflected back the best parts of me, it has provided a safe and nurturing environment to grow and develop in ways I never imagined," she said.
After graduating from Mid-State in May 2024 with her associate degree in nursing (ADN), Schultz plans to transfer to UW-Stevens Point for her bachelor of science in nursing (BSN) on her path to becoming a registered nurse. 
"Being named a WTCS Student Ambassador is an honor and an opportunity to represent a whole community that can be pushed into the shadows because they don't recognize their potential or believe they can succeed or even fit in at college," she said.
As part of the WTCS Ambassador program, one student from each of the state's 16 technical college districts are selected to act as an advocate for vocational and technical education. Students serve a one-year term, during which they make special appearances, give presentations and participate in various events on behalf of the WTCS.
To be considered for the position, students must be nominated by faculty or staff and complete an application packet. Students are then selected to participate in the interview process. During the interview, students deliver a presentation describing their personal journey and decision to attend a technical college. Schultz will represent Mid-State at the state level as well as participate in several events throughout the year.
Learn more at mstc.edu/student-life/wtcs-student-ambassador-award.