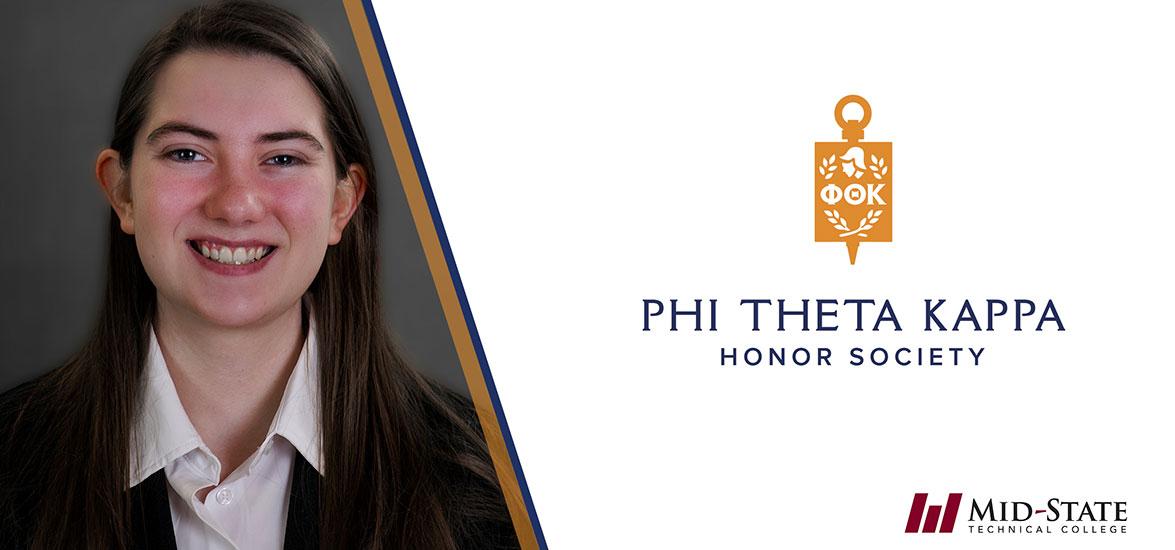 Mid-State student named a 2022 New Century Workforce Scholar
April 5, 2022
Mid-State Technical College student Delaney Weiler, Wisconsin Rapids, has been named a 2022 New Century Workforce Scholar and will receive a $1,250 scholarship. 
This scholarship is the first of its kind to support students at associate degree-granting institutions on a national scale as they plan to enter the workforce upon the completion of a degree or certificate. The program is sponsored by The Coca-Cola Foundation and Phi Theta Kappa (PTK) Honor Society.
"The Mid-State Foundation is very fortunate to work with organizations such as The Coca-Cola Foundation and PTK Honor Society to help our students reach their full potential through these scholarships," said Mid-State Foundation & Alumni Director Jill Steckbauer. "The relief students experience when earning an award such as this makes a true impact on their future. We are so proud of Delaney for receiving this award."
New Century Workforce Scholars are selected based on their academic accomplishments, leadership, activities and how they extend their intellectual talents beyond the classroom. Over 2,200 students were nominated from more than 1,200 college campuses across the country. Only one New Century Workforce Scholar was selected from each state.
"I have struggled with dyslexia my whole life, and it means so much to me to be able to focus fully on my schoolwork, thanks to this scholarship," Weiler said. 
Weiler became a cadet firefighter at the age of fifteen, inspired to pursue a career that would allow her to help others with medical challenges after witnessing her mother's battle cancer. "I wanted to help people when they were in their lowest time."
Weiler went on to initiate many different programs to benefit her community. "I think my career goals are just the start of the ways that I will be able to help people in my life," she added. 
"We congratulate Delaney for receiving this prestigious scholarship, and we are honored to partner with The Coca-Cola Foundation to recognize her outstanding achievements," said Phi Theta Kappa's President and CEO Dr. Lynn Tincher-Ladner. "Scholarship programs like this are integral for creating opportunities for students to succeed as they prepare to enter the workforce and for putting college completion within reach."
The New Century Workforce Scholars will be recognized in the fall.
Since its induction, Mid-State's PTK chapter, Beta Chi Theta, has received numerous awards and recognition, including third most distinguished chapter in the state, Five Star Advisor status for co-advisers Jon Steele and Jill Quinn and the Paragon Award for New Presidents. This spring it was also named a REACH chapter for excelling in membership development among other notable achievements at the organization's virtual spring regional conference as well as Best Advisor Team for co-advisors Jon Steele and Jill Quinn.
Founded in 1918, the Phi Theta Kappa Honor Society recognizes and encourages excellence among community colleges. Today, the Society is the largest honor society in higher education with nearly three million members and 1,300 chapters in 10 nations. The Wisconsin region of PTK includes 27 chapters.