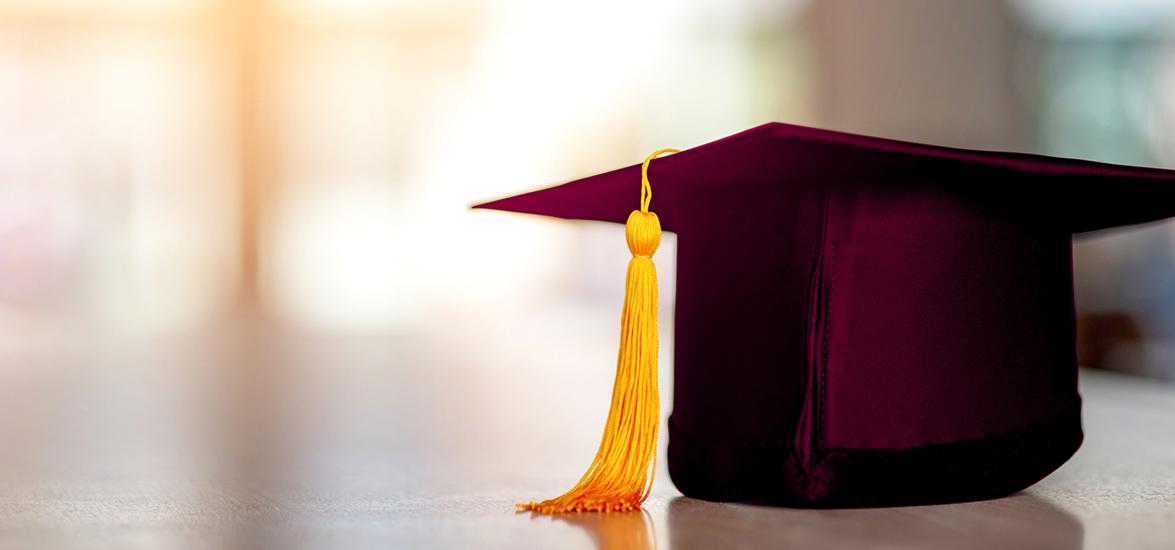 Mid-State shares virtual celebration of spring semester graduates
May 18, 2020
Mid-State Technical College marked the achievements of its newest graduates on Sunday, May 17, with a virtual graduation celebration on the College's Facebook page. The video event included a congratulatory message from Mid-State President Dr. Shelly Mondeik as well as submitted photos and personal messages from 96 of Mid-State's 346 spring graduates wearing their graduation cap and tassel and many faculty and staff. The video reached over 9,500 people in the community. 
All graduates are invited to also participate in the in-person August commencement ceremony currently planned for Sunday, August 16, on the Wisconsin Rapids Campus.
In the week leading up to its online celebration, the graduates received a celebration box with their cap, tassel, alumni pin and other items compliments of Mid-State. The College also featured personal stories of graduates in its Graduate Spotlights series at mstc.edu/gradspotlight. The celebration post can be found on Mid-State's Facebook account at facebook.com/MidStateTech.
Following is a list of Mid-State's spring 2020 graduates sorted by graduate candidate city and academic program. Cities are in Wisconsin unless otherwise indicated. 
Adams – Business Management: Devan Davidson
Almond – Medical Coder: Brianna Kawlewski
Amherst – Civil Engineering Technology-Highway Technician: Brandon Piotrowski; Medical Assistant: Ellen Werther; Respiratory Therapy: Jamie Marquard
Amherst Junction – Accounting: Jenna Liebe and Marcus Toelle; Diesel & Heavy Equipment Technician: Joshua Bandy; Nursing: Breanna Wright; Welding: Ashley Henke
Arpin – Corrections & Community Advocacy: Patricia Wyant; Criminal Justice-Studies: Chad Godard; Customer Relationship Professional: Stephanie Kummer; Digital Marketing: Yesica Gonzalez; Entrepreneurship: Stephanie Kummer; Gerontology: Logan Dragt; Human Resources Assistant: Stephanie Kummer; Medical Assistant: Ava Fortner; Nursing: Tiffany Scott; Project Management: Stephanie Kummer
Athens – Civil Engineering Technology-Highway Technician: Luke Mroczenski
Auburndale – Human Resources Assistant: Connor Coyle; Industrial Mechanical Technician: Matthew Leick; Medical Assistant: Desiree Eckes
Babcock – Diesel & Heavy Equipment Technician: Matthew Hasl
Bancroft – Central Service Technician: Sarah Rothermel; Machine Tool Technician: Connor Pliska; Medical Assistant: Brittany Sanchez; Nursing: Felicity Betro
Brussels - Criminal Justice - Law Enforcement 720 Academy: Michael Bertrand
Burlington - Criminal Justice - Law Enforcement 720 Academy: Tanner Arnold
Chili – Welding: Jeremy Brost
Colby – Surgical Technologist: Rachel Lindberg
Coloma – Medical Assistant: Desiree Ogren
Custer – Cosmetology: Ashley Gibbs
Edgar – Respiratory Therapy: Cassie Miller
Franklin - Agribusiness and Science Technology: Andrew Schuetz
Grand Marsh – Customer Relationship Professional: Heidi Peterson
Grand Meadow, Minn. – Criminal Justice - Law Enforcement 720 Academy: Elizabeth Benson
Granton – Medical Assistant: Tyanne Sabin
Greenwood – Administrative Professional: Julienne Unertl; Office Support Specialist: Julienne Unertl
Hancock – Cosmetology: Emeralda Landeros; Industrial Automation & Controls Engineering Technology: Nicholas Gilbert; Marketing: Lauren Scurto
Hartland – Criminal Justice - Law Enforcement 720 Academy: Keiagane Mok-Cardon
Holmen – Business Management: Allison Molski; Health Information Management: Alisha Trapnell and Heather Worden; Medical Coder: Heather Worden
Horicon - Criminal Justice - Law Enforcement 720 Academy: Jared Feucht
Junction City – Central Service Technician: Jennifer Sisley; Nursing: Kimberly Abel; Paramedic Technician: Rachel Zorn
Kronenwetter – Respiratory Therapy: Danielle Becker
Lake Elmo, Minn. – Criminal Justice - Law Enforcement 720 Academy: Nathaniel Farmer
Little Chute – Respiratory Therapy: Tate Lambert
Lone Rock – Apprentice-Metering Technician: Zachary Swenson
Loyal – Surgical Technologist: Aleesha Helgeson; Urban Forestry Technician: Shawn Warren
Marshfield – Accounting: Alayna Ratsch; Administrative Professional: Rebecca Schar; Apprentice-Metering Technician: Cole Eswein; Apprentice-Plumber: Jonah Tysver; Apprentice-Steamfitting: Adam Skrzeszkoski; Automotive Maintenance Technician: Dylan McHugh; Automotive Technician: Dylan McHugh; Business Management: Alexis Bezlyk and Kesah Kopca; Central Service Technician: Trinity Thompson; Criminal Justice-Studies: Flynn Mcquillen, Ty Porter and Aaron Riedel; Customer Relationship Professional: Rebecca Schar; Digital Marketing: Benjamin Gabel; EMT-Paramedic: Tanner Kuehmichel; Entrepreneurship: Kesha Kopca; Health & Wellness Promotion: Melissa Mclellan; Human Resources Assistant: Rhonda Hansen; Industrial Mechanical Technician: Tyler Rollins; Medical Assistant: Briana Duellman; Medical Coder: Maryel Handrick and Jennifer Rueden; Nursing: Ciara Bauer, Brooke Halverson, Miranda Kramer and Echo Means; Paramedic Technician: Nathan Saeger; Phlebotomy Technician: Pamalyn Garbisch, Taylor Schirmer and Jessica Schmitt; Respiratory Therapy: Matt Gross, Joshua Henderson and Jill Nelson; Stainless Steel Welding: Mark Steinhaus; Surgical Technologist: Amanda Makovec, Katelyn Meddaugh and Ross Petersen; Urban Forestry Technician: Wade Kratzer; Welding: Adam Albanito, Richard Bong and Shane Troutt
Mauston - Criminal Justice - Law Enforcement 720 Academy: Lindsey Harvey
Medford – Welding: Aaron Julian
Merrill – Apprentice-Ironworker: Eli Knoblock
Milladore – Apprentice-Plumber: Dave Altmann; Corrections & Community Advocacy: Cassidy Northway; Criminal Justice-Studies: Alec Guldan
Milwaukee – Medical Coder: Kyndall Smith
Mosinee – Medical Assistant: Crystal Harmon; Nursing: Angela Churkey
Necedah – Apprentice-Millwright/Maintenance Mechanic: Robert Knutson 
Neillsville – Apprentice-Millwright/Maintenance Mechanic: David Oestreich; Medical Assistant: Brianna Ciolkosz
Nekoosa – Accounting: Katelyn Ruiz; Apprentice-Steamfitter Service: Chandler Whitmore; Business Management: Jeri Karbowski and Marc Wilson; Corrections & Community Advocacy: Brittany Jensen and Aleyka Pascual; Cosmetology: Juliza Moreno; Criminal Justice-Studies: Digital Marketing: Dwayne Corry; IT Network Specialist: Jason Passineau; Medical Assistant: Mellissa Shilts; Nursing: Ashlyn Collins and Ashley Hamin; Phlebotomy Technician: Tara Jaminski; Welding: Cassandra Sullivan and Noah Thomas
Oconomowoc – Cosmetology: Tayor Hoffmann
Oswego, Ill. –  Criminal Justice - Law Enforcement 720 Academy: Jacob Smutzer
Owen – Nursing: Kristie Clark and Jackie Herrick
Oxford – Automotive Maintenance Technician: Courtney Brooks; Automotive Technician: Courtney Brooks; Farm Business & Production Management: Thomas Ems
Pittsville – Apprentice-Millwright/Maintenance Technician: Jesse Berkholtz; Criminal Justice-Studies: Dustin Turner and Riley Wayerski; Medical Assistant: Miranda Coulthard; Surgical Technologist: Nydra VanVleck
Plainfield – Automotive Maintenance Technician: Dakota Czlapinski; Automotive Technician: Dakota Czlapinksi
Plover – Accounting: Zia Lee; Administrative Professional: Colette Stoflet; Apprentice-Plumber: Corey Ruiz; Business Management: Kyana Brockman, Ashley Hoerter and Ann Ilagan; Corrections & Community Advocacy: Angelica Morales; Cosmetology: Breanna Glodowski and Bernadette Lahaye; Criminal Justice - Law Enforcement 720 Academy: Tyler Schech; Criminal Justice-Studies: Samuel Frodl; Health & Wellness Promotion: Derek Dodds; Industrial Automation & Controls Engineering Technology: Zachary Klesmith; Industrial Mechanical Technician; Craig Willner; IT Network Specialist: Forrest Krings and Yia Yang; Machine Tool Technician: Ian Arneson and Caleb Cline; Marketing: Derek Dodds; Medical Coder: Stephanie Beyer; Nursing: Brittny Andrews and Laura Flood
Port Edwards – Business Management: Mary Doty; Civil Engineering Technology-Highway Technician: Benjamin Diekfuss; Criminal Justice-Studies: Gunnar Drew and Cole O'Neil; Customer Relationship Professional: Kiira Jensen; Medical Office Specialist: Kiira Jensen
Port Washington – Health Information Management: Christina Lefever; Medical Coder: Christina Lefever
Prescott – Criminal Justice - Law Enforcement 720 Academy: Samantha Ritter
Randolph – Apprentice-Plumber: Kye Leystra
Rice Lake – Apprentice-Metering Technician: Steve Diercks
River Falls – Criminal Justice - Law Enforcement 720 Academy: Samantha Bartch
Rockford, Ill. – Criminal Justice - Law Enforcement 720 Academy: Caleb Friemuth
Rosholt – Automotive Maintenance Technician: Dylan Simonis; Automotive Technician: Dylan Simonis; Business Management: Amy Wojtalewicz; Criminal Justice-Studies: Lucas Wiza; Entrepreneurship: Amy Wojtalewicz; Human Resources Assistant: Amy Wojtalewicz; Project Management: Amy Wojtalewicz
Rudolph – Industrial Automation & Controls Engineering Technology: Mason Roseno; IT Computer Support Specialist: Matthew Thomas
Saint Nazianz – Corrections & Community Advocacy: Sydney Schaller
Scandinavia – Corrections & Community Advocacy: Justin Feltz
Schofield – Apprentice-Steamfitter Service: Randall Kressel
Shell Lake – Criminal Justice - Law Enforcement 720 Academy: Drew Johnson
Spencer – Business Management: Kassandra Morzewski; Digital Marketing: Jonathan Tomke; Medical Assistant: Kendra Dodge and Shelbi Hoefs; Nursing: Jennifer Wall
Stevens Point – Accounting: Chue Yee; Administrative Professional: Vanessa Chappel, Amber Lenard and Samantha Pionek; Apprentice-Construction Electrician (ABC); Shane Sutheimer; Apprentice-Plumber: Tyler Klasinski; Automotive Maintenance Technician: Clayton Rogers and George Wimme; Automotive Technician: Clayton Rogers and George Wimme; Business Management: Paulina Kusch, Tiffany Marshall, Shelby Modrak and Madeline Sprecher; Civil Engineering Technology-Highway Technician: Kaleb Wolf; Corrections & Community Advocacy: Abby Laronge and Samantha Young; Cosmetology: Mackenzie Bailey, Chue Chang, Riley Kawlewski, Rosalinda Koch and Myah Wetley; Criminal Justice-Studies: Luke Fourness, Joshua Jones and Jonathan Rahlf; Diesel & Heavy Equipment Technician: Zachary Rohde and George Wimme; Digital Marketing: Nathaniel Taylor and Sierra Vuorinen; Early Childhood Education: Madison Ofstad; Entrepreneurship: Juan Landeros, Shelby Modrak, Alexandria Plaski, Kevin Reed and Franchesca Silva; Health Information Management: Lilah Schuessler; Human Resources Assistant: Matthew Ducylowycz and Kelly Wengelski; Industrial Mechanical Technician: Nate Napiwocki; Information Security Specialist: Riley Lewellin; IT Computer Support Specialist: Riley Lewellin; IT Network Specialist: Riley Lewellin, Christopher Ramlow and Shia Yang; IT Software Developer: Tegan Kennedy; Machine Tool Technician: Kyle Guensburg; Medical Assistant: Megan Lorbecki and Melissa Wolfe; Nursing: Michael Bublitz, Kendra Cisewski, Keely Melby, Carissa Mueller, Abigail Munson, Alyssa Rogers, Morgan Spreda, Sarah Van Order and Casey Weber; Paramedic Technician: Justine Shafranski; Project Management: Shelby Modrak; Respiratory Therapy: Brenna Bogaczyk and Dalton Meyer; Surgical Technologist: Mark Bittner, Abigail Erickson and Krysta Jonietz; Urban Forestry Technician: Rodrick Elm; Welding: Elliot Foltz and Benjamin Lobos
Stoughton – Business Management: Anthony Rustad
Stratford – Apprentice-Construction Electrician (ABC): Mark Aschebrock, Business Management: Kaylee Sischo; Digital Marketing: Kaylee Sischo; Digital Marketing Promotions: Kaylee Sischo; Entrepreneurship: Kaylee Sischo; Human Resources Assistant: Kaylee Sischo; Project Management: Kaylee Sischo; Respiratory Therapy: Brandie Krall; Sales Specialist: Kaylee Sischo
Sun Prairie – Apprentice-Metering Technician: Trent Bettenhausen
Tigerton – Early Childhood Education: Cheyenne Bazile
Tomah – Automotive Maintenance Technician: Cody Zimmerman; Automotive Technician: Cody Zimmerman
Tomahawk – Apprentice-Ironworker: Adam Russo; Apprentice-Steamfitting: Travis Lau
Vesper – Apprentice-Construction Electrician (ABC): Ryan Prochnow; Medical Assistant: Marissa Becker; Paramedic Technician: Daniel Shay
Warrens – Automotive Maintenance Technician: Tomas Jensen; Automotive Technician: Tomas Jensen; Liberal Arts - Associate of Science: Jennifer Ashburn
Waupaca – Nursing: Miranda Graham
Wausau – Apprentice-Steamfitter Service: Brice Seliger; Respiratory Therapy: Xou Xiong
Weston – Surgical Technologist: Jarrod Kole
Wisconsin Rapids – Accounting Assistant: Alison Henneman; Administrative Professional: Katie Powalish, Amanda Rendmeister and Ashley Smith; Apprentice-Construction Electrician (ABC): Rusty Roe; Apprentice-Ironworker: Ryan Smits; Apprentice-Plumber: Chad Erdmann; Apprentice-Steamfitting: Gary Hanneman; Business Management: Melissa Ellingson, Rhonda Martinson and Lisa Neumann; Central Service Technician: Michelle O'shasky; Civil Engineering Technology-Highway Technician: Nicole Burdick and Bruce Williams; Corrections & Community Advocacy: Kristen Akbar, Brittny Groshek; Amanda Hoks, Trevor Pierce, Carol Rogers and Jason Shull; Cosmetology: Rachel Brill, Jordan Lewellyn and Kamilla Meshak; Criminal Justice - Law Enforcement 720 Academy: Rusty Brown; Criminal Justice-Studies: Tyler Bigalke and Austin Hutchinson; Diesel & Heavy Equipment Technician: Joseph Zivney; Electrical Power Engineering Technician: Travis Harris; Entrepreneurship: Rhonda Martinson; Fire Protection Technician: Alex Klonowski; Health & Wellness Promotion: Heather Bram and Hannah Graczkowski; Health Informatics & Information Management: Kari Lane; Health Information Management: Human Resources Assistant: Lori Klesmith, Nichole Kwasny, Jessica Podoll and Deanna Rehberg; Industrial Automation & Controls Engineering Technology: Jacob Delaney, Andrew Gustasfon and Chrysten Linzmeier; IT Network Specialist: Mong Khang and Jacob Ludwiczak; IT Software Developer: Derek Kandler and Devon Pongratz; Liberal Arts - Associate of Arts: Tatiana Davis; Machine Tool Technician: Anthony Addis, Garrett Ingram, Curtis Krueger, Simon Richmond and Blia Thao; Medical Assistant: Jenna Haas, Jessica Klement, Laura Krueger, Daphne Morrical, Asha Pecher-Gause and Candace Suberla; Medical Coder: Betsy Boggs, Aubrey Golla and Mary Jarosch; Nursing: Michael Cronce, Michelle Holt, Jodi Kuhlka, Kira Kukainis, Victoria Reed, Sara Senn, Kaitlin Smith, Ousman Touray and Jenna Whitrock; Paramedic Technician: Joshua Schmidt and Bryana Windsor; Phlebotomy Technician: Brace Brill and Abigail Krug; Project Management: Rhonda Martinson; Renewable Energy Technician: Andrew Hoile and Kyle Pasch; Respiratory Therapy: Daniel Farley, Allison Haferman, Alexandria Hurst, Aimee Khang and Kennedy Peterson; Technical Studies-Journey Worker: John Weiler; Urban Forestry Technician: Matthew Richards; Welding: Carson Neinfeldt and Daniel Plowman