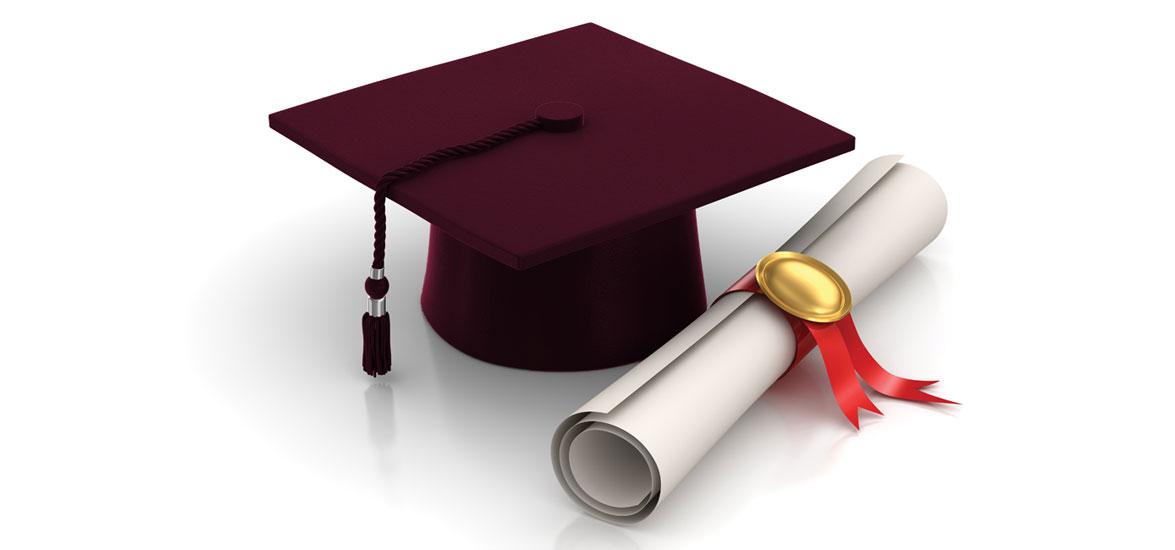 Mid-State's commencement planned for December 15
December 6, 2019
Mid-State Technical College will celebrate the achievements of its fall graduates on Sunday, Dec. 15, in a combined commencement ceremony in the Wisconsin Rapids Campus gymnasium beginning at 1:30 p.m. 
Mid-State's Machine Tool Technician program will be a highlight of the program, which will feature a keynote address from Ken Hastreiter of Hastreiter Industries in Marshfield, faculty address from Mid-State Machine Tool Technician Instructor Mike Berry and student address from Machine Tool Technician graduating student Colin Yusten of Wisconsin Rapids. The ceremony will include a reception followed by refreshments, photo opportunities and overall celebration. 
In-person attendance is reserved for ticket holders, but all others can view a livestream of the event at mstc.edu/gradlive and follow the event on Twitter at #MidStateClass19. For more information visit mstc.edu/graduation.
Following is a list of Mid-State's fall 2019 graduates sorted by graduate candidate city and academic program. Cities are in Wisconsin unless otherwise indicated. 
Adams – Accounting: Zoey Beda
Almond – Medical Coder: Aubrey Korslin
Amherst – Medical Assistant: Mackenzie Blanton; Nursing: Samantha Enright
Appleton – Nursing: Paige Schonfelder
Arkdale – Diesel & Heavy Equipment Technician Assistant: Anthony Cwikla; Nursing: Rebecca Rossenbach
Arpin - Steamfitter and Steamfitter Service Apprentice: Sam Lucas
Auburndale – Nursing: Calli Kronstedt
Bancroft – Cosmetology: Mariana Rodriguez; Nursing: Dana Ashworth
Baraboo – Steamfitter and Steamfitter Service Apprentice: Sarah Martin
Chili – Nursing: Jodilynn Feit; Stainless Steel Welding: Jeremy Brost
Custer – Business Management: Phyllis Brandenburg; Corrections & Community Advocacy: Emily Hoerter; Nursing: Kendra Kruzicki
Dorchester – Medical Assistant: Terri Peissig
Eau Claire – Nursing: Jessica Drew
Friendship – Business Management: Annmarie Jahnz; Customer Relationship Professional: Annmarie Jahnz; Human Resources: Morgan Rowell; Office Support Specialist: Heather Jones
Grafton – Nursing: Hannah Ginter
Grand Marsh – Business Management: Shianna Smith
Granton – Agribusiness and Science Technology; Matthew Tyler
Hewitt – Business Management: Jason Wagner
Iola – Business Management: Meghan Menadue; Nursing: Mary Decker and Kelly Ziebell
Iron Mountain, Mich. – Industrial Automation & Controls Engineering Technology: Parker Swartout
Junction City – Accounting: Abbee Brown; Business Management: Abbee Brown; Cosmetology: Harley Wolf; Entrepreneurship: Abbee Brown; Human Resources: Abbee Brown; Nursing: Ashley Dedman and Elizabeth Schreiner
Loyal – Medical Assistant: Kara Jackson
Marshfield – Administrative Professional: Anita Holtz; Business Management: Kelly Hougum and Ciara Klimpke; Cosmetology: Natasha Glines and Emily Konrardy; Customer Relationship Professional: Anita Holtz; Diesel & Heavy Equipment Technician: Jordan Altmann; IT Network Specialist: Kyle Everson and Nicholas Mammen; Nursing: Emily Sebstead and Chelsea Wells; Plumber Apprentice: Brandon Zink; Stainless Steel Welding: Matthew Drexler and Reese Salaz
Medford – Medical Assistant: Sarah Curran; Plumber Apprentice: Brock Kalmon
Merrill – Medical Coder: Julie Young; Steamfitter and Steamfitter Service Apprentice: Bradley Landwehr, Patrick Weix
Milladore – Steamfitter and Steamfitter Service Apprentice: Ryan Pavlik
Mosinee – Steamfitter and Steamfitter Service Apprentice: Leslie Maple
Neillsville – Agribusiness and Science Technology: Mckayla Staber; Medical Coder: Janice Ladd
Nekoosa – Emergency Services Management: Mark Meyers; Human Services: Robin Quiles; Industrial Automation & Controls Engineering Technology: Branden Lanphear; IT Network Specialist: John Gethers; Nursing: Courtney Brixius and Heather Dabbs; Phlebotomy Technician: Caitlin Conley
Oceanside, Calif. – Accounting: Jade Pritzl
Oxford – Medical Coder: Jennifer Prew
Pittsville – Business Management: Bridget Pember; Cosmetology: Karolyn Baker
Plainfield – Health Information Management: Susan Uribe; Medical Assistant: Kayla Phillips; Nursing: Lesly Guerra-Reyna
Plover – Accounting: Jessica Rozumialski; Business Management: Belinda Vicker; Construction Trades: Jordan Kuhn; Cosmetology: Brook Hoffman, Ruby Leon, Gage Schedlbauer; Customer Relationship Professional: Haylee Leazer; Entrepreneurship: Nicholle Peper; Human Resources: Haylee Leazer and Allson Molski; IT Network Specialist: Roxana Schnitzler; Medical Assistant: Tiffany Kloiber and Melissa Tomke; Microsoft System Administrator: David Lanphere-Hartzell; Nursing: Kathaleen Dargin, Xee Vang and Lili Zaragoza
Port Edwards – Human Resources: Kiira Jensen
Rosholt – Nursing: Taylor Kaminski
Rudolph – Business Management: Emily Stashek; IT Software Developer: Nicholas Fluis
Scandinavia – Nursing: Kathleen Bergan
Schofield – Heating, Ventilation, & Air Conditioning (HVAC): Sam Erlandson; Nursing: Emily Bohenstengel and Maixeng Cha
Spencer – Business Management: Jonathan Lendved; Entrepreneurship: Jonathan Lendved; Human Resources: Jonathan Lendved; Medical Assistant: Tessa Helmert; Project Management: Jonathan Lendved
Stevens Point – Business Management: Nicholas Feist; Construction Trades: Khanthaly Naochaivang; Corrections & Community Advocacy: Jordan Jaeckels and Melissa Mauger; Digital Marketing: Kenneth Bronk; Early Childhood Education: Amy Vang; Health & Wellness Promotion: David Tetzloff; Human Resources: Shelby Galloway and Rebecca Kluck; Marketing: Aaron Jensen; Medical Coder: Cora Yetter; Microsoft System Administrator: Casey Schoettmer; Millwright/Maintenance Mechanic Apprentice: Adam Borski; Nursing: Samuel Haines, Jessie Lietzke and William Taylor; Urban Forestry Technician: Joshua Lapacz
Tomah – Corrections & Community Advocacy: Tiffany Whitt; Emergency Services Management: Adam Robarge
Vesper – Plumber Apprentice: Hunter Ladick
Waupaca – Human Resources: Brian Wachholz; Medical Assistant: Molly Olson
Wausau – Health Information Management: Kimberly Arrowood; Steamfitter and Steamfitter Service Apprentice: Allen Berghammer
Wautoma – Nursing: Lisa Sutton
Wisconsin Rapids – Administrative Professional: Charisse Cumberland, Ma-Kzee Kester and Amanda Vetor; Barber Technologist: Timothy Karbowski, Jesse Mata and Javon Ware; Business Management: Bobbie Chialda, Melissa Graef, Jesse Lee, José Perez, Tiffany Ringer and Ashleyn Sparks-Koch; Cosmetology: Cita Lewis: Diesel & Heavy Equipment Technician: Frank Becker; Entrepreneurship: José Perez and Ashleyn Sparks-Koch; Human Resources: José Perez and Ashleyn Sparks-Koch; Industrial Mechanical Technician: Brandon Guck and Logan Steinhilber; IT Software Developer Apprentice: Briana Rehberg; Machine Tool Technician: Frank Becker and Colin Yusten; Medical Assistant: Katelynd Anderson and Chloe Janowiak; Medical Coder: Barbara Velez; Nursing: Tami Call, Kristi Kleinbeck, Torrey Lloyd and Brooke Moseley; Office Support Specialist: Charisse Cumberland; Phlebotomy Technician: Rachel Saylor; Plumber Apprentice: Andrew Rosekrans; Project Management: Bobbie Chialda and Ashleyn Sparks-Koch; Steamfitter and Steamfitter Service Apprentice: Jacob Slusser; Urban Forestry Technician: Michael Morrison; Welding: Ryan Hamm, Chase Jansa and Kyle Kromenaker