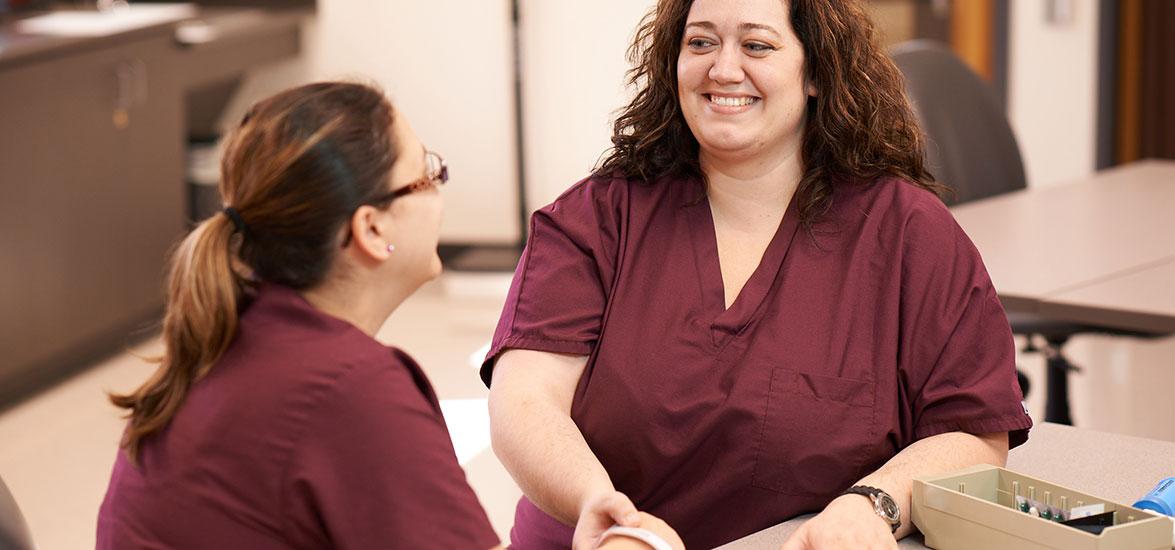 Mid-State Nursing students excel on national RN exam
April 13, 2022
Mid-State Technical College Nursing students have again achieved excellence through their performance on the NCLEX-RN exam, with a pass rate of 98.2 percent in 2021, as reported by the Wisconsin Board of Nursing. The result is significantly higher than the national pass rate of 78.8 percent. 
Graduates of accredited nursing programs in the United States must pass the NCLEX before they can become licensed to practice as a registered nurse (RN). Passing this exam indicates that nursing graduates have the necessary knowledge and skills to provide safe and effective nursing care. The exam is widely considered an excellent benchmark for comparing the relative quality of nursing programs. 
"As a partner with Mid-State Technical College, Aspirus is proud of the exceptional NCLEX student pass rate," said Kim Johnson, vice president of patient care and chief nursing officer at Aspirus Riverview Hospital and Clinics. "The COVID-19 pandemic has undoubtedly impacted the way nursing students could participate in clinical rotations, yet it is evident that the college and the students overcame obstacles and exceeded in higher learning. As an employer of several Mid-State nursing graduates, Aspirus is thrilled to know those entering our workforce are highly skilled and competent to provide high quality care to our patients." 
Mid-State Nursing students have the unique opportunity to learn and practice their assessment and patient care skills at Mid-State's Healthcare Simulation Center located at Aspirus Riverview Hospital. "Because of our state-of-art simulation center, our students were not affected when the COVID-19 pandemic limited clinical experiences. Faculty and simulation staff created realistic clinical scenarios that challenged students to use critical thinking when providing nursing care. I am sure these experiences contributed to overall student NCLEX success," said Dr. Deb Stencil, vice president of academics at Mid-State. 
"Our NCLEX results are a testament to a culmination of efforts," said Deb Johnson-Schuh, Mid-State's associate dean of health. "Our program is rigorous and requires much work and dedication, but, coupled with the extra efforts required to overcome the challenges brought on by COVID, demonstrates true grit from these students. They are at the heart of our success."
Johnson-Schuh also attributed the success of Mid-State's Nursing program to its high-quality faculty. "They are educators who are experienced and committed to excellence in innovative teaching approaches that promotes critical thinking," she said.
Learn more about Mid-State's Nursing program at mstc.edu/programs.