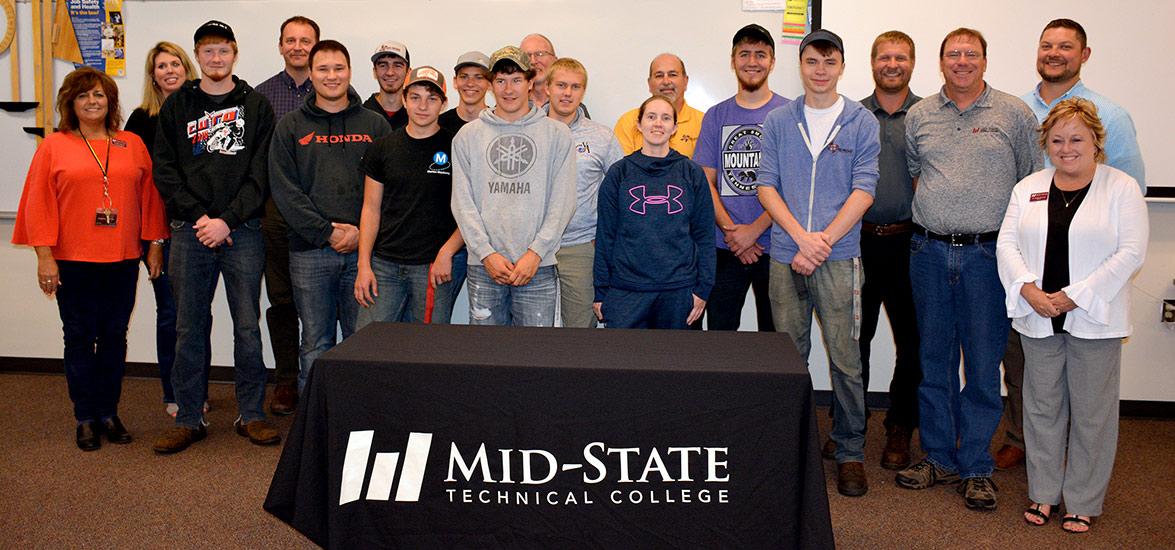 Mid-State Metal Mania program completers recognized in graduation celebration
August 22, 2019
For the second consecutive year, Mid-State recognized the achievements of its summer Metal Mania graduates with a special celebration on the College's Wisconsin Rapids Campus, Friday, August 16. Fourteen Metal Mania students completed the free, eight-week program for those interested in a career as a machinist, with five graduating from the introductory program and nine from the advanced program for those continuing their training as a machinist. Funding and support from the Central Wisconsin Metal Manufacturers Alliance (CWIMMA) covered the cost of tuition and books for the students. 
"Metal Mania is all about building a pipeline of young workers for this region of the state to keep industry and manufacturing alive and well in our area," said Ron Polum, CWIMMA representative and Pointe Precision vice president of operations. "This is a great opportunity for students to become familiar with a career in machining prior to actually committing to a full two-year degree." 
Advanced Metal Mania graduate Caleb Cline calls the free summer program a "no brainer" for students considering a career as a machinist. Cline was first attracted to the machine tool field during high school, which led to a Youth Apprenticeship with current employer Pointe Precision while still enrolled at Port Edwards High School. 
"I chose machine tool because it's not just hands on—it's thinking, and it pays really well because employers are always looking to fill jobs with Baby Boomers now retiring," he said. Cline now serves as the vice president of the Wisconsin Chapter of SkillsUSA and is preparing to enter his second year in Mid-State's Machine Tool Technician program. 
Seven of Cline's peers graduating from Advanced Metal Mania this summer are also entering their second year in Mid-State's Machine Tool Technician program this fall, many motivated by CWIMMA's financial support and summer scheduling that frees up more time for employment during the regular school year. 
From the introductory Metal Mania program, three out of five graduates will continue in high school, one plans to enter the workforce and one will start in the Fire Protection Technician program.
With continuing interest and the help of CWIMMA, Mid-State plans to continue Metal Mania again next summer to help students discover the machine tool field and address the projected shortage of skilled workers in the industry. 
To learn more about Mid-State's programs and services, please call 888-575-6782 or visit the College's website at www.mstc.edu.