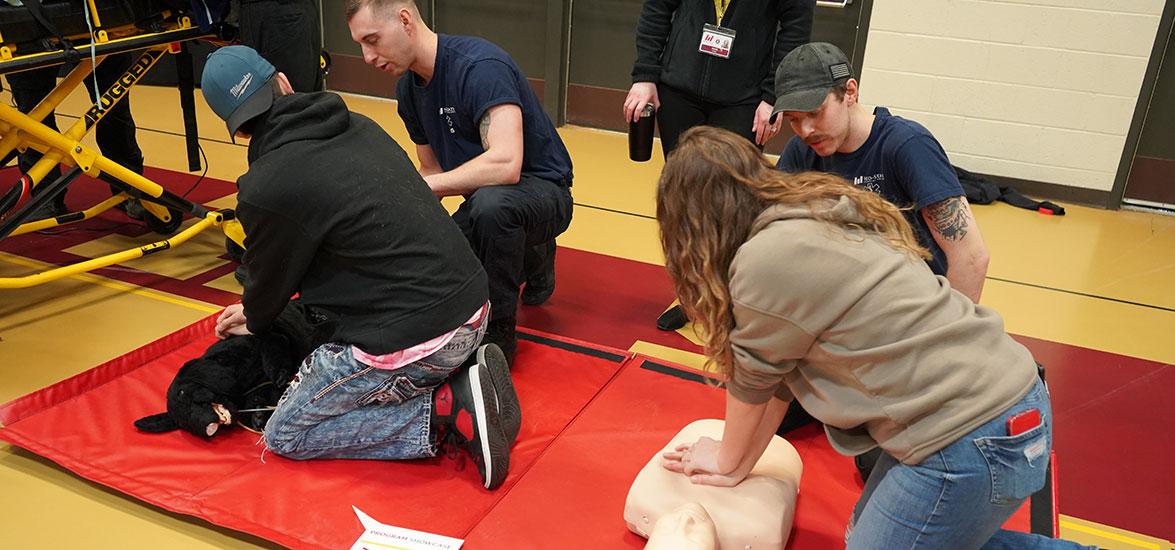 Mid-State hosts spring 2023 Program Showcase career exploration event
March 8, 2023
Program Showcase at Mid-State Technical College drew a record high of nearly 700 students from area high schools to explore careers across many of the college's 85+ programs. Students from Amherst, Assumption, Granton, Loyal, Neillsville, Rosholt and Stevens Point Area Senior high schools came to the Wisconsin Rapids Campus March 7 for the popular biannual event, which included interactive demonstrations as well as information about student services and student life activities. 
"The Program Showcase Mid-State Technical College provides is an outstanding event for students to be exposed to various career pathways they may not have otherwise known about, said Brigitta Altmann-Austin, assistant principal and career and youth apprenticeship coordinator at Stevens Point Area Senior High School. 
"The hands-on interaction that each of the departments provide for the students is an excellent way to get them enthused about the next steps in their education after high school," Altmann-Austin added. "We are grateful for the partnership and the opportunities Mid-State provides without hesitation to our high school students."
Program Showcase allows students the opportunity to meet with current Mid-State students, staff and program faculty, while seeing campus labs and experiencing the hands-on learning that Mid-State offers. Students are provided a bingo card of all participating programs with the goal of stopping by as many stations as they can. 
Students participated in science experiments (Liberal Arts-Associate of Science), a lock and key activity (IT Software Development), a car tire change simulation (automotive programs), a vertical jump activity (Criminal Justice-Studies), an augmented reality demonstration (Civil Engineering Technology-Highway Technology), an animal CPR simulation using a dog manikin (Emergency Medical Technician and Paramedic Technician), plus many more fun activities. The day concluded with Mid-State prize giveaways. 
Learn more about Mid-State's program offerings at mstc.edu/programs.