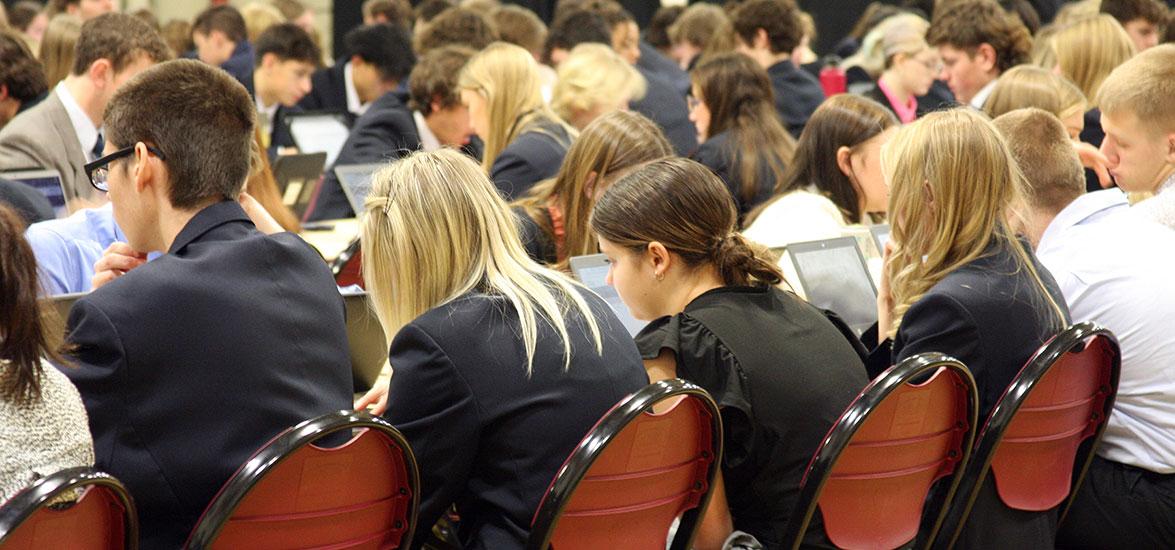 Mid-State hosts local high school students at DECA competition for 20th year
January 9, 2023
High school students representing 13 area school districts gathered at the Wisconsin Rapids Campus of Mid-State Technical College on Friday for the annual District 2 DECA District Competition, marking the 20th year Mid-State has hosted the event. Mid-State celebrated the occasion with 20 giveaways representing each year of their partnership with DECA.
A total of 414 DECA students from Auburndale, DC Everest, Iola-Scandinavia, Lakeland Union, Medford, Mosinee, Necedah, Northland Pines, Rhinelander, Wausau East and West, Westfield and Wisconsin Rapids school districts competed in DECA's industry-validated competitive events, which are aligned with the National Curriculum Standards in the career clusters of marketing, business management and administration, finance and hospitality and tourism. The students participated in both an online exam and an interactive role-playing component with an industry professional serving as a judge.
In addition to the student competitors, over 78 business and industry professionals volunteered their time to help evaluate the students' performance and assist in their development.
"Mid-State welcomed District 2 DECA with open arms 20 years ago and has treated us like royalty ever since," said Eric Siler, Wisconsin Rapids Public Schools career & technical education coordinator and DECA District 2 co-chair. "This is a model of a true community partnership with 20 years of connecting students, educators, business professionals and community volunteers together for a common goal to invest in our students' success."
"We are proud to celebrate the 20th year of hosting the District 2 DECA District Competition and welcome students and community partners to campus," said Dr. Missy Skurzewski-Servant, Mid-State dean of Business & Information Technology. "This milestone is a great example of how our commitment and collaboration with Lincoln High School have given future leaders of central Wisconsin an opportunity to gain confidence in their skills."
DECA Inc. is an international association of high school and college students and teachers of business-related fields. The organization prepares emerging leaders and entrepreneurs for careers in marketing, finance, hospitality and management. DECA also has connections with Business Professionals of America (BPA), for which Mid-State has as an established student club.
Learn about Mid-State's many technical diploma and associate degree programs in business, marketing, finance, hospitality and more at mstc.edu/programs.