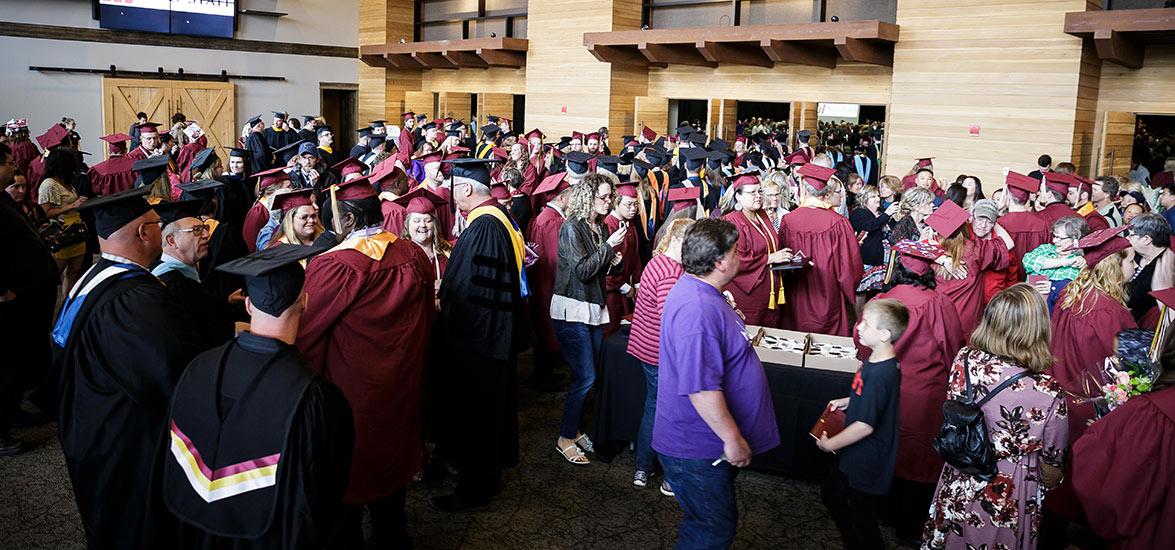 Mid-State commencement celebrates spring semester graduation
May 20, 2019
Mid-State Technical College celebrated the achievements of its newest graduates on Sunday, May 19, in a combined commencement ceremony for all four Mid-State campuses in Adams, Marshfield, Stevens Point and Wisconsin Rapids. Over 2 ,000 attendees witnessed 248 graduates receiving their associate degree and technical diplomas during the event held at SentryWorld in Stevens Point. The ceremony was also livestreamed on the College's YouTube channel.
In the weeks leading up to the ceremony, Mid-State featured personal stories of graduates in its Graduate Spotlights series at mstc.edu/gradspotlight. Photos from commencement can be found on the College's Facebook account, @MidStateTech.
Following is a list of Mid-State's spring 2019 graduates sorted by graduate candidate city and academic program. Cities are in Wisconsin unless otherwise indicated. 
Adams – Administrative Professional: Diana Pittsley; Criminal Justice-Studies: Bradley Ehleiter; Health & Wellness Promotion: Christina Mullens; Medical Assistant: Stacy Taylor
Albuquerque, N.M. – Business Management: Heather Koch; Entrepreneurship: Heather Koch; Human Resources Assistant: Heather Koch; Project Management: Heather Koch
Almond – Medical Coder: Aubrey Korslin; Nursing: Audra Anderson; Paramedic Technician: Deidre Gumney
Amherst – Business Management: Gabrielle Heiman and Gryffyn Mather; Central Service Technician: Ellen Werther; Marketing: Kimberly Meyer; Medical Assistant: Mckenna Nelson; Phlebotomy Technician: Hannah Marzahl
Amherst Junction – Industrial Mechanical Technician: Nicholas Lea; Paramedic Technician: Breanna Yenter
Arkdale – Diesel & Heavy Equipment Technician: Anthony Cwikla; Medical Coder: Brianna Moore; Phlebotomy Technician: Robyn Sciaccotta
Arpin – Diesel & Heavy Equipment Technician: Thomas Hasenohrl; Nursing: Sara Curtin and Jennifer Oestreich; Respiratory Therapist: Suzanne Follen
Athens – Health Informatics & Information Management: Dawn Russell
Auburndale – Accounting: Brandon Roberson; Business Management: Brandon Roberson; Gas Tungsten Arc Welding (SS): Matthew Leick; Industrial Automation & Controls Engineering Technology: Aaron Willfahrt
Babcock – Industrial Mechanical Technician: Darin Dessart
Bancroft – Automotive Technician: Dominic Ramirez; Criminal Justice-Law Enforcement 720 Academy: Jacob S. Mocadlo; Early Childhood Education: Cathlynn Pliska
Baraboo – Civil Engineering Technology-Highway Technician: Zachariah Glover
Colby – Medical Assistant: Ashley Gebelein
Coloma – Medical Assistant; Jenna Burrows; Welding: Isaac Rau
Custer – Accounting: Cassandra Fletcher; Administrative Professional: Phyllis Brandenburg; Automotive Technician: Michael Rozumialski; Business Management: Alyssa Boyer; Cosmetology: Kayla Lindner; Diesel & Heavy Equipment Technician: Mark Gagas; Early Childhood Education: Johanna Kluck
Edgar – Civil Engineering Technology-Highway Technician: Mitchell Myszka
Friendship – Medical Assistant: Cassi Williams
Grand Marsh – Medical Assistant: Christina Bennett
Granton – Diesel & Heavy Equipment Technician: Michael Vine
Greenwood – Electrical Power Engineering Technician: Hunter North; Medical Coder: Janice Ladd; Nursing: Angela Eckes
Hancock – Corrections & Community Advocacy: Melissa Shultz; Welding: Owen Meddaugh
 
Hewitt – Medical Assistant: Anna Schade
Iola – Phlebotomy Technician: Katherine Guilliams
Ironwood – Nursing: Kaitlyn Carli
Junction City – Administrative Professional: Courtney Nerren; Business Management: Mikale Dedman; Corrections & Community Advocacy: Mary Saunders; Fire Protection Technician: Rachel Zorn; Machine Tool Technician: Baylor Braatz
Kalamazoo, Mich. – Nursing: Neil Hendershot
Loyal – Accounting: Carrie Lamarr; Farm Operation: Morgan Lindner
Luxemburg – Welding: Dylan Mcguire

Marathon – Respiratory Therapist: Kelsey Lang
Marshfield – Accounting: Kevin Bragg and Isaac Keating; Administrative Professional: April Peckham; Business Management: Jessica Heisler and Natasha Kurz; Corrections & Community Advocacy: Jordan Jaeckels; Cosmetology: Megyn Strangfeld; Criminal Justice-Studies: Trevor Rybicki; Diesel & Heavy Equipment Technician: Jordan Altmann-Drinka and Eric Peterson; Diesel & Heavy Equipment Technician Assistant: Jacob Schneider; Emergency Services Management: Keith Melvin; Entrepreneurship: Natasha Kurz; Human Resources Assistant: Natasha Kurz and Bradley Lucksted; Industrial Automation & Controls Engineering Technology: Ryan Carolfi; IT Computer Support Specialist: Karin Harris; Machine Tool Technician: Austin Steines; Digital Marketing Promotions: Elizabeth Klement; Medical Assistant: Emilee Denman, Brittney Kempf and Jodi Meyer; Nursing: Tara Brock and Alyssa Spencer; Paramedic Technician: Travis Patton; Project Management: Natasha Kurz; Respiratory Therapist: Kendra Bellendorf, Tiffany Snook and Sarah Tiffany; Surgical Technologist: Kayla Ladwig; Welding: Casey Jero 
Medford – Nursing: Maria Neubauer
Menomonee Falls – Health Information Management: Angela Montenero
Milladore – Business Management: Kacie Brandl; Central Service Technician: Kaitlyn Yahnke; Criminal Justice-Studies: Elizabeth Grosskreutz; Diesel & Heavy Equipment Technician: Coy Krings and Brandon Yahnke; Surgical Technologist: Kailey Altmann and Brynya Joosten
Mosinee – Accounting: Denise Kroeplin and Kyle Lewis; Cosmetology: Harlie Machak; Respiratory Therapist: Tara Radtke; Surgical Technologist: Samantha Pitt
Muskego – Business Management: Andrew Purpero
Neillsville – Surgical Technologist: Kala Ystad; Farm Operation: Julia Heiman
Nekoosa – Administrative Professional: Holly Stoflet; Agribusiness and Science Technology: Kendra Ellious; Business Management: Stephanie Henckel; Civil Engineering Technology-Highway Technician: Jacob Lang; Corrections & Community Advocacy: Aleyka Pascual; Criminal Justice-Studies: Chad Spanske; Industrial Automation & Control Engineering Technology: David Darr and Tucker Keenan; IT Computer Support Specialist: Ryan Ulbrich; IT Software Developer: Asher Smith and Breanna Yusten; Machine Tool Technician: David Naud; Office Support Specialist: Holly Stoflet; Paramedic Technician: Kendra Marcouex and Joshua Schoechert; Respiratory Therapist: Bailey Bredl; Welding: Evan Broder and Daniel Spaulding
Nelsonville – HVAC Technical Diploma: Joseph Diver
Neshkoro – Renewable Energy Technician: Noah Wandersee
Oxford – Business Management: Tori Babcock; Criminal Justice-Studies: Quade Jones; Nursing: Rosalina Aguilera
Pittsville – Central Service Technician: Mckayla Behselich; Human Resources Assistant: Bridget Pember; Nursing: Brittany Schwanebeck
Plainfield – Business Management: Ashley Jaramillo; Early Childhood Education: Sarah Blum; Entrepreneurship: Ashley Jaramillo; Human Resources Assistant: Ashley Jaramillo; Medical Coder: Susan Uribe; Project Management: Ashley Jaramillo
Plover – Administrative Professional: PaYeng Baldemor; Automotive Technician: Yia Pao Moua; Business Management: Robert Exner, Cynthia LaChapelle, Jason Moss, Stanley Olszewski and Theresa Rathmann; Cosmetology: Megan Schultz; Corrections & Community Advocacy: Jennifer Denman, Courtney Devine, Karrianne Gumney and Cory Lepak; Criminal Justice-Studies: Samantha Jerzak, Katlyn Karpinski and Jacob Metz; Early Childhood Education: Meridith Sikorski and Kathryn Spoerl; EMT-Paramedic: Trent Aldrich and Tim Cisewski; Entrepreneurship: Morgan King; Fire Protection Technician: Alyssa Mlodik; Human Resources Assistant: Jason Moss; Industrial Automation & Controls Engineering Technology: Benjamin Fait; IT Network Specialist: Thomas Amann, Roxana Schnitzler and Steven Xiong; IT Software Developer: Christine Sommers; Machine Tool Technician: Tony Soderquist; Marketing: Robert Exner and Jessye Ilagan; Medical Assistant: Renee Perzinski; Medical Coder: Jessica Spiegel; Nursing: Beatrice Kotei-Abrokwah and Shelby Ligman; Phlebotomy Technician: Danielle Liebe; Project Management: Amy Cummings, Cynthia LaChapelle and Jason Moss; Surgical Technologist: Cassandra Perez; Welding: Chase Anderson and Preston Sundlie
Port Edwards – Business Management: Elizabeth Stormoen; Civil Engineering Technology-Highway Technician: Benjamin Diekfuss; Human Resources Assistant: Mary Doty; Medical Office Specialist: Rachel Lamb
Prescott – EMT-Paramedic: Frank Rohl
Rosholt – Agribusiness and Science Technology: Brooke Wiza; Early Childhood Education: Coryn Simonis; EMT-Paramedic: Joey Gemza; Marketing: Baylie Disher: Paramedic Technician: Jacob Aumann; Respiratory Therapist: Jocelyn Holder; Urban Forestry Technician: Westly Simonis; Welding: Christopher Nelson
Rothschild – HVAC Technical Diploma: Pragneshkumar Patel
Royalton – Early Childhood Education: Tanya Polansky
Rudolph – Administrative Professional: Taylor Wiernik; Criminal Justice-Studies: Nicholas Brockman; Electrical Power Engineering Technician: Jacob Van Natta; Health & Wellness Promotion: Rebecca Szymanski; Health Informatics & Information Management: Rachel Calmes; HVAC Technical Diploma: Logan Arnold; IT Network Specialist: Jake Joosten; IT Software Developer: Nicholas Flaig; Respiratory Therapist: Alexis Fuller; Welding: Jared Johnson
Scandinavia – Automotive Technician: Levi Kubisiak
Schofield – Nursing: Herty Sarbah
Sparta – Business Management: Joy Snake; Entrepreneurship: Joy Snake; Human Resources Assistant: Joy Snake; Supervisory Management: Joy Snake
Spencer – Central Service Technician: Sabrina Vircks; Medical Assistant: Julia Berres; Paramedic Technician: Christopher Larsen; Welding: Benjamin Radzinski 
Stevens Point – Accounting: Jeffrey Stoltz; Automotive Technician: Cameron Akers and Kou Yang; Business Management: Jeffrey Campbell, Alston Francis, Vikram Gill, Lindsey Jurgella, Sarah King, Matthew Martin, Corey Pickett, Erin Rajski, Nathaniel Ruiz, Leopoldo Soria, Haley Strickland, Bobbie Williams, James Wojtalewicz and Tammy Wojtalewicz; Central Service Technician: Kathleen Boggs and Abigail Erickson; Civil Engineering Technology-Highway Technician: James Conrady; Construction Trades: Chase Miller; Corrections & Community Advocacy: Sherri Garsomke and Mena Lee; Criminal Justice-Studies: Jason Smith; Diesel & Heavy Equipment Technician: Benjamin Bucknell; Early Childhood Education: Stephanie Landis and Katelynn Polum; Electrical Power Engineering Technician: Joshua Morton; EMT-Paramedic: Kyle Lawton; Human Resources Assistant: Emma Olson; IT Network Specialist: Chris Cuomo, Matthew Daniek, Curtis Freudigmann, Alan Leonhardt and Michael Thao; IT Software Developer: Bryce Menadue and Aaron Weber; Machine Tool Technician: Houa Yang; Marketing: Mikayla Schultz and Tyler Wright; Medical Assistant: Amanda Byrum and Ashley Tufte; Nursing: Denise Heimstead, Jennifer Quisler, Matthew Schaefer and Kelsi Stuettgen; Office Support Specialist: Bailee Sterling; Paramedic Technician: Desirae Glodowski; Renewable Energy Technician: Kenneth Schuelke; Respiratory Therapist: Kimberly Friday, Timothy Keller and Adam Witt; Surgical Technologist: Chelsea Inderdahl; Urban Forestry Technician: Brandon Miller
Stratford – Central Service Technician: Chelsa Veers; Nursing: Heidi Rodriquez; Surgical Technologist: Zoey Fleischman
Unity – Nursing: Melissa High
Vesper – Business Management: Amanda Garcia; Nursing: Kendra Peterson
Wausau – Business Management: Alicia Piesik; Cosmetology: Savannah Cumber; Health & Wellness Promotion: Hayden Jaborek; Marketing: Lisa Buelow; Nursing: Linda Ratsaphonh; Respiratory Therapist: Matthew Lange; Surgical Technologist: Jordyn Kralcik; Urban Forestry Technician: Brandon Wirth
West Bend – Nursing: Molly Logan
Westfield – Nursing: Treazure Kotlowski
Wild Rose – Administrative Professional – Erin Kirwan; Office Support Specialist: Erin Kirwan; Welding: James Williams
Wisconsin Rapids – Accounting: Jordyn Ashbeck, Joshua Beyer, Stephanie Lecy, Bradley Olsen and Colton Rehberg; Administrative Professional: Jennifer Holden, Christina Kurasz, Stephanie Ponter and Lisa Schwechel; Automotive Technician: Christopher Keith, Vern Kleinhenz and Jared McGregor; Business Management: Kaylie Bailey, Douglas Drexler, Sara Hanneman, Elaine Rouse and Chelsea Tauchek; Civil Engineering Technology-Highway Technician: Nathan Henke; Construction Trades: Kohlen Morgan, Daniel Salewski, Quinn Speich and Elliot Wardour; Cosmetology: Heidi Cummings, Christy Hoffman, Shianna Kester, Kindle McLaughlin, Gifty Shultz and Abigail Shaw; Corrections & Community Advocacy: Madison Ladwig and Stacy Schmidt; Criminal Justice-Studies: Alexis Allworden and Jordan Herman; Diesel & Heavy Equipment Technician: Jeremy Redmond and Precious Stashek; Digital Marketing Promotions: Sara Lippold; Early Childhood Education: Brandi Redbird; Electrical Power Engineering Technician: Brady Weidman; Entrepreneurship: Douglas Drexler; Fire Protection Technician: Connor Pelot; Human Resources Assistant: Douglas Drexler, Callie Kulinski, Shawn Rehberg and Stephanie Riedel; HVAC Technical Diploma: Corey Sklarz and Adam Vincent; Industrial Automation & Controls Engineering Technology: Logan Steinhilber; Industrial Mechanical Technician: Andrea Eberhardy; IT Network Specialist: Noah Brown and Troy Delzer; IT Software Developer: Chang Hwm Khang, Megan Melville and Matthew Skifton; Machine Tool Technician: Madelyn Matthews; Marketing: Tasha Pate; Medical Assistant: Tara Cook, Katie Faude, Jaclynn Grimm, Lacey Peck, Tammy Sosin, Yingpao Thao and Cynthia Wilkinson; Medical Coder: Cassandra Burdick; Nursing: Alexis Albrecht, Haley Baker, Lindsay Gurzynski, Tamara Jensen, Brittany Korslin, Jennifer Kowalski, Gina Martinovich, Hannah Pagels, Ashley Paulin, Larissa Rucinski, Wendy Staven, Pa Nyia Thao and Soua Xiong; Office Support Specialist: Jennifer Holden; Paramedic Technician: Marissa Johnson, Jacob Kenowski, Angela Lafler and Jake Timm; Project Management: Robert Allen; Renewable Energy Technician: Kody Pagel and Quinn Speich; Respiratory Therapist: Katrina Nuber and Nicole Schunke; Supervisory Management: Lee Graf; Urban Forestry Technician: Cierra Botcher, Tristan Iverson and Michael Morrison; Welding: Ryan Hamm, Chase Jansa, Elwood Jarvis, Xeng Khang, Devon Melton, Dawson Simon and Quinn Speich