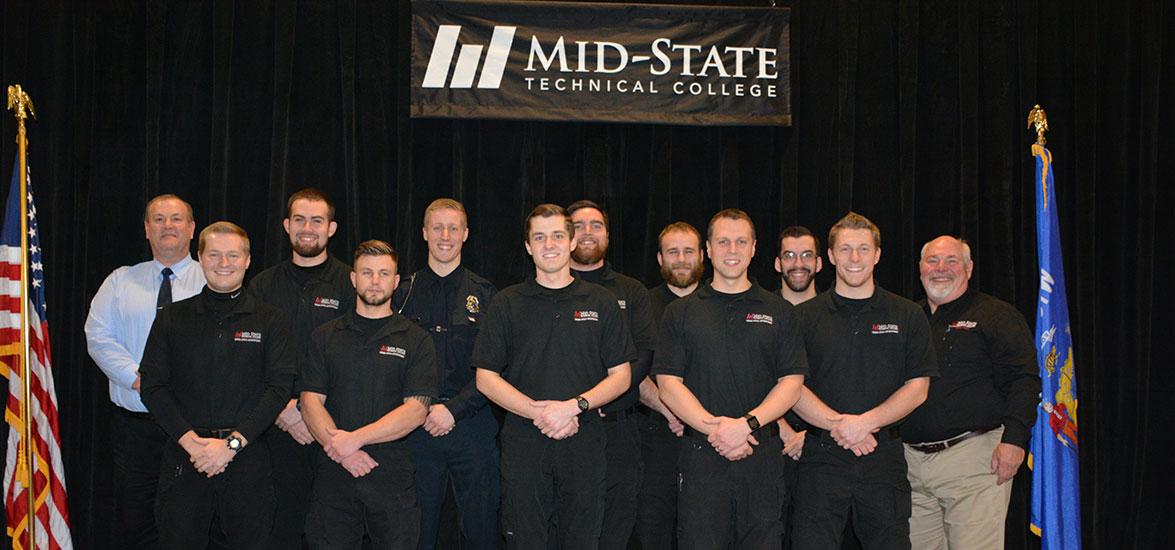 Mid-State ceremony recognizes achievements of law enforcement training academy graduates
January 4, 2019
Mid-State Technical College recognized the efforts of students who completed training through its Criminal Justice - Law Enforcement 720 Academy in a special ceremony on December 19. The 10 students had enrolled in the program to complete the 720 hours of basic law enforcement training required to become a law enforcement officer in Wisconsin. 
"Most Wisconsin law enforcement agencies require or at least expect applicants to bring their DOJ certification into the application process," said Dr. Clark Pagel, Mid-State's law enforcement and jail academy director. "This special training and certification just makes our students all the more employable."
According to Pagel, Mid-State has traditionally graduated one Law Enforcement 720 Academy class per year. In the last few years, however, demand for qualified, certified officers has increased enough to expand to two classes per year. Mid-State also has an articulation agreement with the University of Wisconsin-Stevens Point that allows UW-Stevens Point students to take a semester off from their studies to attend Mid-State's academy to gain the required training that makes for a highly desirable applicant when they are ready to start their career in law enforcement.
Learn more about Mid-State's Criminal Justice - Law Enforcement 720 Academy and Criminal Justice-Studies programs at mstc.edu/programs.