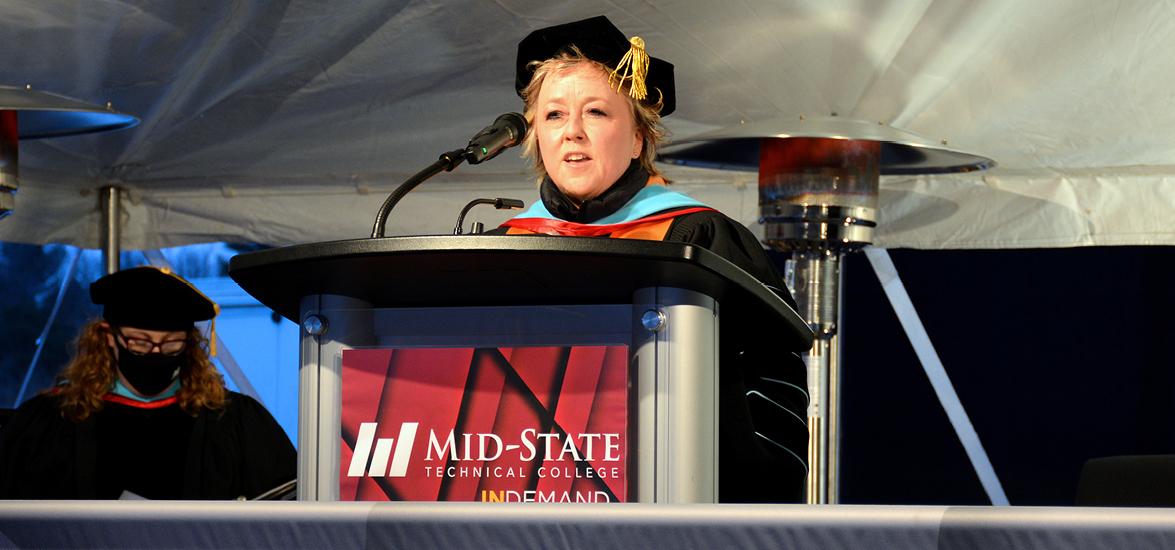 Mid-State celebrates 2020 graduates in outdoor winter wonderland ceremony
December 15, 2020
Mid-State Technical College marked the achievements of its spring and fall graduates on Sunday, Dec. 13, with a special outdoor ceremony on the College's Wisconsin Rapids Campus. 
The drive-in style ceremony featured winter-themed decorations and speeches on a stage set up in the parking lot. Graduates and guests viewed from their cars with the help of a large-screen display of the stage and audio via radio. The celebration included video speeches from student speakers Ann Ilagan, Plover, (spring ceremony) and Acacia Sloat, Wisconsin Rapids (fall ceremony). Both groups also received a faculty send-off by Communication Instructor Jill Quinn.
"We needed to do this for our students, because they deserve it," said Mid-State President Dr. Shelly Mondeik. "We wanted to tell our graduates—both our May graduates and December graduates—that this is for you."
Fireworks marked the exciting moment when Dr. Mondeik conferred the degrees and invited the graduates to move their tassels to the left. Each grad was then driven up to the stage, walked across it and received recognition from College leadership. Graduates also had the opportunity to drive through the decorated campus with family members. 
The event was live streamed on the Mid-State YouTube page for anyone wishing to join remotely. The video recording can be viewed on Mid-State's website at mstc.edu/graduation.
Following is a list of Mid-State's fall 2020 graduates sorted by graduate candidate city and academic program. Cities are in Wisconsin unless otherwise indicated. 
Amherst – Business Management: Anton Zanella; Phlebotomy Technician: Emily Sopa; Welding: Peter Barnes
Amherst Junction – Nursing: Afton Gordon
Arpin – Criminal Justice-Law Enforcement 720 Academy: Chad Godard; Medical Assistant: Mackenzie Miron; Medical Coder: Mary Taylor; Nursing: Sarah Loether
Boston, Mass. – Industrial Automation & Controls Engineering Technology: Matthew Smith
Cambridge – Business Analyst: Bobbi Yach; Project Management: Bobbi Yach
Cedarburg – Criminal Justice-Law Enforcement 720 Academy: Daniel Dowty
Chili – Business Management: James Genett
Custer – Diesel & Heavy Equipment Technician: Ryon Runke; Medical Coder: Jessica Benjamin
De Pere – Criminal Justice-Law Enforcement 720 Academy: Claire Jensen
Friendship – Medical Assistant: Amanda MIlls
Hancock – Customer Relationship Professional: Mary Goldbeck; Office Support Specialist: Mary Goldbeck
Hatley – Accounting: James Liebe
Loyal – Medical Assistant: Erin Froeba and Danika Young
Madison – Criminal Justice-Law Enforcement 720 Academy: Jared Gonzales
Marshfield – Accounting Assistant: Natasha Kurz and Jennifer Mauritz; Administrative Professional: Tracy Kremer; Business Management: Constance Carle and Rhonda Hansen; Criminal Justice-Law Enforcement 720 Academy: Aaron Riedel; Digital Marketing: Linda Schmid; Entrepreneurship: Constance Carle; Human Resources Assistant: Constance Carle; Medical Assistant: Nicole Culpepper, Ashley Davis, Rita Gonzalez and Kaycee Mccarthy; Nursing: Alisha Pongratz, Rebecca Scheider and Holly Spatz-Kohler; Phlebotomy Technician: Laken Ramirez and Jessica Schmitt; Plumber Apprentice: Jonah Tysver; Project Management: Constance Carle; Steamfitter Apprentice: Adam Skrzeczkoski
Mayville – Phlebotomy Technician: Brodie Herrick
Merrill – Ironworker Apprentice: Eli Knoblock
Milladore – Health Information Management: Kortni Brevik; Medical Assistant: Montese Choate; Plumber Apprentice: Dave Altmann
Mondovi – Criminal Justice-Law Enforcement 720 Academy: Andrew Whelan
Necedah – Business Management: Courtney Rozek
Neillsville – Health Information Management: Janice Ladd; Nursing: Jennifer Boe
Nekoosa – Business Management: Orion Bredda; Cosmetology: Mazie Slothower; Industrial Mechanical Technician: Tucker Keenan; Nursing: Carley Hoscheit
New Berlin – Diesel & Heavy Equipment Technician: Stanley Wolf
North Prairie – Emergency Services Management: Daniel Nottling
Pittsville – Agribusiness and Science Technology: Samantha Shaw; Criminal Justice-Law Enforcement 720 Academy: Riley Wayerski; Early Childhood Education: Deborah Krueger; Gas Tungsten Arc Welding (Stainless Steel): Avery Myers and Jesse Turner; Medical Coder: Kira Caflisch; Urban Forestry Technician: Brandon Geer
Plover – Agribusiness and Science Technology: Taylor Retzke; Barber Technologist: David Newby; Business Management: Robert Barber, Gavin Erbes and Emily Keup; Construction Trades: Joel Guerrero and Joshua Guerrero; Corrections & Community Advocacy: Jill Whitmarsh; Cosmetology: Megan Stelchek; Criminal Justice-Law Enforcement 720 Academy: Daniel Walters; Customer Relationship Professional: Kendra Papapetru; Diesel & Heavy Equipment Technician: Aaron Hamm; Digital Marketing: Mackenzie Collins; Entrepreneurship: Kendra Papapetru; Health & Wellness Promotion: Derek Dodds; Information Security Specialist: Cassandra Stanchik; IT Network Specialist: Cassandra Stanchik; Nursing: Jaide Barber, Kayla Hammon, Pakou Her, Madigan Just and Hannah Kurtzweil; Phlebotomy Technician: Tori Elmhorst-Koltz, Erika Weiss and Taya Zywicke; Plumber Apprentice: Corey Ruiz; Project Management: Hope Nemeth
Port Edwards – Business Management: Kiira Jensen; Criminal Justice-Law Enforcement 720 Academy: Gunnar Drew and Cole O'Neil; Entrepreneurship: Kiira Jensen; Project Management: Kiira Jensen
Randolph – Plumber Apprentice: Kye Leystra
Rosholt – Criminal Justice-Law Enforcement 720 Academy: Lucas Wiza
Rudolph – Criminal Justice-Law Enforcement 720 Academy: Shane Pongratz; Industrial Automation & Controls Engineering Technology: Thomas Pepowski
Schofield – Steamfitter Service Apprentice: Randall Kressel
Stevens Point – Accounting: Falcen Whitston; Automotive Maintenance Technician: Isko Ollech; Business Management: Hesam Fazaeli, Matthew Jaworski, Rhiannon Kizewski, Krista Meronek, Amanda Patino and Sandra Williams; Construction Trades: Alexander Huss; Cosmetology: Tiffany Tushkowski; Criminal Justice-Law Enforcement 720 Academy: Morgan Gruna, Joshua Jones, Andrew Kyle, Tyler Mallett and Jonathan Rahlf; Early Childhood Education: Kristen Halama; Human Resources Assistant: Allison Jackomino; IT Software Developer: Eric Krawczyk; Medical Office Specialist: Nicole Olds; Nursing: Elisabeth Nelson, Amanda Olszewski, Amanda Pekarek and Ashlyn Spaulding; Paramedic Technician: Frank Rohl; Phlebotomy Technician: Tayler Lamothe; Plumber Apprentice: Tyler Klasinski; Project Management: Matthew Ducylowycz
Stratford – Barber Technologist: Eduardo Lara; Corrections & Community Advocacy: Ashley Zawislan; Gas Tungsten Arc Welding (Stainless Steel): Brian Hoefs; Health Information Management: Angela Varsho; Medical Coder: Angela Varsho
Tomahawk – Ironworker Apprentice: Adam Russo
Vesper – Nursing: Amanda Herrin; Welding: Kyle Turner
Waterford – Business Management: Lauren Muffick
Waupaca – Information Security Specialist: David Lanphere-Hartzell; IT Network Specialist: David Lanphere-Hartzell; Phlebotomy Technician: Amy Torigoedenny
Wausau – Heating, Ventilation, & Air Conditioning (HVAC) Installer: Michael Havlovick
Winona, Minn. – Criminal Justice-Law Enforcement 720 Academy: Joshua Wefel
Wisconsin Rapids – Accounting: Cheryl Krohn; Business Management: Melissa McKeel, Jacob Niedbalski, Stacy Reeder and Stephanie Riedel; Civil Engineering Technology-Highway Technician: Gary Adams; Construction Trades: Sarah Birkett; Corrections & Community Advocacy: Faith Haas and Madison Vale'; Criminal Justice-Law Enforcement 720 Academy: Tyler Bigalke, Tyler Jacobitz, Luke Maher and Jaycob O'Hara; Emergency Services Management: Douglas Overturf; Entrepreneurship: Stephanie Riedel; Gas Tungsten Arc Welding (Stainless Steel): Brooke Sparks-Koch; Human Resources Assistant: Eve Balocca; Industrial Automation & Controls Engineering Technology: Jacob Delaney; Industrial Mechanical Technician: Eric Boehm and James Kaufman; Ironworker Apprentice: Ryan Smits; IT Software Developer: Janet Detert; Medical Assistant: Amalia Karnatz, Tiffany Kimball and Nicole Sleeter; Nursing: Amanda Bullock, Hanna Callagan, Cristina Cease, Brittany Davy, Kimberly Ninneman, Casey O'Day-Hendricks, Acacia Sloat and Nicole Sprague; Phlebotomy Technician: Elizabeth Urban; Plumber Apprentice: Chad Erdmann; Project Management: Stephanie Riedel