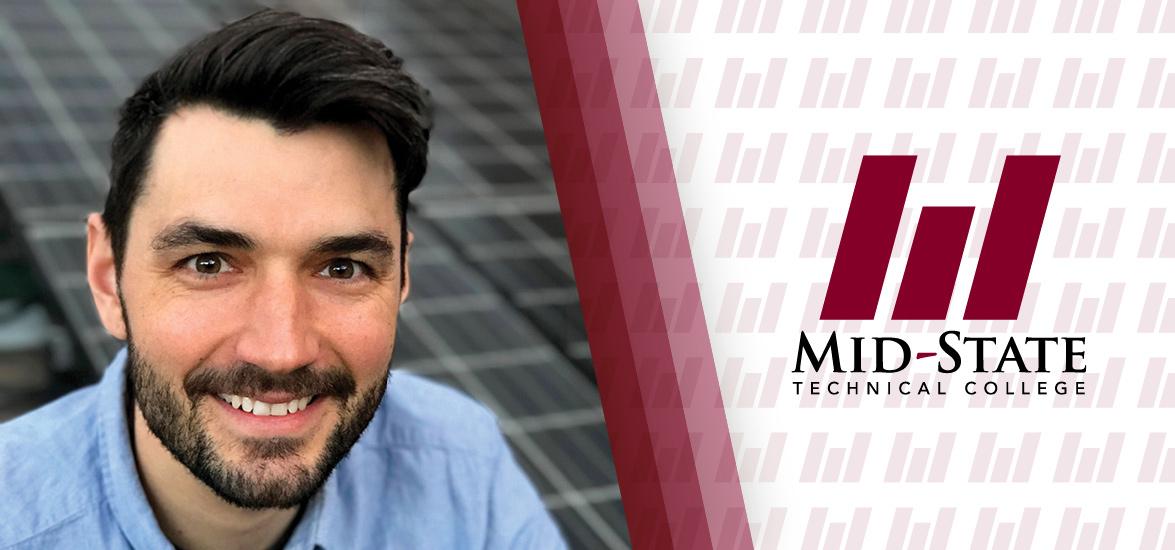 Benjamin Nusz named new dean of Mid-State's Stevens Point Campus
April 20, 2020
Mid-State Technical College has announced its selection of Benjamin Nusz as the new dean of its Stevens Point Campus. The transition is a promotion for Nusz, who has taught in the College's Renewable Energy Technician and HVAC programs since 2008. Nusz replaces Volker Gaul, who served in the campus dean role from May 2015 until his retirement in January. 
Nusz holds a master's degree in environmental science and policy – environmental policy and administration from the University of Wisconsin-Green Bay. As an instructor he drew on over 15 years of experience as an installer, site assessor, designer, project manager and instructor. Nusz is also the solar water heating instructor for the Midwest Renewable Energy Association (MREA). In 2016, he was recognized as the KEEP Energy Educator of the Year. Nusz is also the co-author of the book "Solar Water Heating: A Comprehensive Guide to Solar Water and Space Heating Systems." 
Nusz previously served as vice president on the board of directors for the Midwest Renewable Energy Association and volunteers for the North American Board of Certified Energy Practitioners, Farmshed and the Tomorrow River Community Charter Schools. He also provided leadership in the past three Grow Solar Central Wisconsin initiatives, partnering with local communities to make solar more affordable and accessible for homes and businesses throughout central Wisconsin.
"While much of my professional experience has centered around renewable energy and the building trades, my passion has always been with community development and providing exceptional service to students," Nusz said. "I'm interested in how we can all grow and support each other."
Last year, Nusz led Mid-State's initiative to install electric vehicle charging stations across the College's campuses, including four at Stevens Point Campus. A 50,000-watt solar array will also soon be installed at the Stevens Point site to help power the campus. This installation will be a partnership between Mid-State students, local nonprofits, local installers and the manufacturing sector.  
"This is the type of collaboration I will continue to seek," Nusz said. "At Mid-State, we are always looking for ways to contribute to the community and support our students, grow our local businesses and develop our workforce."
According to Vice President of Academics Deb Stencil, Nusz's transition to the new role coincides with the College's celebration of five years in its downtown Stevens Point location. "This is the perfect time for Ben to take the lead at our Stevens Point Campus, and I'm excited to work with him in the new role," Stencil said. "Ben brings a student-centered approach and collaborative spirit to his work every day and is poised to find innovative new ways to work with area business and community partners and continue growing the programming and services needed in our community."
Nusz started in the position on February 15. Anyone with questions about the Stevens Point Campus or ideas for ways Mid-State can better serve the community can contact him directly.